The Dutchman started the FA Cup to rest Bruno Fernandes. He ended up replaced and improved somewhat, but little. "It seems like his peers don't trust him," Hughes explains.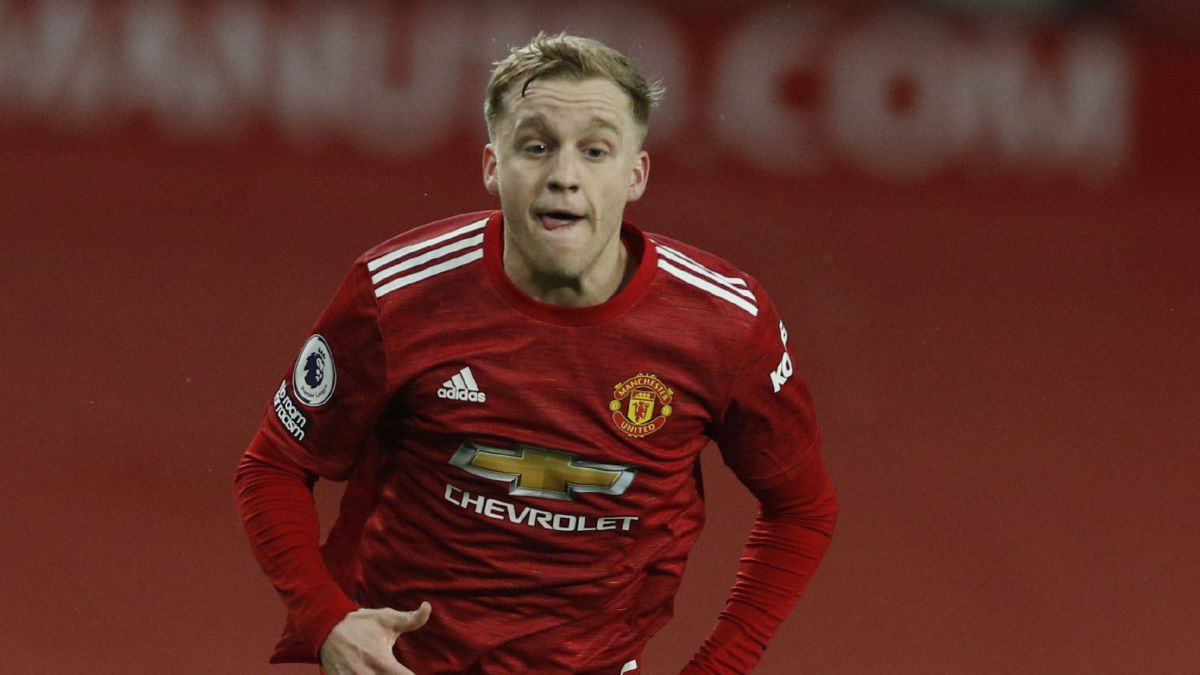 Donny Van de Beek does not dream at Old Trafford. The old Mancunian 'theater' is not quite the house he expected when he left Ajax and, opportunity after opportunity, he does not find the level that made him dazzle all of Europe in Amsterdam. This Wednesday, against West Ham United in the FA Cup, he had another attempt. Another unsuccessful attempt.
The Red Devils went through the rounds, leaving East London behind with a lone goal from McTominay in extra time, which they reached with an initial zero tie. The result urged those of Solskjaer who had to do without part of his B unit which he had given the opportunity to claim. Among them was the Dutch.
Este entered the eleven to rest Bruno Fernandes, but was far from the performance that the Portuguese usually gives behind the striker. He was not too wrong (84.9% success in the pass) although he was not decisive or had too much impact on the game. His numbers give him away: he touched the ball just over 40 times, he barely shot once and did not go on target. All in 73 minutes. At that time, Solskjaer opted for the entry of Bruno, who, without being decisive as on other occasions, had the same impact on the game as Donny, but in half the time (same shots, just one touch of the ball less and a similar pass success) .
The one from Nijkerkerveen surpassed the thousand-minute barrier on Wednesday and got in 25 games. His balance is still poor (one goal and one assist) and his feelings are barely improving so far this season. From the media, several ex-footballers begin to look for reasons for the bad moment that the Dutchman has been experiencing since he arrived in Manchester.
According to Mark Hughes, former Man. United, Barcelona or Bayern among others, 'VdB' has lost confidence in his teammates. "It seems they don't trust him to give him the ball," the former striker analyzed. For Townsend, Donny "is kind of lost." "It gives the feeling that he does not understand too much where he has to go. Where he has to run in this team," he said in Talksport.
Jermaine Jenas from BBC Sport also points to his head. "In his face you can see that he plays with a little fear and that he lacks rhythm," he said before apologizing. "I do not think it is his fault. He is being professional and does everything possible," he sentenced.
In addition to what happens in the green, Van de Beek carries two more slabs: justifying his investment (39 million euros) and the comparisons with Bruno Fernandes. The Portuguese plays in the same place, is the top star and has put United in the fight for the Premier after several seasons away from it. Faith in Donny was great at Old Trafford, but trust is in limbo. Already, according to Hughes, even with his companions.
Photos from as.com