The #WeRaceAsOne campaign continues this season, although expanding to other demands, such as sustainability and integration.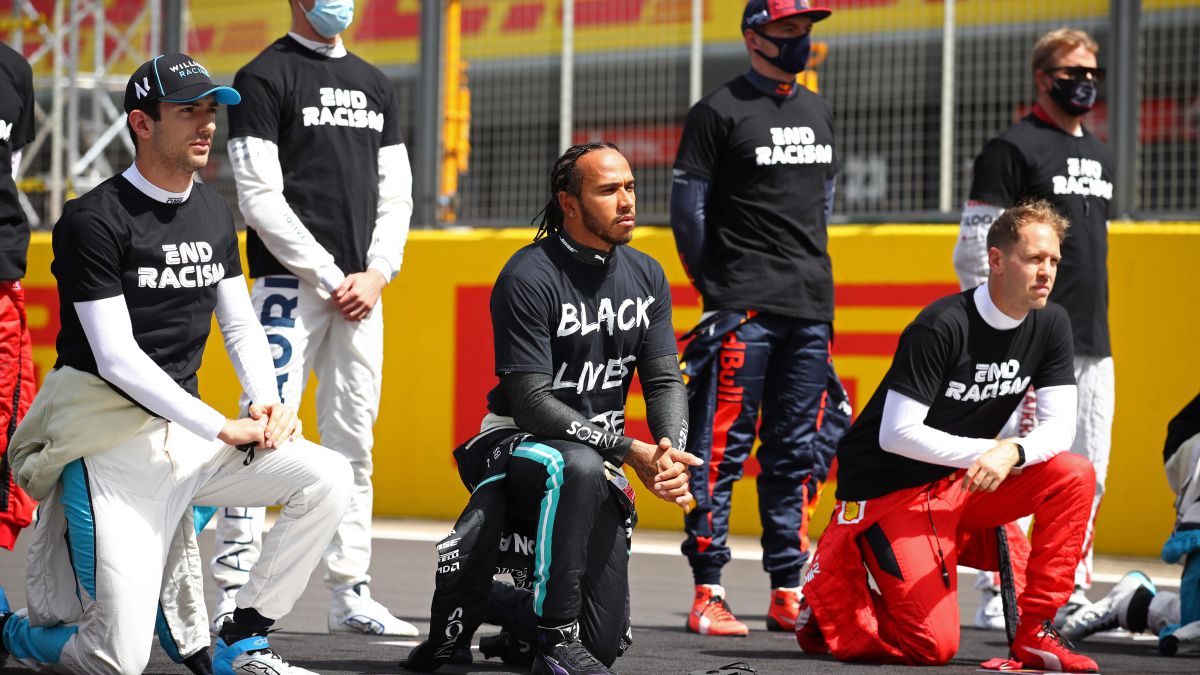 Last year, Formula 1 wanted to take advantage of its huge broadcast loudspeaker to help raise awareness of claims of enormous importance. The #WeRaceAsOne campaign thus focused on issues of such depth as the coronavirus pandemic and, especially, racial inequality.
Lewis Hamilton was the most active in this regard and the support for the 'Black Lives Matter' movement became a true crusade for the champion. However, the official platform for the Environment, Society and Corporate Governance of F1 wants to go one step further in the new season by expanding the issues of its concern. Thus, the #WeRaceAsOne campaign will include, along with diversity and inclusion, its commitment to sustainability and community actions.
The rainbow with the colors of the teams that identified the solidarity movement will no longer appear in the grand prizes, while the leading role in the fight against racism will be shared with the other causes chosen by the championship promoters. Social awareness remains the basis of the project, expanding its influence on the other issues classified as essential for F1.
More than gestures and words
Stefano Domenicali, President and CEO of Formula 1, explains the new strategy: "The #WeRaceAsOne platform was very effective and we are proud of it. Commitment through words is important, but it is our actions that will be judged. We have made great progress in sustainability and this year actions will be launched in the three chosen pillars ".
It is, therefore, about advancing with concrete and effective measures beyond symbolic gestures. In the proposed battery of Formula 1, the development of hybrid engines powered in a sustainable way stand out; promote the incorporation into the championship of underrepresented groups; scholarships for engineering students from diverse and disadvantaged backgrounds; promotion of F1 in schools; support for the W Series (for women) and young pilots; promote new transportation methods for all equipment material; and even reduce the amount of plastic bottles and cutlery used in circuits, as well as food waste.
Regarding the activity in the grand prix, the idea of F1 is to include in each circuit a specific moment in which support is shown for the selected topics, in a format that will be discussed with the drivers and teams before launching the initiative. It seems, therefore, that the scene of the drivers kneeling on the grid before the races may also have gone down in history, at least with the regularity that occurred in 2020.
Photos from as.com