"At Espanyol I saw myself as a captain and playing for ten years"
Javi Márquez has become one of the LaLiga SmartBank experts at Movistar. Now retired, he is still passionate about football. Analyze his career and Mallorca-Espanyol.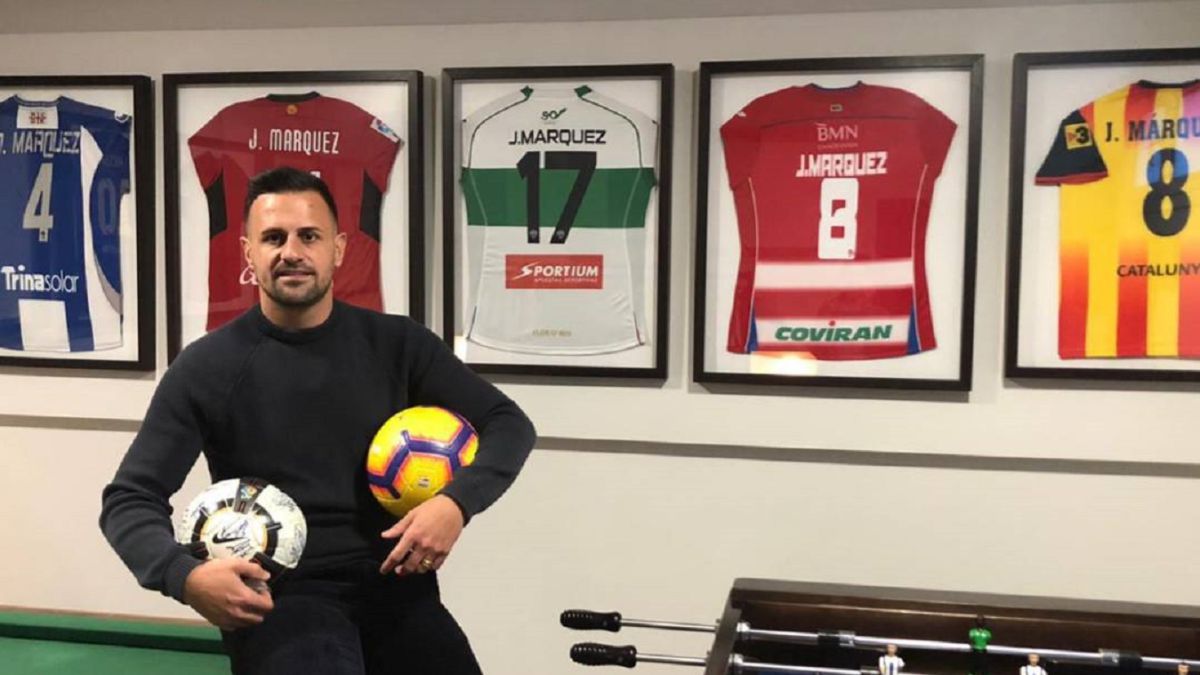 When Javi Márquez made his debut with the Espanyol first team, all the fans of the Ciudad Deportiva opened a bottle of cava. Obviously, in a symbolic way, but at last they saw one of the players in the quarry who had cost the most to earn the opportunity at the top. And boy did he take advantage of it. When he was better in the first team, the injury came and then a renewal that became so enraged that it ended with Badalona's in the stands and his march through the back door to Mallorca. There he was downgraded. Then Granada, Elche and Nàstic, with a period in the US Major Soccer League. Now retired, he now comments for Movistar and Gol on Spanish and European football. Connoisseur of LaLiga SmartBank, he is also the protagonist of the star meeting of the day.
Del Espanyol went to Mallorca nine seasons ago and this Sunday both teams meet in Second. What does this duel transmit in style to you?
I see two very reliable teams. It is true that Espanyol in these last five games stopped dominating the areas. He lost that defensive solvency. It was not effective at the top but it generated a lot, but its problem is behind it. You must regain that security. Espanyol can play against it or it can dominate and subdue the rival, like Mallorca. They are alike. Espanyol has more resources in attack, but Mallorca is in a moment that minimizes errors. The centrals are doing very well.
You, who now analyze football for Movistar, Radio Marca and Gol, are a great connoisseur of Segunda. Which Espanyol player has surprised you?
Javi Puado. He is the player who lives in the shadows, and I think he is the most important in recent games. He has five goals and several assists. He is very intelligent, he knows how to occupy the spaces, he knows where to receive, he interprets the movements of the companions, he presses ... And he has quality and is generous. In addition, it is from the quarry, and that is why you have to give it value. He had a very good half season in Zaragoza. He doesn't raise his voice. At first it seemed that it was not going to be important, but it has shown that it is vital.
What about Mallorca?
The centrals, Salva Sevilla, Dani Rodríguez ... But those no longer surprise me. The one who has surprised me for good is Iñigo Ruiz de Galarreta. His work is essential, he travels kilometers, he has a game, he does not lose balls ... It is essential.
He continues to transmit the same passion for football as when he played. Do you want to continue linked to this sport?
At first it was not something I had in mind. Every time I am more comfortable in this facet. This is how those responsible for the media transmit it to me. I always thought I could be close to a soccer team. I try to live from day to day, but I am prepared for the opportunity to be in a club. I am waiting to take the UEFA Pro coach course. I have studied a lot: I have the other levels, the technical secretary, the sports director ... I like to do analysis courses, scouting ... It makes you have a perception greatest of all.
And, now, with the passage of time and once retired, what grade do you give to your career?
I must be tremendously proud. When I was ten or 12 years old, when I went to the Teixonera field or to the Zona Franca with the Espanyol bus, I did not imagine it. I saw conditions to get to First, but not to play so many games. But the thorn of my leaving the club remains, I should have gone differently. The injuries were significant. When Illarramendi made me that entry I was close to the National Team ... And then in Mallorca the same thing happens to me with the injury. Those of us who have the ball have more options than they can give us. Perhaps my career should have reached a higher point.
Talk about that departure from Espanyol. Years have passed and everything has been explained. Do you have any regrets?
I was sorry how I had to leave. He was an important player in the squad. There were a number of problems that weren't sporting, and then I went from playing to being in the stands. I wanted to renew and to be valued. It came from the subsidiary and my contract was low. But I never wanted to be the highest paid, only to win according to my minutes, and I wish I could have been at the club for ten years. I could have left, but I didn't, I always wanted to stay at Espanyol.
And he went to Mallorca ...
It is true that when I am in the stands for so long without opportunities in the end I have to leave and I have to continue on my way. At that moment I should have expressed myself, put it another way ... Maybe I was silent for a long time. I did not want to hurt the club or have my image damaged, since it came from an injury, from playing undercover as well. I went through hard things and I felt hurt, but I don't hold a grudge against anyone. Surely I was wrong and Pochettino surely was too. We would both act differently now. He has matured as a coach and I think differently. I admit that I learned a lot with him. There is a situation that marks a before and after. I saw myself as captain and playing for ten years ... But I don't hold a grudge, I wish him well.
What did Mallorca mean to your career?
The club opened its doors wide for me. I am very grateful to Serra Ferrer for everything he did for me. On matchday three they broke my ankle and Nunes injured his knee ... The team's spine broke, we broke down when we were also in Europe. When you have great players and you get down, you end up having a bad time. And we go down.
And how does a player accustomed to playing in the First Division become mentalized to do so in the Second Division?
You have to accept it. There are players who feel committed, who want to return the club to its place. Others who have no options to leave because of their contracts or because there are no offers and in the end must stay because there is no other solution. The player wants to go back to the First Division, and if you also have the link with Espanyol or Mallorca it will root you much more.
Was it difficult for you to hang up your boots this summer?
The previous season was difficult at Nàstic. Many of us came from First Class. There was a very fast change of coach and a number of things happened that were not positive. It depleted me mentally. On day ten the illusion waned. I was able to go abroad, to some other club in Segunda, but the illusion waned.
Photos from as.com