England surrender to Saka, the new star of Arsenal
The 19-year-old footballer gave two assists in the victory against Benfica and several figures around the London team have raved about it.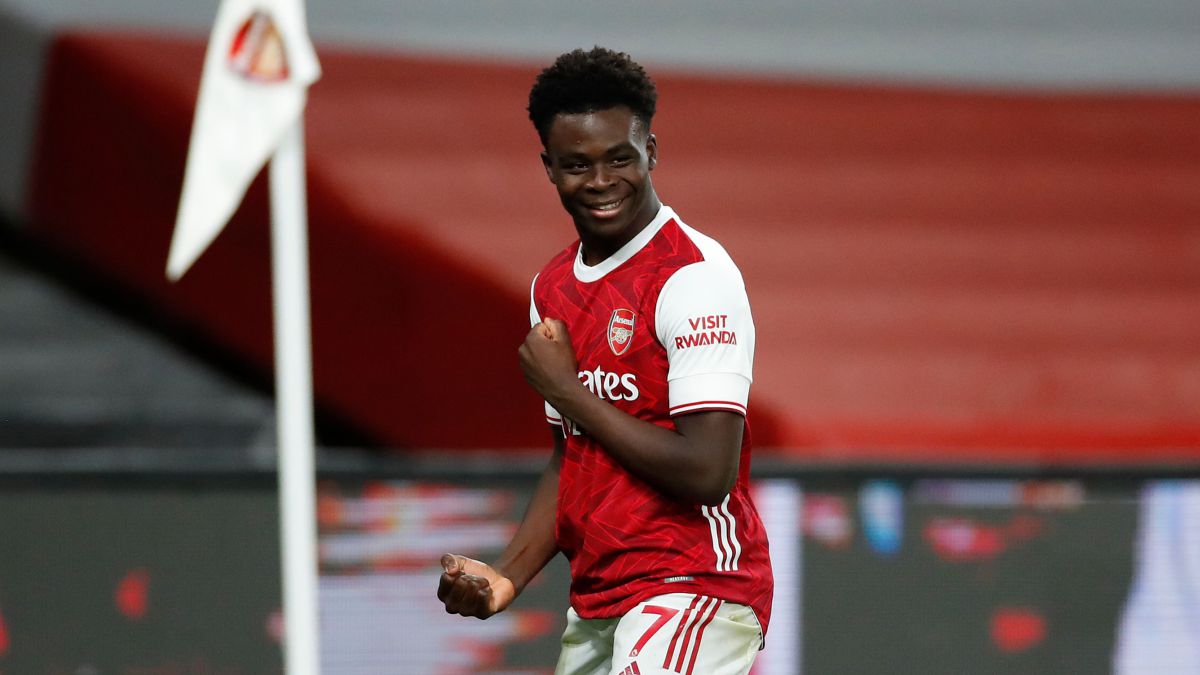 On 29 November 2018, Unai Emery gave the alternative to Bukayo Saka - a 17-year-old - in a Europa League match that Arsenal won 3-0 against Vorskla Poltava. Just two years after that moment, the young Gunners youth squad has become a key player in the first team and is being one of the sensations of the season at the highest European level. He has played 2,497 minutes for Mikel Arteta's team and has generated 13 goals, that is, a goal every 190 minutes.
In the ten games he has played so far in 2021, he has scored four goals and given another four assists. Last Thursday he was once again Arsenal's best player and made a vital contribution to his team's progress to the knockout stages of the Europa League in the agonizing 3-2 victory over Benfica. The London-born winger provided two assists, created three scoring opportunities and won five games. But not only was he important in the second leg against Lisbon, but in the first leg he also came to the rescue of his team scoring the final 1-1.
To understand the magnitude of Saka's irruption in a team in low hours like Arsenal, it is enough to know two facts. The winger is the player who has given the most assists at Arsenal since the start of the 2019/2020 season: 17. His ability to associate and his effectiveness in the key areas of attack have made his impact even greater. In addition, he is also the player with the most assists in the Europa League (8) in the last two seasons. A talent that does not remain.
Bukayo Saka was born in Ealing, London in 2001 and comes from a family of Nigerian descent. Both of his parents emigrated to London from the African country. The two have played a key role in his development as a person and a footballer, as the Arsenal player himself said in an interview: "They are an inspiration to me. Since I was little, they instilled in me the values of humility and endurance" .
After his first professional goal (against Eintracht Frankfurt in October 2019), Saka was asked about his idol and answered clearly: "Cristiano Ronaldo". The now English international continued his explanation: "I love his mentality. He always wants to be the best and works hard on and off the field. He plays with a confidence and an admirable personality that make him one of the best players in history." Asked about characteristics that both can share, he assured that they are "two different players", but that he tries to get the best out of him and thinks they have a similar mentality.
Arsenal legends surrender to his talent
After his outstanding performance against Benfica, it was several former Arsenal players who showed their admiration for Saka and recognized the talent of the rising star. Cesc Fàbregas, who spent eight years in the London team, highlighted on Twitter his maturity and intelligence and assured that it is not at all common for a 19-year-old boy.
Ian Wright, a regular on British television and with nearly 300 games and 185 goals as an Arsenal player, also praised the young man: "Do you really know how much I love you, my friend?" In the same vein, Bacary Sagna was shown. The French international, who played 285 games for the team from the north of the capital, was speechless and assured that he is an "extraordinary" player. Finally, Robin van Persie was also captivated by Saka's performance against Benfica and his progression in recent months. The former Dutch striker told BT Sports that the pass he gave to Aubameyang at 3-2 was typical of players like "Ryan Giggs, Dennis Bergkamp or Paul Scholes. Ordering your forward to move into the danger zone is of world class. It's not simple at all, but he makes it look so easy. Only great players make those passes. "Rapid and rapid growth
Just 14 months ago, the market value of Bukayo Saka was 13 million euros. He was facing his first campaign with the Arsenal first team and was trying to establish himself in the elite. To this day, it has more than succeeded. Now, Transfermarkt places its market value at 40 million, double that of a year ago. His competitiveness, adaptability to almost any position and his intelligence have made his role in the Gunner team grow and his presence is essential.
His decision making has improved and it is very difficult for the opposing defense to stop. In the six months that go into the 2021/2021 season, he has completed more dribbles (34) than in the entire previous one (31), he has made more touches in the last third of the field (586 to 405) and creates 1.4 dangerous actions for every 90 minutes. With these numbers in mind, it is easy to explain that CIES values Bukayo Saka at 130 million euros. Arsenal have before them one of the players with the most future in Europe and a jewel to polish with a number of indecipherable resources.
Photos from as.com