End to the great streak of Valencia Basket because of Hannah
The point guard of Andorra went up to 26 points, with a masterful direction and an equal success. Valencia had twelve wins in a row.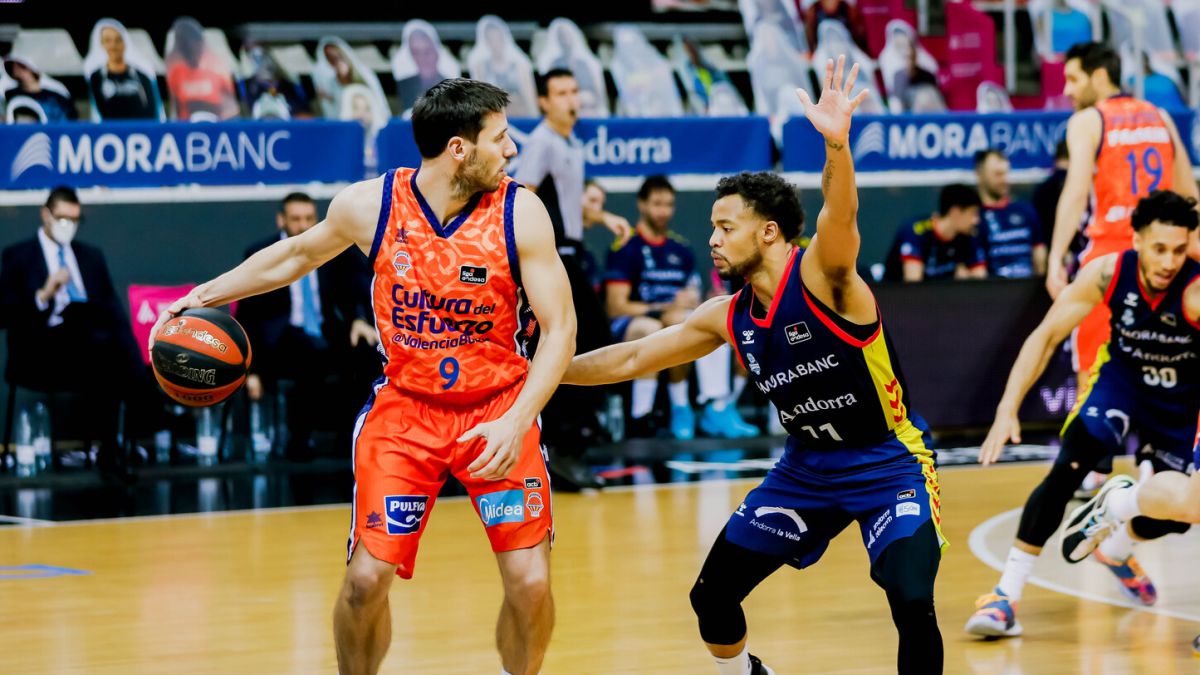 MoraBanc Andorra, with an excellent Clevin Hannah (26 points with 7 of 8 in triples), broke the streak of 12 consecutive victories in the Valencia Basket League and won 84-72, allowing Jaume Ponsarnau's players to continue aspiring to play the 'play-off'.
Valencia Basket showed stripes in defense against a thick MoraBanc in attack. Those of Jaume Ponsarnau, in the first ten minutes, were only behind in the electronic with 9 to 8.
The Andorrans stayed the last five minutes without scoring and the visitors, with a partial of 0 to 7, took the first quarter with a 12 to 17 and six points from Bojan Dubljevic, dominating in the paint.
Ibon Navarro's men did not score again until after three minutes of the second quarter and with an adverse 12-21. Two consecutive triples by Tomasz Gielo and two points by Sergi García completed an 8-0 run to bring the Principality of Andorra back to the game.
The locals gained confidence in attack and with an inspired Jelínek (seven consecutive points) they completed a 10-4 run to place 39-34 at half-time. Valencia relaxed and paid dearly against a MoraBanc that woke up in attack.
A partial of 10 to 0 as soon as the start of the restart placed Ibon Navarro's men with a +11 (49 to 38). The Andorran defense on the edge and two consecutive triples by Hannah caused Jaume Ponsarnau to time out. Valencia Basket was abandoned in defense and could not understand the Andorran defensive aggressiveness.
A third triple from Hannah placed Navarro's men with a +14 (52 to 38). The advantage increased to +16 (61 to 45), but those of Ponsarnau made up the score with a partial of 0 to 6 to leave 61 to 51 at the end of the third quarter.
In the last quarter, MoraBanc, with a leader Clevin Hannah, did not suffer to achieve the final victory although Valencia was located with 2 minutes to go with a 74 to 69, but two consecutive triples by the North American base sentenced the crash.

Photos from as.com