Emery: "We think about going out to win and not about keeping what we have"
The Villarreal coach is clear that despite the two-goal advantage with Salzburg they must "go out to win and not think about the advantage and speculate with it.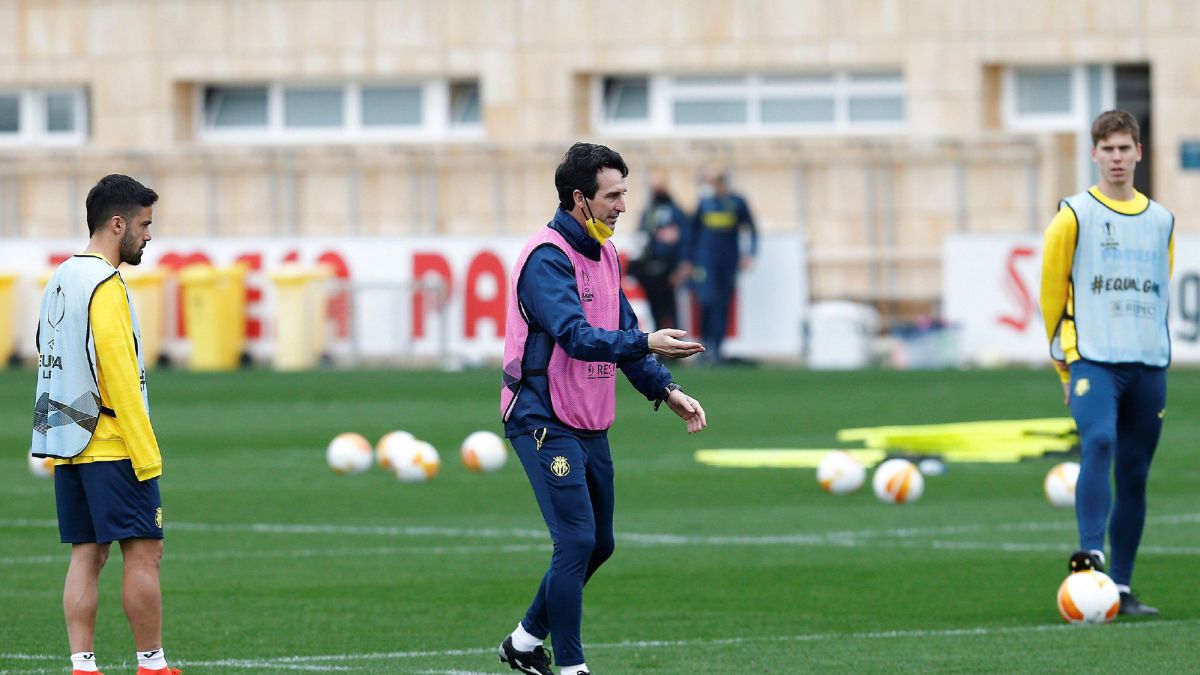 Unai Emery is clear that despite the two-goal advantage with Salzburg they must "go out and win and not think about the advantage and speculate on it." The coach points out that he does not think of "doing rotations as such", since the idea is "to make the best eleven and respect the competition and the rival". Ensuring that they expect a "quality and injured rival", so they can "go out and speculate on the result" .
Rotations: "The idea is to have a competitive team that continues the first leg against an injured team that we respect and we know they will not make it easy for us. They are a injured team and with arguments to complicate us a lot. We know of his quality so that he does not want to and does not stop talking about rotations, the idea is to put the best players with the certainty that they will be the most competitive in this match and that their performance will be the best. to the best, the fact of repeating those of Bilbao can be given without problems except for an injury, so the idea is to build a team as competitive as possible. Competitiveness and respect is gained by putting the best in each match ".
Importance of this competition: "We have the goal of the Europa League, respecting our opponents and want to pass. We must also continue to grow and for this we must win and improve. We came from many draws and victory there gives us confidence. The confidence that he can I don't want it to be done at all, since they are a good team and they will come injured. They will go out to pass and we will go out to win, no speculating with the game and thinking that we can handle it thanks to the advantage of two goals that we have. We want to recover the team, beyond the result we have many things to do and things to recover ".
Things to improve: "More or less we came from a draw streak and the victory in Salzburg left us good feelings, but things to improve, which was also seen in Bilbao. We are working defensively, we do it well, but the goals come in against, so we must be more effective in that facet. In control of the game, in Bilbao we had it, but we need to look better up and have more options in front of the goal. We must improve in the defensive phase and progress more in attack We have the ball but it remains in a somewhat bland possession.
With Salzburg, an open match awaits us with many duels, which will require a lot of verticality, since it will be a more open match. We must improve, find a regularity in the performance, and that this leads us to the result ".
Capoue and Peña: "Peña is low, it is a minimal injury, but it does not come. Capoue has trained normally, ended with fatigue, but he has trained well. It will be a difficult game, so we must have everyone at the highest level and ready ".
Key to the match: "The key is to impose our idea, being vertical will be a good option, since they are going to pose high pressure. The difficulty is to make them not run, for which we must have the ball, and know run when we can. We must try that the game does not open, the idea is that they do not have spaces, since that is what they like. And if the game opens, be vertical to be able to take advantage of our options ".
Alberto Moreno and Mario: "Alberto and Mario work partially, we think that Mario will be closer to join the team and Alberto we are going to wait until they cover the 6 months and we will go little by little" .
Europa League much tougher: "I started the Europa League in 2008 and the evolution until today has been tremendous. Entering the Champions League via the Europa League has changed things, we have teams that now this competition is very important, since English teams, Germans or Italians compete to the maximum. Therefore, we see that this competition has grown and if we look at the finalists in recent years they are already very big teams. Every time we see that there are reasons for teams to want to win the Europa League, so it is a very beautiful and demanding competition ".
Problems with injuries: "Injuries are part of the game and it is something that you must take into account, you must manage this situation, so there is no excuse for it, you must recover and manage situations as things come. The priority is Europe League since it is the immediate one, we do not think that it is a wear, we think that it is a pride to play and compete ".
Parejo: "We will go out to win and not speculate"
Dani Parejo is clear that they must "go out to win and not speculate" against Red Bull Salzburg. For the midfielder this is "a great competition in which we are very excited", so they cannot "think that it is done or easy for zero to two". Regarding fatigue and how they get to this game, the midfielder will assure that they are "well and very motivated to be able to play this type of game".
Situation of team and players: "We are well, in clubs where you must play these competitions you must be able to play a lot, and we are. The team is prepared for it. When you are in these clubs you must be prepared to play every three days and we are .
It is true that in the league we did not achieve results, but I think it is not due to the game, I think the feelings are good as seen in the first leg. We played a good game there, we have an advantage, but we know that it is not final. We play at home and we must go out to win and not to maintain the advantage we have. We play with a dangerous team, a rival who has a clear idea of the game and who have the quality to complicate us. "
Many casualties: "It is true that casualties have made it difficult for us, but like other teams, so we must compete in each game and face it in the best way. We have injuries, but I don't see it fair that we excuse ourselves in that. We are the ones who we are, we are who we are, and we must work to achieve the objectives ".
Europa League complicated: "This year there are very strong teams in the Europa League, for me it's like that, it's my feeling. I haven't looked, but I think it's one of the two or three strongest teams that I remember. dynamic team, with quality players and arrival, a difficult opponent. We play at home, but we know the difficulty ".
A solid team that loses little: "In the end more statistics say that we are a team that is difficult to beat, we have only lost three games and that is for something. But we must go out to win and increase the difference, it would be a mistake to think about go out to maintain the result we have ".
Personal situation and possible fatigue: "I am happy, happy from day one. I am happy because of the treatment, the way things are done, the way things are done. And in games, I have already said that we like to play and the more we play much better. We all like these games, so more than fatigue what we must have is enthusiasm and desire to go as far as possible ".
Photos from as.com