Emery: "We must recover our identity"
The Villarreal coach acknowledges that they face a very difficult tie with Red Bull Salzburg, a team he describes as "high level" and very "dangerous".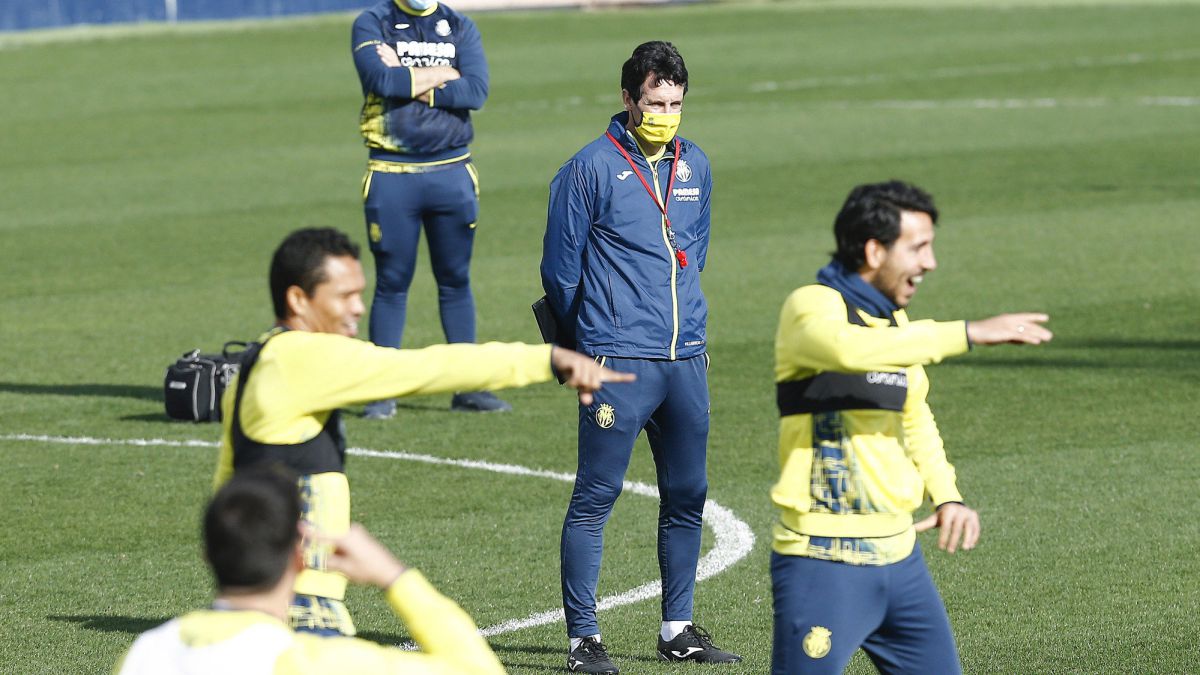 Unai Emery admits that they face a very difficult tie with Red Bull Salzburg, a team he describes as "high level" and very "dangerous". For this reason, he is clear that they must "forget doubts and recover the style and identity of the team", since they have shown it throughout the year and things "have gone well". He assures that they only think "in this tie and this competition", since the club "deserves that the team does the best possible role" .
How they get to the game: "We prepare the game thinking about how we are and how the opponent is. We see that there are cycles of dominance in Europe of teams that in their leagues were very strong in other years, and in a very recent time our teams were what they dominated. We have had two finals without those teams and that cycle seems to be over. But I believe that we are in the best league and I hope so. I want the Spanish to win in these qualifying rounds, that they all pass in this round , since it is good for our competition. Salzburg is a team of experience and level, that plays very well and that comes from the Champions League and has played a great role. We must find our way, we will try to strengthen it and be closer to win. We are excited to do great things in this competition ".
Key to regain confidence: "We must break the doubts and for this we must have confidence and restore what has been broken, the challenge is to clear up the doubts and continue our path again. We are recovering people, only Mario and Coquelin stay at home, plus Alberto and Iborra, which gives us more confidence. Chukwueze recovers and we go 23, so tomorrow we will think about eleven. We must recover our personality, our style, we must have a tactical and physical game, be very attentive to their transitions and their weapons. We played two games, with a hungry team, used to winning and with very hungry players. A complicated tie awaits us and in which they will demand a lot from us. "
Chukwueze: "The main thing is to see how the players are and if they have discomfort. Today we have worked well and without problems, so we are happy. Samu had been away for a long time and we have missed him, we have lacked overflow. We are working Well with him and the postoperative period has been good, so he no longer has problems and may already be in the team, so he travels with us ".
Rotations: "We cannot think of anything other than the Europa League, it is very important for the club and it deserves that we give everything. For us and for the league flag, it is a time to show our credentials and things well to continue in this competition ".
It conditions the second game at home: "It does not condition me to play the second game at home, we know that there is a second game and we must know it. But we must compete in every minute and know that it will be a long tie. We must manage performance and handle situations of each player, since we have players with annoyances, which condition us. But the idea is to compete hard every minute, they are very dangerous and with players that if you lose the ball many arrive and with a lot of danger. We have analyzed the rival well we know what awaits us, I have already said that they are a very good team ".
The best of Salzburg and problems in defense: "It is true that it conditions a lot the players you have, they have two losses in defense, but they have young players with a lot of potential, so we are clear that they have potential. The losses will make up for them well and for sure they will continue with their idea of the game, they will not change for it ".
Capoue and players with more minutes: "Capoue did not play on Sunday as we prefer not to risk, while the players who have been playing the most minutes are taking care of them and are used to playing many games. We talk to the doctor and try to manage things to avoid problems and injuries, we try to improve that and that there are no injuries, although we know that injuries are there and are part of the game ".
Pau: "Salzburg is coming from doing a good job in the Champions League"
Pau Torres is "optimistic about this tie" and sure that the team "is going to give its best version." It points out that they are aware of the level and of the "rival's difficulty", to which is added that the team "has gone through a negative streak", which makes the tie not easy. But he is clear that "the pothole has passed and that the team is going with the idea of winning in Salzburg" .
How do you get there: "The tie has arrived and the team has changed the chip, we want to win and with it change the current trend and get hooked on a good run in the league. We are going with the idea of winning this match in the Salzburg field" .
Situation analysis: "It is true that the results are not as expected, the only positive thing is that we are recovering people and that will be good for the competition to be of the highest level and thus recover the good results. We have a good opportunity to change this bad dynamic and recover sensations ".
Valuation of bad streak: "We are in a difficult moment, a season is very long and there are better and worse moments. I think we have already passed the pothole and that we are going to get better. Now we are in this tie that we knew was there, now we are going to Salzburg with respect, but with the idea of winning ".
Salzburgo: "We know their potential, they are very vertical in their attack, they don't care if the game breaks and they always go looking for you upstairs. We must not let them run, we must control the game and take it to our field. It is a double tie party and we should think about it, but without leaving anything ".
How do you value the Europa League: "This competition is always of the utmost importance, it is a competition that gives prestige, everyone wants to play it and it is the option to do something great and show who we are. It is also an opportunity to recover and look back at up and change the dynamics ".
Claves of Salzburg: "It is an important team that comes from doing a good job in the Champions League, a team of transitions and with young people wanting to show. It is a two-legged tie, it is important to score away and we are eager and excited to to be able to pass. We know what we have to do so that they do not harm us ".
You have respect for Salzburg: "It is a team that is at the top of their league, they are doing well after their break, a strong team at the top and well worked. We know how strong they are and we will try to do things well to be able to bring a good result for the home game ".
Photos from as.com