El Mono Burgos is once again enigmatic about Simeone
The former Atlético coach continues to hint that his relationship with Simeone has not ended in the best way.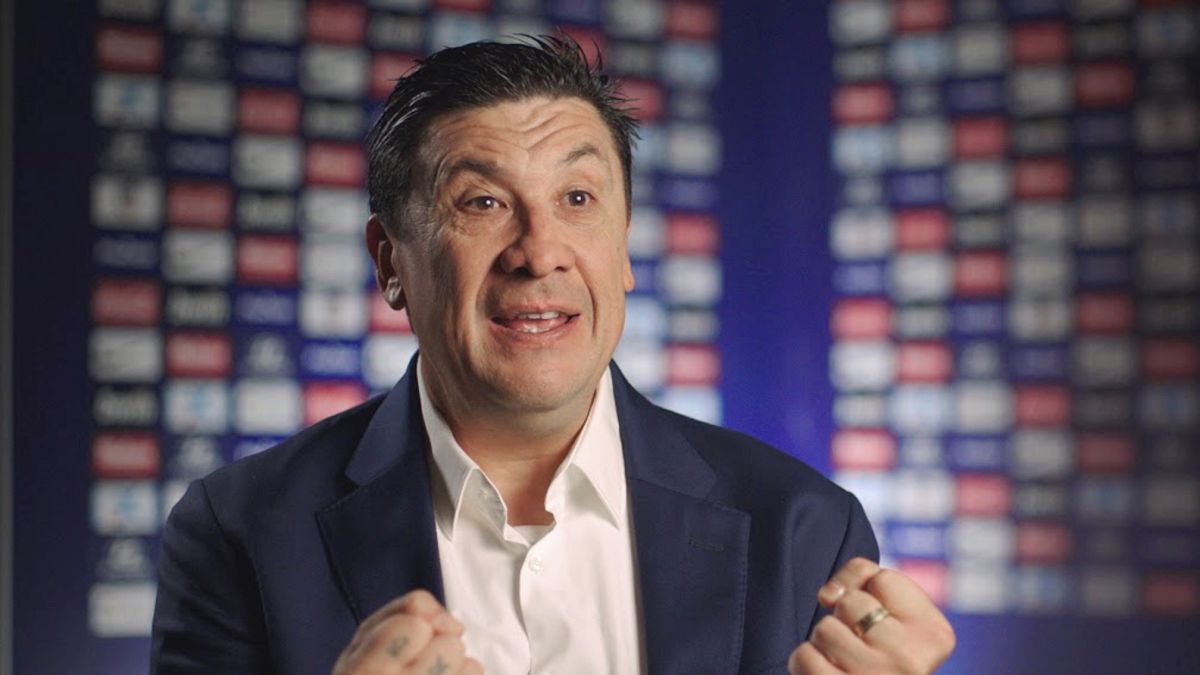 Germán Burgos, el Mono, is still waiting for the call to begin his career as head coach. He left Atlético at the end of last season to start his solo adventure, after having shared his entire career with Simeone at Atlético. However, it seems that there was a break between the two. Burgos explained with irony a few weeks ago that he sent a message to Simeone when he contracted Covid, but that the technician did not answer him. "It seems he changed his phone ...", he pointed out wryly.
"I called him when he was sick with Covid. We have a friendship for many years. I have had lunch and dinner with him more than with my family. (...) Friends talk when something happens to the other friend, I don't he likes to bother. I talk to him when he's bad. It seems like he changed the phone, but I'm going to get the new one because I sent him a message after the game against Real Madrid, but he didn't answer me ... ", he said.
Now, Burgos has been asked again about his relationship with Simeone during an interview on Infobae. El Mono has not wanted to go into more on the subject, but it is understood that the relationship is not the same. "I'm not going to say anything more, I only wish him the best," he replied to the journalist when he asked if he has already gotten Simeone's new phone number. Asked if he is not still in contact with him, Burgos threw balls out again: "I don't know, I leave that to your free will."
Burgos follows Atlético's trajectory from a distance. "I wish them the best, they know that I am going to support them to death. I am happy with this present, and I hope they do very well. But there is still much to play. Of course, Real Madrid is in front, and there is genetics The one I was talking about, which is already installed. They are going to fight even though they have lost some games, the guys go, they go. You can't neglect, and at any moment they put you in 6. They are going to fight because they are used to it. There are teams that get used to fighting to avoid relegation, others that know they are halfway down the table and trying to access a cup; there are others that are going to fight to be champions, because their shield demands it. "
Regarding the performance of Spanish teams in the Champions League and their lower performance, Burgos has his own vision of the situation. "I see that due to the pandemic that is installed and we must fight it, transfers have become difficult. Everything is complicated. It's like the security protocol restricts your freedom. They do tests the day before the game, the day later, again the stick here in the nose, it is an overload of emotions. You don't know whether to shake hands, how to say hello, whether to hug, if not. People don't know this: you arrive on a trip and the next day again The test, which is fine, eh. But hey, that's the way it is. Then one of them appears with a fever and they have to lock him up. They take one out for 14 days, another recovers. And the load of matches every three days with another important detail, It is being played without people. There are players who need it, others who do not. But many prefer the noise to get into the game. So we see that the one who trains better, the better he will play, because the public is not going to help you. . It is not there to raise a game, to put pressure. Then it's you alone from minute 1 depending on what you have trained, that is what makes the difference ".
Burgos also critically observes the situation that Barcelona is experiencing, for him the departure of Suárez is at the root of everything that is happening there. "That Luis Suárez has left has already moved everything. Things are happening there. This is what I was just saying about the legs of the table. There one of those legs is not there. From one day to the next they tell Suárez that they don't have Him. It's complicated like that. They will fight to the end, but they are suffering. Likewise, Lionel is taking him with nobility and honor because it is his home. As a kid he was there. For him it is Argentina and Barcelona. Many say he is going to leave, but I don't think he's leaving Barça ", he says.
Burgos has also referred to the offers he had during his last weeks at Atlético and why he did not accept them. Now he is still without equipment. "I am taking it well because with my coaching staff we are busy, working. I am 24 hours a day. So it is an active patience (laughs). What happened was that when I chose to continue at Atlético de Madrid to finish the Champions League, I occupied the space of the usual preseason. I knew that this waiting period could happen. And I had prepared what I was going to do in the meantime. Although I had contacts with teams that told me to leave Atlético to start working, it was impossible . I spoke with leaders who told me "talk to Gil Marín." I said "no, I have already spoken that I have to stay." Because I could not do something ugly to the club that is my home. In football history I never saw a coach to be fired the way they fired me. So those things must always be taken into account when making decisions. The only option I gave them was difficult: that we dismembered and that part of me began to work coaching staff and then I incorporated after the Lisbon Champions League. But it didn't happen because those clubs wanted to have the first coach from minute zero. Which is fine with me. So, faced with that election, I knew that at least in Spain this was going to happen to me, "he says.
Burgos was a trend a few weeks ago by proposing a revolutionary new scoring system in championships to encourage the teams that scored the most goals to be awarded, encouraging attacking football. El Mono reveals in the interview that it was not a mere thought and has raised that proposal to the football authorities. "I took him to the Royal Spanish Football Federation to give it entity, President Luis Rubiales attended me, with his group of lawyers. My daughter, who is a lawyer, accompanied me to speak with them. They found the proposal interesting, but I don't know It can be done from one day to the next. This must be rehearsed in the lower categories, so that the boys can see how the results develop, always thinking of giving benefits to the one who scores the most goals. If it is installed in children, it favors the show. I don't know if the scores I gave are correct, but the important thing is the idea. The basis is that 0 to 0 cannot be worth the same as a tie with goals. If we understand that, we understand the idea. what we talked to the people of the RFEF. It was very positive that they received me. The same when I asked that they install the goalkeeper's day here in Spain for Iker Casillas' birthday (May 20), which I did because I remembered that in Argentina the same was done with Amadeo (12 June), so I proposed that and that celebration was institutionalized by Iker, "he revealed.
Photos from as.com