"A dream? Running the Vuelta with the orange tide in the gutter"
Luis Ángel Maté (Marbella, 36 years old) attended AS during the presentation of Euskaltel, the project in which the Andalusian has landed with enormous enthusiasm.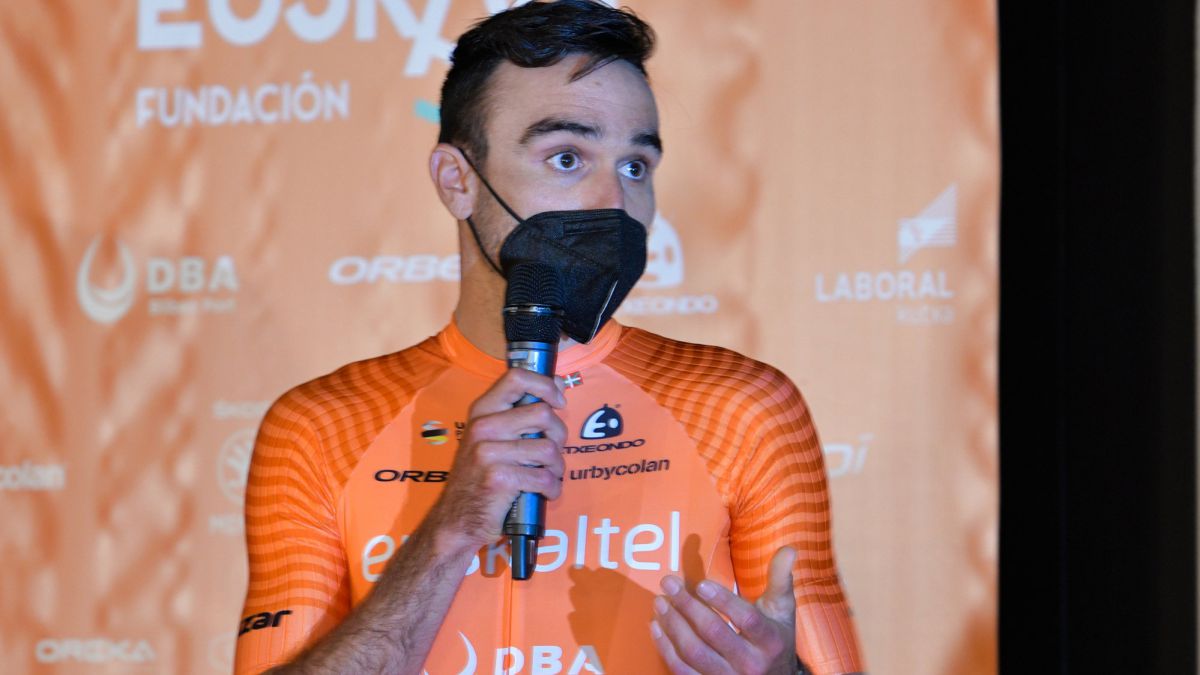 Luis Ángel Maté has made the leap to the Euskaltel Euskadi in the UCI World Team category and he is especially excited. It is the sauce of all parties and he hopes to contribute from his experience to help the youngest of the orange squad. After several years in Cofidis, he disembarks in the squad chaired by Mikel Landa.
-You seem especially excited, right?
-Well yes, it's like going back to my beginnings in Andalusia. Or even when I went to the Androni in Italy. You can see a very special energy in the Foundation and I think I have been completely right.
-He comes with the idea of competing and also of contributing something to less experienced runners ...
-That's it. They also helped me a lot when I started and that times have changed drastically. I notice that they respect me but they still think I'm old.
-Explain…
-Let's see, now you go on a bus and an elderly person arrives and the young people do not get up to give him their seat. We were educated in respect and such things did not happen.
-Is that also noticeable in cycling?
-Of course, in Cofidis the new cyclists appeared and they thought they already knew everything. You are there to contribute and they think that you are an older man and that you have nothing to teach them. That's good because people like Pogaçar come out, but we'll see where everyone is in ten years. Hopefully up.
-Have you noticed that atmosphere at the Euskaltel?
-No, quite the opposite. The boys seem like good kids and eager to learn. They are quite attentive to everything I say and it seems that my mission may be good here.
-Do you have much left in the professional platoon? -
-Man, a lot, a lot no. I am 36 years old and I have to start thinking about retirement. But I'm not worried, I'm sure that from the first day after hanging up the bike there is something to do in personal and professional life.
-Enjoy cycling with friends like Eder Sarabia, right?
-Hush, hush, he's in Andorra now and he's allowing me to rest. He spends all day with the bicycle on his head. That if we are going to climb this pass, that if I have a route to do ... in a few years anyone will follow the wheel.
-What memories do you have of your beginnings?
-Well, in Marbella there were no races or teams to run. If I am a cyclist, it is thanks to my family and the support of my father who took me on weekends to compete many kilometers from home. If it hadn't been for all of them I wouldn't be what I am now. In these moments, many times, I see them more excited than myself. They are a source of pride.
-Why Euskaltel?
-Because I like his philosophy and his spirit. The orange tide on the roads. I have lived the first stage of that time as a rival and you looked with envy at the fans on the ditches of the Pyrenees. Now there are no people in the races but hopefully they will return as soon as possible.
-How have you experienced the pandemic and its consequences?
-Well, like everyone else, really wanting to take off our bloody mask and be able to run normally. Enjoy the bicycle that is the most important thing. That things return to a situation similar to what we had before.
-How should this team be in 2021?
-Combative, hard-working, involved, who gives war in all races. I think that work and intensity are hallmarks of the Euskadi Foundation and we must try to maintain and strengthen them. There is always room for improvement in this sport.
-The bicycle is fashionable with the pandemic, right?
-Normal. It is healthy and allows you to enjoy. We are privileged to be able to make a living from this and to compete at the highest level. Many times I think that younger cyclists do not value what they have. Some think that races are organized just like that and do not realize the effort that everyone makes to get ahead.
-What do you ask of 2021? Win a race?
-I have not been a cyclist who has been known for winning many tests in my professional life, but I have helped other colleagues to do so. And I've always felt good in that regard and am very satisfied with my personal career.
-A dream for this season?
-Being able to run the Vuelta as a guest team, play stages with colleagues and see the orange tide cheering from the roads. The situation is as it is but it seems that it can be resolved with vaccines and with the evolution of things. In that sense you have to be optimistic.
-Is it feasible to run the Tour of Spain this year?
-With three invitations to national teams, I think the possibilities grow. But not only do you have to worry about the Vuelta as there are many other competitions: now we play Almería, then the Volta. Also Itzulia, which will be the home race and in which you have to give a good level. If the good results and the circumstances allow us to run the Vuelta, then all the better.
-I see you very convinced of the step you have taken, right?
-It's that, really, I'm very excited. It's like going back to my origins. Euskaltel is a unique case. It has contributions from members, sponsors and, in addition, it has a special hobby that will surely push us in all races.
-Thank you very much.
-Eskerrik asko. Agur.
Photos from as.com