Djokovic: "Roger, Rafa and I do not want to allow young people to win Grand Slams"
The Serbian recognized the credit of the Russian for his fantastic form, despite breaking his streak of 20 consecutive wins. And wants more.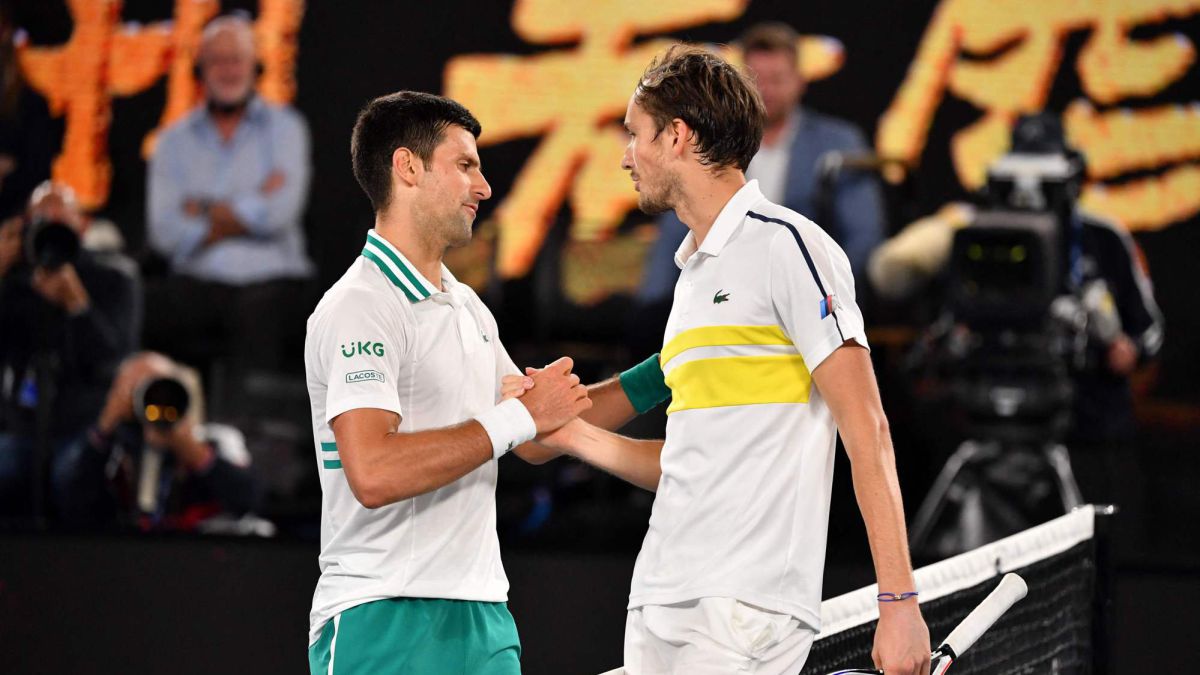 Novak Djokovic analyzed his spectacular victory in the Australian Open final against Daniil Medvedev, who was given no option from start to finish to win in less than two hours of the match: 7-5, 6-2 and 6 -two. Despite the superiority displayed, the Serbian did not hesitate to recognize the merits of his rival after scoring his 18th Grand Slam.
Medvedev: "I would like to say good words to Daniil. He is a great person and player. We should spend more time training together, as we did in Monaco. You must call me more times. I like Daniil a lot, he is a good friend. On the track he is one one of the toughest players I've ever faced in my life. I hope he has a few more years left to win a Grand Slam (laughs). "
Importance of your physio: "I especially thank my physio for the problems I have had in recent weeks. Thanks to all my team, I love you guys. Thanks also to Craig Tiley, organizers and sponsors for taking this tournament forward, It has not been easy at all.
Message to the fans: "The love I have for this track continues. Thanks to the Rod Laver Arena."
Later, at a press conference, Djokovic spoke at length with the international media to express his emotions and what it cost him to win this trophy.
Despite the score in the final, do you think this was the most difficult of the nine Australian Open titles for you?
Each one is different. It is difficult to compare. But it was definitely the most emotionally challenging Grand Slam I've ever had with everything that was happening, the injuries, things off the court, quarantines. It has been, at least, a roller coaster in the last four weeks. Of course I am not the only one who has experienced that, speaking of quarantine. I can not complain. I probably had the best time I could compared to the other players, some who had to stay 15, 20 days without leaving the room and without training. Much suffering, much sacrifice. At first we did not feel so welcome, judging by what the media wrote about tennis players. In the end I think it was a very successful tournament for Tennis Australia, for the tournament, for the country ... It was very difficult for me to keep my mind calm and focus on what matters most. I have put in a lot of energy and time, together with my team, to sit here with a trophy. So I will get a lot of positives out of this month here in Australia.
What does the number nine mean to you and the 18th Grand Slam?
When you are a young tennis player, I think that 99.9% of players, children who have a racket in their hands, start to dream about what they want to achieve. So I try to remind myself, pinching myself, how important this is. Even though I have been lucky enough to win many majors and play in many important finals in my life, I am enjoying success more and more, because I know that the more time passes, the more difficult it will be for me to get my hands on an important trophy. because there are new young players who are as hungry as you, maybe even more, and they are coming and they are challenging me, Roger and Rafa. I don't feel old or tired or anything like that. But I know that, biologically, things are different than they were ten years ago for me. I have to be smarter with my schedule and peak in form at the right time. Slams are the tournaments where I want to be able to perform at my best. Now, achieving the record for weeks as number one is going to be a relief for me, because I am going to focus all my attention, especially, on the majors. My goals will adapt and change a bit, which means I will have to adjust my schedule as well. Having my family on the road with me will be a very difficult task, because if I am going to travel, I have to bring my coaches and everything, and we have established rules for that. So I'll have to wait and see how I do my schedule. I have no firm commitments after Australia.
Could you share what your injury was and what you did in the past nine days to recover?
It is a tear, a muscle tear, of the abdominal oblique muscle. I felt it immediately when it happened against Fritz in the third round. That's what I said in the post-match interview. I know there has been a lot of speculation, people were wondering if I was injured, how can I recover so fast, that it was impossible… I understand. Everyone has the right to have their own opinion, and everyone has the freedom and the right to say what they want, to criticize others. It was a bit unfair. But, hey, it's not the first or the last time that happens to me. What we have done in the last nine, ten days, you will have the opportunity to see it in detail, probably later this year when the documentary comes out. I have been filming a lot of things here, but also in the previous months, six months. We are planning to get that document out later this year. You will see more of the recovery routine.
Talk about the younger generation being hungry. Why have they not been able to have the successes that you had at the same age?
They have quality to reach the heights in the main tournaments. They have tried it. Dominic (ThiemI) won the US Open. I think only Roger, Rafa and I have always managed to play our best tennis at the Slams. We have the experience of knowing what to do, how we can win best-of-five matches on different surfaces. How long will it take perhaps Zverev or Tsitsipas or Medvedev to do the same? I do not know. But they are very close. Medvedev was the guy to beat with his 20-game winning streak. Tsitsipas, Zverev, Medvedev, they all won the ATP Finals, Masters 1000 and are highly ranked. They have played in the semifinals and finals of Slams, so it is only a matter of time. But hopefully not so close.
How did you manage to put aside all the talk off the track about you?
For me, the main thing was to really direct all my thoughts, attention and energy to what mattered most to me, which was trying to recover, do everything correctly, follow routines, the things that make me feel comfortable and put me in the best state , possible condition and position to win matches. That is what I have done. It is much easier said than done. I have invested a lot of energy, especially mental energy, in that. My team that has been staying with me for the last few weeks at home, we watched tennis, but we didn't follow it, at least when I was with them.
Does it hurt to receive such constant criticism?
Yes, of course it hurts. I am a human being, like any other person. I have emotions. I don't enjoy when someone attacks me openly in the media and stuff. Of course, I can't say I don't care or whatever. I have to be honest, but I think I've developed tough skin over the years to just dodge those things and focus on what matters most to me.
Goran (Ivanisevic) says that after the tough defeat in the final in Paris, you needed to win this championship. Would you agree?
I agree with my coach, of course. That disqualification at the US Open obviously affected me mentally, emotionally, for the rest of the season. I wanted to start this year in the best possible way. Coming to Australia always gives me that extra dose of confidence because of my track record here and how I play
Last year he won the Australian Open and said he wanted to be undefeated all season. Is that something you still have as your goal? And you start looking at Margaret Court and Serena's (Williams) record?
I do not plan to be undefeated all year. I'm not thinking about that. But I certainly want to win every game I play. Otherwise, I'm trying to make history. I think about winning more Grand Slams and breaking records, of course. And most of my attention and energy from this day forward, until I retire from tennis, will go to the majors.
After that match against Fritz, did you look to win this title?
I was quite worried. It didn't seem realistic that he could play. I didn't find out until two hours before the fourth round match. That was when I stepped onto the court and played for the first time. I looked good. The pain was at a level that was tolerable for me. I just accepted the fact that I was going to have to play in pain. What if I was aware of the fact that I could possibly do more harm and risk making the injury worse? Yes. But I had to take a chance to try to give myself a chance to go far in the tournament. The medical team, my physio, did a tremendous job.
Medvedev says that when you think of the big three, you consider them robots. How would you describe the Big Three and what they have done?
Like the three gentlemen of tennis (laughs). Roger and Rafa inspire me. That's something I've said before. I will say it again. In a way it's like a race where you play more tennis, I guess, and earn more. It is a competition between us in all areas. But I think that's why we are who we are, because we push ourselves, we motivate ourselves, we push each other to the limit.
He seems to enjoy the battle between generations, keeping the young at bay. Is it something that drives you?
Not really. It is not my source of motivation. I have a lot of respect for all the young, the old, whoever. Everyone is going through difficulties and difficult hours on the court and off it to be able to play at the highest level. The younger ones that are emerging are very close to starting to win important titles, but Roger, Rafa and I are still there and we do not want to surrender or allow them to win Grand Slams. I think that's something very clear.
Photos from as.com