"Dovizioso's cycle at Ducati expired before 2020"
The ex-driver believes in the commitment to Miller and Bagnaia: "The people were already without illusion and in the presentation, there were smiles and illusion".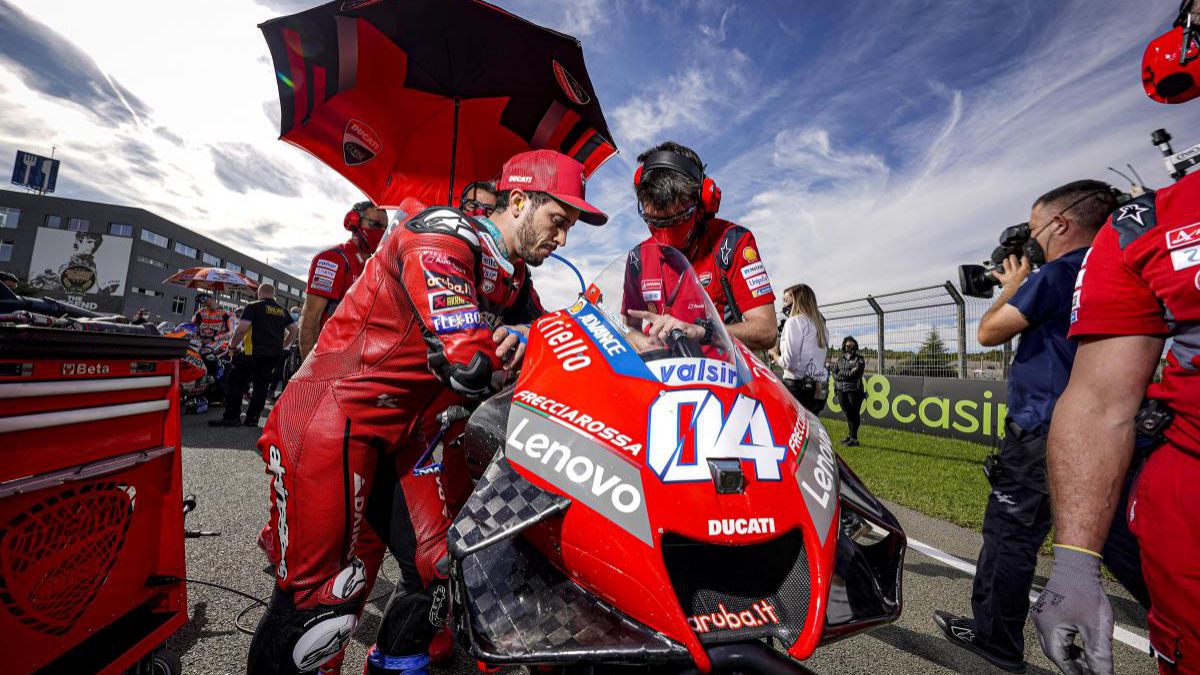 A number of MotoGP team presentations have already been made, probably the one that has caused the most excitement so far is that of the renewed official Ducati team, with Jack Miller and Francesco Bagnaia as the new pair of riders. Fonsi Nieto worked with both of them in recent years at Pramac's box, as a coach, and he is not surprised by the commitment to them from Borgo Panigale's house. In fact, the nephew of the unforgettable teacher Ángel Nieto believes that he should have arrived earlier in view of the point of view he has about the now retired Andrea Dovizioso ...
-Did you see the presentation of the Ducati Lenovo the other day? Their former pilots in Pramac, Miller and Bagnaia could not smile on their faces…
-Sure man. It is that reaching the official team is the illusion of every pilot.
-I have the impression that there is not clearly defined a number one between the two in the red box. Do you think the same?
-Yes, because they are two very talented pilots. Miller already showed last year what he is capable of and Bagnaia, although he was very unlucky, when he had the opportunity also showed that he could be there. Ducati's bet is very, very successful. I think that the Dovizioso cycle was already expired before even starting last year, so turning everything around and generating new illusions, both for the engineers, the pilots and even the fans, is a super wise bet.
-At AS we titled the presentation of the team with 'Ducati takes off 15 years'.
-Sure. The people were already without illusion and now, as it was seen in the presentation, many smiles and the illusion of the people were seen. Perhaps the first year they will not have the result they expect right away, but it is a very forward-looking and very successful project.
-Who do you think will end up being number one of that team?
-It is very complicated. There are tracks that are better suited to one or the other. I don't see a leader. I see both with the same possibilities. I have worked with them for a long time and they are night and day, but it is very difficult for me to choose one. They are two very talented drivers. Miller is capable of anything and I'm looking forward to seeing him fight Marquez. And I'm also looking forward to seeing Pecco. I hope they can manage it as well as we manage it in Pramac, having the same good environment, working together and sharing data, as they did in Pramac.
-What advice would you give them if they continued by your side?
-That it will be key that, when you do not have the day, save it as best as possible to be regular all year round. In an official team it is not allowed to do ninth. At Pramac you could indulge him, but not now.
-What World Cup awaits?
-Similar to last year, without the possibility of making predictions, although it will depend a lot on the work that Michelin has done. If they have made a big evolution in tires, we can see different things. Without they are the same, we will have a championship the same as last year.
-But hopefully with Marc Márquez on the track.
-I hope so! I no longer speak as a worker in MotoGP but as a fan and I'm looking forward to him coming back, because he does brutal things. And it's also nice to see that the other drivers have grown. I think that just as before the riders were not even looking forward to seeing Márquez, those who did well last year are looking forward to fighting with him now. Hopefully he can recover, because what is happening to him is a huge task.
-I will not miss the opportunity to ask you about your new pair of pilots, the one made up of Zarco and Martín. What do you intuit with them?
-We have high expectations for this year, because Zarco, well managed and with our bike, will be able to do very well. I think he has a thorn in the side of not having taken the official team for him and he will be hungry and willing to prove brutal, and that is good. When you have as much experience as Zarco, having a lot of desire is good, just as I see Jorge with too much desire and you have to stop him. It is normal because he is a young boy who wants to take over the world, so you have to handle it calmly. He has a talent for doing it and riders with his characteristics have always done well in MotoGP, so you have to have a little more patience with him and try to calm him down. What I have already told you is that in the circuits where things do not go well, it will be when you have to be calmer. And in those that do well, because we will give a bell during the year.
-What will your material be?
-The same as that of the officers. This is always the case and a good job has been done, as proof that the official team has taken three of the four riders from us in recent years, Petrucci, Miller and Pecco. Our work is more than achieved.
-Do you see any favorites?
-Mir is the rival to beat and, now that he believes it, he is going to take a little step forward.
-Above even Márquez?
-When Márquez is well, he is always the rival to beat, but if he is not in full condition, Mir will be the rival to beat.
Photos from as.com