Curry, catastrophe and miracle
Curry was 5-of-20 on 3-pointers, a horrendous performance that he made up for with three impressive plays in overtime. The Heat, disastrous.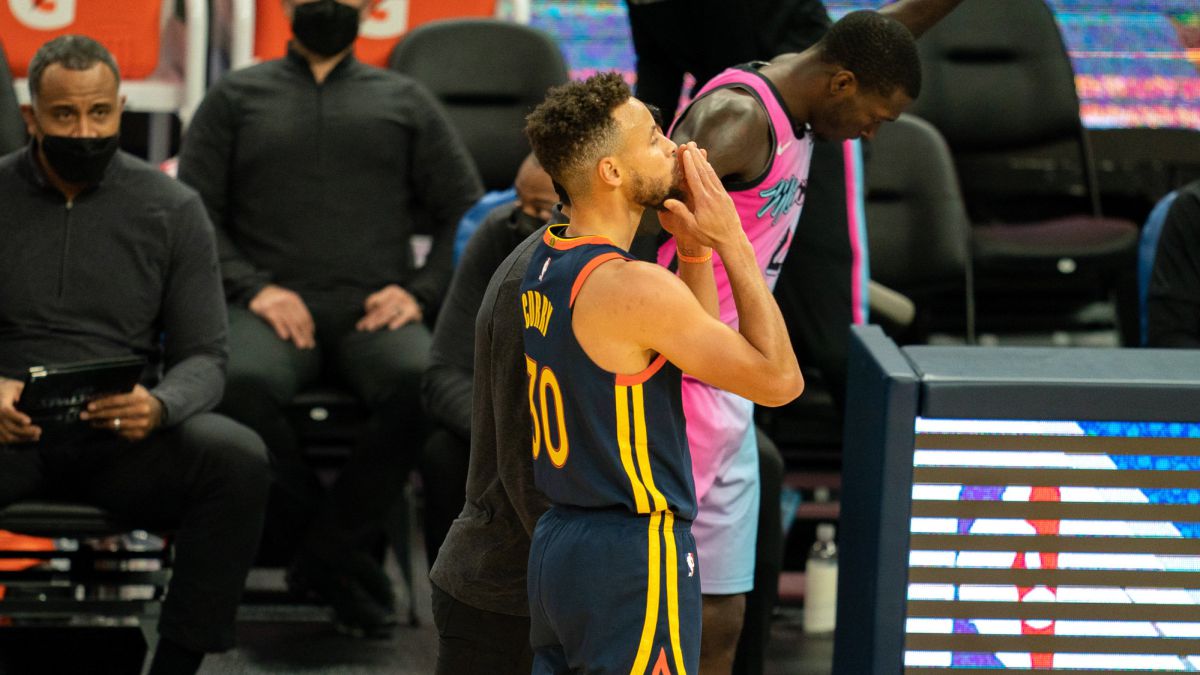 Geniuses are geniuses for a reason. And Stephen Curry, a man to whom basketball owes a lot, falls into that category. The Warriors point guard, in an absolutely horrendous game, emerged when his team needed him most, which he led to a victory as unexpected as it was deserved, totally unforeseen but more than meritorious. The Chase Center experienced a majestic game in terms of emotion and quite poor in relation to everything else, but it saw the umpteenth sign that Curry is one of the best players in history, not only for the fact of being the face and the benchmark for the last great change that basketball has undergone, or for the rings won. Also for being able to perform performances that make the viewer fall in love and leave him glued to the seat, transmitting a series of sensations that few stars throughout history have managed to pass on to the fans, who always easily abandon talent and remember with longing dynasties of the past (in this case, fairly recent) while trying to continue to enjoy a different face of those historical franchises, but no less impressive for that.
We already said that Curry, without Klay Thompson by his side and a radically more incomplete roster than he had enjoyed in his glory days (three rings and five Finals, let no one forget), was not going to be eligible for the championship this year. .. and that that would be good for the viewer. Sooner or later, every star experiences a season in which they can shine individually, get formidable performances and show how far they can go just with the amount of talent they treasure, which is usually enormous. Curry, like Kobe lived in 2006 and 2007, Jordan in 1988 (and more, of course), Harden in recent years and LeBron at some point in his first stage in the Cavs (among many others), is experiencing a wonderful feeling: nothing to lose, much to gain and zero contention. You can do what you want, throw a lot, fail even more, teach rookies, assist if you want, and team up with Steve Kerr and Draymond Green with the confidence and certainty that what they have done allows them, in these moments, to go. From track to track with your head held high and the world surrendered at your feet.
Before the Heat, that's what the Warriors point guard went through. He threw a lot and very badly, finished with horrible percentages, suffered the unspeakable against a well-organized defense (of the little that Erik Spoelstra's did well) ... and sentenced at the end. Where geniuses appear and unleashed a doll that was limping but forgot past mistakes and focused on present successes. It is what stars like Curry have, who do not shrink their arms for having previously erred and keep pulling, like a pylon hammer that insists until it achieves its goal. Curry finished with 25 points, but he was 8 of 25 from the field ... and 5 of 20 from triples, in addition to adding three losses. But of course, we are talking about someone historic: in the end, 7 rebounds, 11 assists and 8 points in overtime, one they came to as if it were a miracle and after the Heat failed to take advantage of their advantage. There, in overtime, they knelt before a Curry who, in three plays, ended everything: triple (112-109) to which Tyler Herro responded, go to the corner for Andrew Wiggins to transform another triple (115-112 ) and one more, from Curry himself, to sentence a game that he rounded from the personnel line.
Madness had already taken hold before the crash. Miami went 15 up at halftime (61-46) and its advantage, which reached more than twenty, was reduced before the last period: 76-86. There the Warriors came back, more by faith than talent, in an ugly game in which they added 15 losses (the same as their rival, by the way) and 18 of 52 in triples, three of them in extra time. Miami Kent Bazemore had a great game and forced extra time 52 seconds from the end, finishing with 26 points, 8 rebounds, 3 assists and 3 steals. Kelly Oubre Jr. finished with 23 + 8, an identical statistic to Andrew Wiggins, while Eric Paschall, with 11 + 7, was the only inside reference for the Warriors, who did not have Draymond Green due to injury (Steve Kerr already has said that he hopes to have it available soon), something that allowed Bam Adebayo to score at will under the rim for many minutes that seemed few: 24 + 5 + 7 for the pivot, who did not have the usual rebounding strength and did not receive more balls inside , something imperative before a team literally without tall men in the absence of one of its eternal references, which has also orphaned a defense that suffers a lot without him.
And now? The Heat, with 11-17, sink to the eleventh place in the East after faking with a comeback led by Jimmy Butler who today has achieved a triple-double (13 + 12 + 11), but who has tried a single pitch in the extension. Kendrick Nunn (19), Duncan Robinson (13, but with 3 of 10 in triples), Tyler Herro (11 + 15), Precious Achiuwa (13 + 6) and Andre Iguodala (10), also stood out, but none managed to stop Curry at the end despite leaving his rivals at 24 and 22 points in the first two quarters and having the victory in the palm of his hand for most of the game. The Wariors, meanwhile, are 16-13, seventh ahead of Denver, Memphis, Mavericks, Kings or Pelicans and with Curry averaging more than 30 points, 5 rebounds and 5 assists per game. A star that didn't stop failing and failing and failing ... until, in the end, he put it in. Thus, you know, geniuses do it, a very small group to which Stephen Curry belongs by full right. Tremendous.
Photos from as.com