Bordalás: "I feel attacked"
The Getafe coach explains his scuffle with Lopetegui: "I have been interested in Djené and the Sevilla coach has rebuked me. They have expelled me because of him."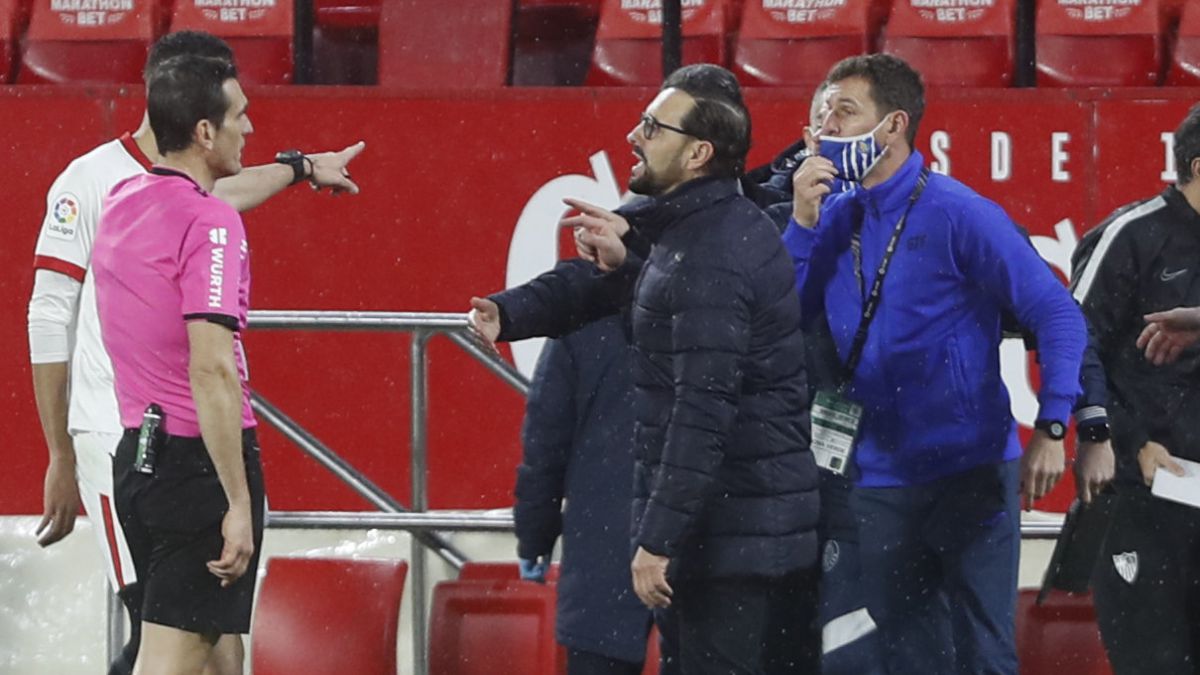 José Bordalás, Getafe coach, appeared in the flash interview after being defeated by Sevilla (3-0) and explained what happened with Lopetegui. Both coaches were expelled having a scuffle in the band after Djené's hard tackle to Ocampos, which ended with the expulsion of the azulón player and the sevillista, injured and leaving crying on a stretcher. These are the impressions of the Getafe coach.
Balance: "Contradictory sensations. We have done a first half. I am very sorry for Ocampos' injury, I hope it is nothing important. That in the first place, the professionals do not want there to be injuries and less in a fortuitous entry and when I went to be interested in the boy, the Sevilla coach has rebuked me as if blaming me. I have felt attacked. It seems like it's a huge lack of respect. "
What did he say: "I have read something very serious on his lips and he has rebuked me as if making me responsible. God save me. It is a fortuitous stomp, he is late, he touches the ball, the referee has seen him and has sent him off. I have been interested in the boy and they have expelled me because of the rival coach. "
Sad: "Very sad because I am a person who tries to help my colleagues, we all fight for our goals and I have a bad feeling: unfairly mistreated and unfairly expelled" .
The Getafe label is difficult to remove: "It is like that and it is not justification. With one less player it was complicated, the team has lost potential and with a team like Sevilla it was difficult to maintain the result and reach the opposite area. We had a great first half and in the second half there was no opportunity due to the expulsion of Djené. "
Djené: "He is dejected, he is very noble. We have tried to console him because he was worried about Ocampos. "
Photos from as.com