Bertans annihilates the Nuggets
Disaster for the Rockies, who throw a 20-point lead and lose despite the final heroics of Jamal Murray.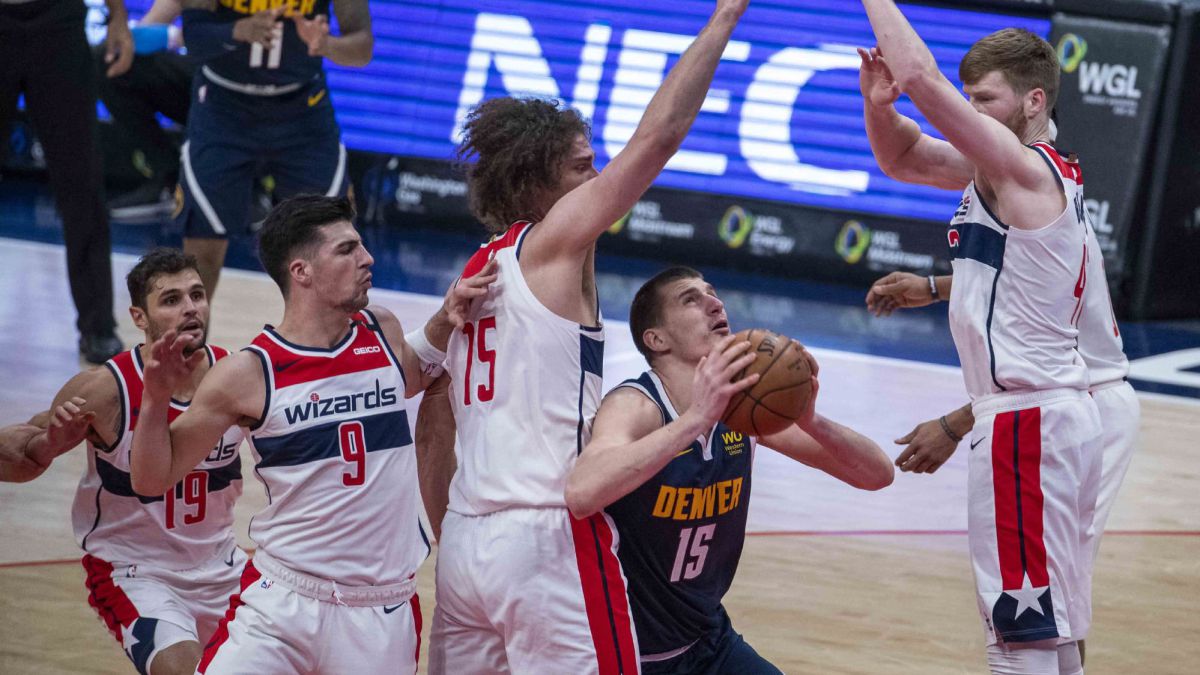 Between good and bad luck, own injuries and that of rivals and things on the calendar that affect everyone, after 28 games it can already be said that the situation for the Nuggets is not exactly ideal. The West finalist last season has lost 13 times (15-13) and is seventh in the conference. And above all (and that's the worst), it doesn't seem any better than last season. Nikola Jokic (this time 33 points, 7 rebounds, 9 assists) is better. But not the team. Worse in defense, with less depth, with more difference between Jokic and Jamal Murray and the others ... Bad thing.
After a hot streak culminating in a win over the Lakers (the day of Anthony Davis' injury), the Nuggets have taken their miseries on the road. In Boston they lost because they were in the box. Acceptable. In Washington they fell with a crash difficult to explain, certainly not in a team game with stripes, with great aspirations. They conceded their season-high points cap (130) and were unable to sustain an early lead that reached +20 (21-41) before ending a first quarter in which Jokic scored 15 points. Later, Scott Brooks put Robin Lopez to defend the Serbian with all his physical arsenal.
It worked ... just enough at least. After the Serbian's brilliant start, Murray took over in the fourth quarter. 24-41 in the first quarter was followed by a terrible 46-23 in the second for some Nuggets unable to defend and who lost 6 balls for 15 points from some Wizards who threw 64% in that quarter. And that they have three wins in a row for the first time since December 2018: 9-17 now, climbing in an East that is not exactly fearsome. Bradley Beal and Russell Westbrook have been added: the production of Hachimura (this time 14 points and 4 rebounds), the defense of Garrison Matthews and, finally, the wrist of Davis Bertans. The Latvian signed a five-year, 80 million contract earlier this season. In spin, he acknowledged that he could not even sleep for a couple of months of bad nights and worse percentages. Now he's woken up: After his 5/6 triples against the Rockets, he went to an incredible 9/11 for 35 points in a heroic victory for his team.
The ending was strange, a disaster for the Nuggets. Murray (35 + 9 + 6) pulled his usual heroics and scored two triples in the last 30 seconds, one with 2 to go and from 9 meters that seemed to ensure extra time. But JaMychal Green fouled on Beal's desperate penetration, who won the game with two free throws in the final tenth. Michael Malone complained about what he considered legal contact and Lopez's blocking at the start of the play. But it was a bad last minute for Green: before that action and between Murray's two triples, the power forward committed another shooting foul, this one on Bertans and on the line of three. The Latvian, who forced contact, scored all three of his free throws. And Beal both of hers. And the Wizards won even though their 120-108 at 4:30 left came to 128-128 before the last action.
Beal finished with 25 points and 10 assists and Westbrook signed a triple-double (12 + 13 + 12) of bad percentages (5/15 in total shots, 2/6 in free throws). The Wizards are no longer a joke and compete, of course thanks in part to the awakening of Bertans, the Latvian laser. The Nuggets have no justification: Barton and Millsap are still out but Gary Harris and Monte Morris are back. It should have been enough. Michael Porter Jr alternates points with defensive mistakes in a still negative ratio and Facundo Campazzo returned to the substitution after his start at Garden. With more minutes (25 this time) and more ball in his hands, his feelings continue to increase: 14 points, 1 assist, 2 steals, 5/7 shooting. But their Nuggets don't take off.
Photos from as.com