Atlético, unexpected help from Eintracht to sign Jovic
According to 'Republika', the rojiblancos hope to sign André Silva, Luka's teammate, and with this money they will go after the madridista next summer.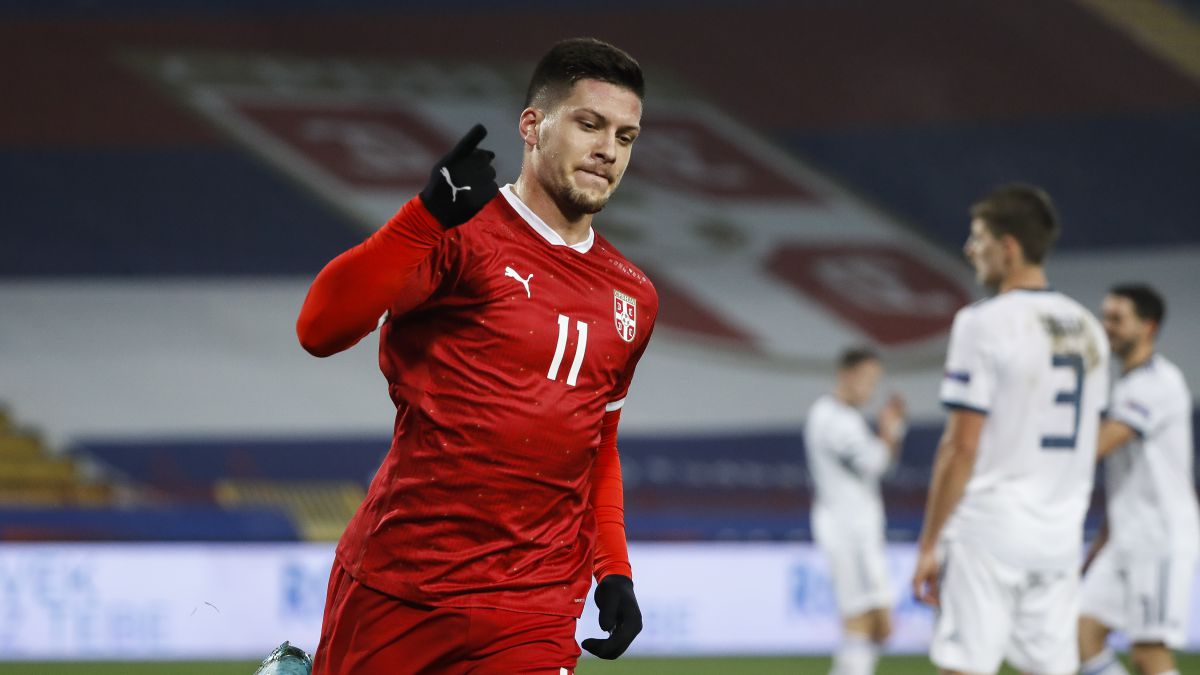 Frankfurt has restored Luka Jovic to happiness, confidence and aim. The forward has scored more goals (3) in less than a month at Eintracht than in a season and a half at Real Madrid (2) and this has made the eagles see their relationship with the Serbian as much more than a fleeting reunion . As reported by 'Republika', Adi Hütter's men plan to jump into the signing of Luka as soon as the summer window opens and to pay for the operation they will have the help of an outsider, Atlético de Madrid.
The rojiblanco team, according to information published by the Serbian media, is interested in André Silva, Jovic's attacking partner at Eintracht. The Portuguese is living an idyll with the goal that places him in the fight for the top scorer in the Bundesliga, even ahead of Haaland, thanks to the 17 goals he has accumulated so far. In the Wanda, they add, they would be willing to reach up to the 30 or 40 million it would cost to remove the former Sevilla player from Deutsche Bank Park.
Diego Costa asked to leave in January and his wish was granted, with Moussa Dembélé arriving on loan from Olympique Lyon to fill his gap. However, following the line that 'Republika' points to, facing next year, the LaLiga leader will seek a packaging reinforcement for the attack front. Luis Suárez voraciously marches towards the top scorer, but his 34 years are a must that cannot be forgotten and Silva is a growing footballer, with an ideal age (25 years) to aspire to greater heights. In addition, his adventure in another big one, such as Milan, did not go as he would have liked (he arrived from Porto in 2017 for 38 million), while his assignment at Sánchez Pizjuan began full of lights and goals, but these ended up fading.
In this way, with the money entered by their star attacker, in Frankfurt they would definitively go after Luka. The aforementioned media indicates that in Germany they trust Atleti to reach the amount demanded by the Portuguese international in order to open the doors again to Bijeljina. Thus, Jovic would once again belong to the team that opened a gap for him among the European elite, 27 goals in 2018-19 through, and that placed the greats of Europe on his trail.
"He was not happy, everyone could see him"
As we said, the return home has returned the smile, as his partner, Kevin Trapp, recently pointed out in an interview for the Bundesliga channel. "I spoke with him in the summer, I asked him about his situation and how he was. He was not happy, everyone could see him. At the end of December I asked him again what was happening, what the situation was like and if he wanted to return. Surprisingly, he said: 'Yes, I want to go back. " On January 14, that desire crystallized and Luka regained his scoring nose.
When Madrid won the race in 2019 for one of the most promising strikers on the continent, after disbursing 63 million euros, a very different turn of events was expected. Karim Benzema's long shadow, lack of confidence and, at times, luck have turned him, for the moment, into a failed project. Now, Atlético, Madrid's nemesis, can play a fundamental role in a troubled future in which Eintracht want to fish. Who would have thought it a little over a year and a half ago ...
Photos from as.com