Álvaro Campos, Castellón goalkeeper and hair surgeon
The meta, in an EFE report, reveals its other side. "Having something else on your mind allows you to perform better," says the orellut.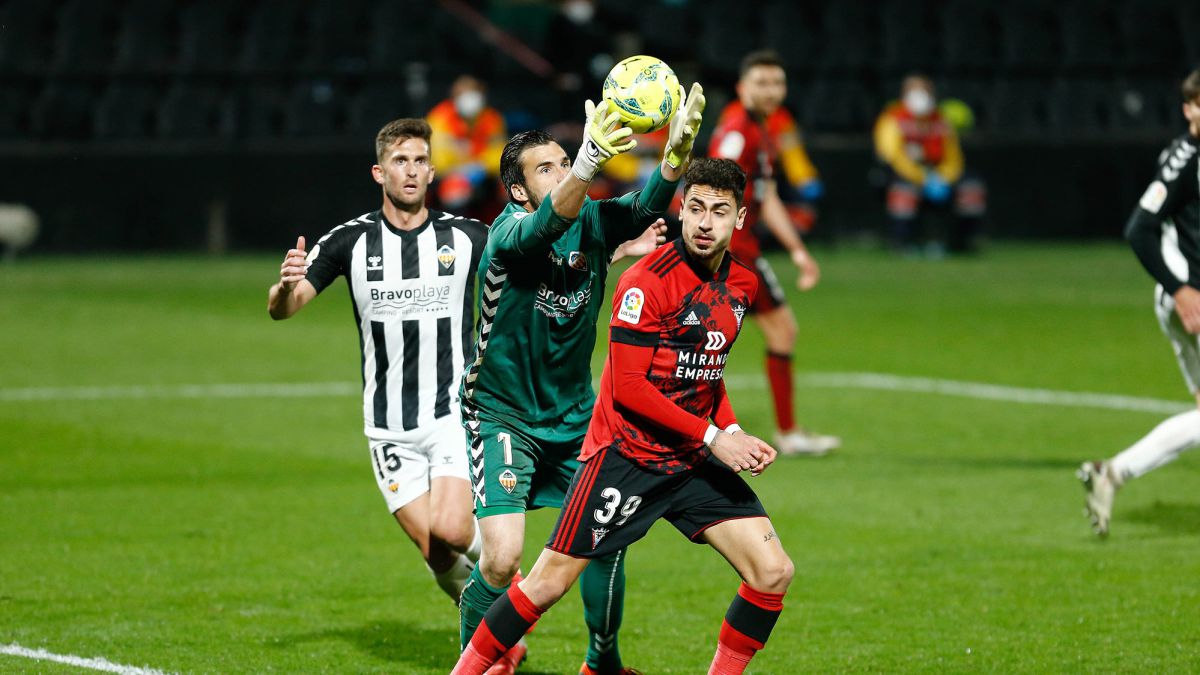 A couple of weeks ago, Castellón goalkeeper Álvaro Campos was the "MVP" of the day in the Second Division after stopping a penalty in the match against Sporting de Gijón, but that was not the only joy that his hands gave in those days Because for months this young doctor has been making his patients happy with the hair grafts that he implants in his office.
Campos (València, 1987) says that the results of this type of surgery take time to see ("the same six months or a year") and that is why, in his other life, he is not in a hurry to seal a permanence that he is sure they will achieve , although Castellón has long been anchored in places of descent.
"I am convinced of salvation, the team works well. It is and will be difficult, but we never said it would be easy. The same is the last minute of the last day. Surely it will be at the end and suffering, but the path of success goes through not never give up. And the next day, to the operating room. I will put hair on some of them, "he explains to Efe with a laugh.
In this case, their teammates will not be the only athletes who put themselves in their hands. "I have colleagues from various teams as patients, some of whom I am treating and others are scheduled to undergo surgery when the calendar allows it. Cosmetic surgery for men is capillary surgery and, just like breast prostheses in women, they went from being taboo not to hide, with this it will happen the same ", augurs.
This professional activity runs in the family since his parents are doctors and, among other branches, work in aesthetics. This is what he tells in his consultation at the Sermesa Polyclinic, which his parents set up many years ago in his native Mislata, where he admits that becoming a surgeon and at the same time a goalkeeper in the Second Division has not been easy.
"I started my career when I was 18 years old, but I did half a year and I went to play in Murcia. At that age, you get off track a bit and dedicate yourself to football almost exclusively. Over the years you realize that with football alone you don't It is going to give you to live because you have stagnated in a category that is not a millionaire and then you decide to return and give priority to your training ", he reflects.
He gave up "the leisure and fun" of being a student and being a footballer to be both and began to sign his contracts with his mind set on both. "When I went to Lleida to play in Second B, I took into account that there was a medical school there where I could do a 'seneca' and study," he recalls.
This double career, although it forces him to give up "the good life" also has advantages. "Having something else on your mind allows you to perform better because it leads you to give the right importance to each one," says Campos, who hopes to combine both careers for several more years.
For his classmates from both races it was strange to have him by the side, but he believes that they saw him as weirder in college because they know how demanding the degree is and they did not give credit that everything could be combined, although he admits that he has had his "'angels of the guard "who passed him notes and covered him.
"I finished my degree in the middle of the first wave of the pandemic and last year I combined the end of the master's degree in hair surgery with promotion. It has been a very hard year on a social and health level, but in 2020 I have had all that and the birth of my little daughter, who was born on March 14, "he recalls.
He admits that there are footballers who ask him for an opinion about his injuries. "Everybody talks about medicine, politics and football. It is difficult to transmit a diagnosis to a patient. If they ask me, I give my opinion without contradicting authority. In this case we are lucky to have two great doctors, one of them Toni Giner, one of the best in sports medicine in Spain ", points out.
In addition, football has also forced him to do medicine practices. "Two or three years ago I had to attend to a colleague, Paco Regalón, who had lost consciousness due to a collision. It took forty or fifty seconds until he came to himself and the medical team arrived," he recalls that game, in which he also considered to be "MVP" .
Photos from as.com