Abel Ruiz: "My goal is to be the '9' of Spain"
The Valencian attends AS hours before meeting Oporto in the semifinals of the Taça de Portugal. "I want to make history in Braga," he warns.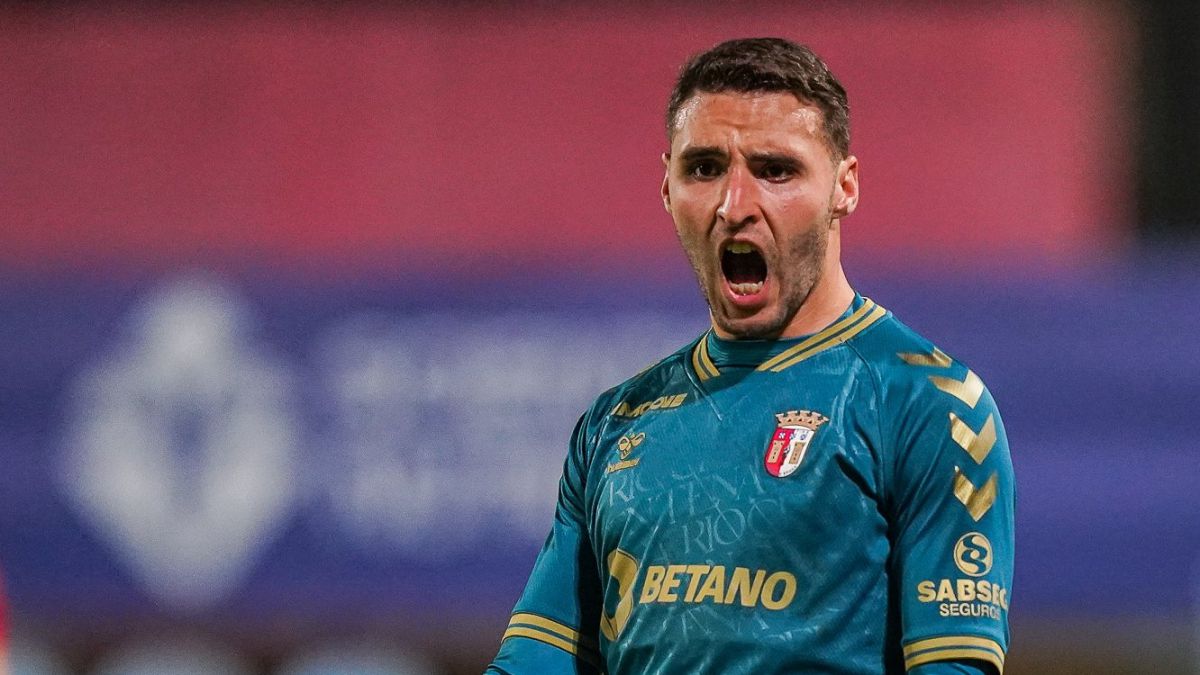 If, as the saying goes, 'he who follows her gets it', it is only a matter of time before football smiles strongly at Abel Ruiz (Almussafes, 2000). It is not easy to say goodbye to one of the biggest clubs in the world to succeed in the elite. The Valencian did it in January 2020, when he left FC Barcelona to sign with SC Braga. And it is now, a year after his landing in 'Portuguese Rome', when seeing the goal begins to become a habit. "The forward is here to score goals. I am a forward who also likes to assist and help his teammates, but the forward has to score goals. Now I'm on a good streak and I hope to keep it up," he reveals to AS hours before taking on Porto in the semifinals of the Taça de Portugal.
Abel Ruiz has already scored six goals and three assists this season. Very meritorious numbers if we take into account that, until this year, it was barely counting on the confidence of Carlos Carvalhal. So much so that, during the winter market, he and his agent worked on a possible exit to Sporting de Gijón. "It had been four or five months in which he had only played two or three games. A young player like me needs minutes and here he was not having them," he recalls. However, the new year brought him opportunities and his response was such - four goals and two assists in the last nine games - that Abel Ruiz is now only thinking about succeeding with Braga: "Things have changed. I am having continuity and that It makes me very happy. I came here to enjoy elite football and now I'm getting it.
Abel Ruiz is clear: "I want to make history in Braga." The Spanish striker is the second most expensive signing in the history of the Portuguese club, something he carries "with total normality" because "I am confident in my possibilities and I know that, having minutes, I will make Braga a great club." Paulinho's departure to Sporting CP left a position vacant at the front and the Spaniard is making merits to keep it in his possession. "It is there, as a center forward, where I have played all my life. It is where I am most comfortable when it comes to scoring goals and giving assists to my teammates", discovers Ruiz, for whom wearing the number '9' on the back was never pressure: "I have been lucky enough to have him at Barça and the national team and for me it is a pleasure" .
At FC Barcelona he spent eight years of his life and, although he was forced to leave to succeed, Abel Ruiz does not dare to rule out his return: "It is the club that has made me grow and I am very fond of it. You can always go back where you were. It is a door that should never be closed. " The Valencian also keeps a fond memory of his time at Valencia, "a club that I love very much and where I would like to play one day." "It is where my family lives and it would be beautiful to play there", Ruiz completes without neglecting that his present is in Portugal: "In Braga I have found a team that wants to become the first club in the country and is making merits to achieve it. doing things right. Step by step. " The 'archbishops' occupy the third position in the Liga NOS and the objective "is to play the Champions League next season" .
Sponsored by David Villa
Abel Ruiz has gone through all the lower categories of the Spanish team - he won the European Under-17 and Under-19 - and at 21 years old he still wants to triumph with the absolute. "Every Spanish striker wants to be Spain's '9' and I have pursued that dream since I debuted with the U16. It is my goal," reveals the Braga striker, represented by the agency of a David Villa who has become the best mirror in which to look at yourself. When he arrived at La Masía, Ruiz saw the Asturian as a reference, which is why it is "amazing" that, years later, the top scorer in the history of Spain appears in his contact list. "We are in permanent contact and we usually talk, especially in difficult moments. Being around and receiving advice from a forward like him is incredible. It makes me proud", concludes Abel Ruiz.

Photos from as.com