This Thursday the route is officially unveiled (12:00, Teledeporte), from which striking details have been leaked: Gamoniteiro, Villuercas, final time in Santiago ...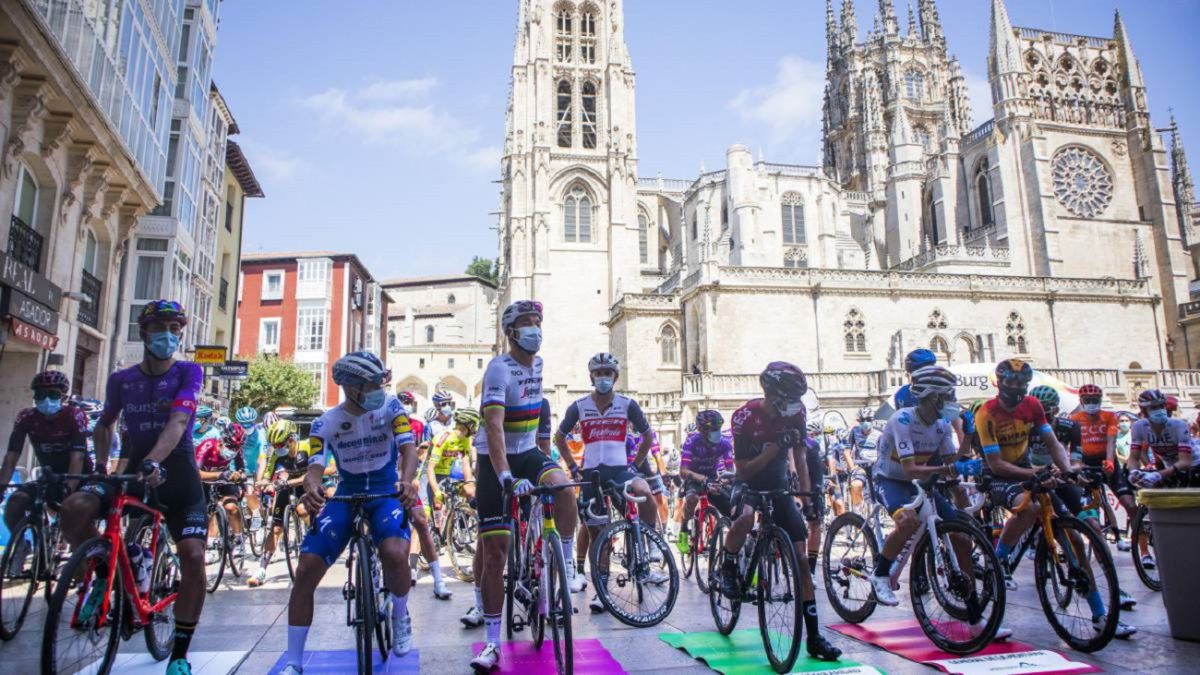 La Vuelta unveils this Thursday the route of its 76th edition (12:00, Teledeporte), which will be held from August 14 to September 5. It will be in an act that will be held at the Evolution Forum of Burgos, a city that will also host the departure of a route that, unlike 2020, will cover more peninsular territory and will not go abroad. What it will have will be surprises, since as AS advanced, the race expects to have six unprecedented finals, four of them discoveries for professional cycling. Those and other details will be revealed today, although local authorities and media have already leaked some. This is what is known:
From Burgos and its Cathedral
An urban time trial in Burgos, departing from the Cathedral to celebrate the eighth centenary of its construction, was officially presented as the start of La Vuelta. That province will have two more stages, one for sprinters and another for mountain, with Picón Blanco as the protagonist.
Levantine mountain
After passing through the province of Soria (a journey between El Burgo de Osma and Molina de Aragón has been confirmed, already in Guadalajara), the Levantine coast will return to the La Vuelta route and, as on previous occasions, its abundant Mountain. According to the information, one of the unpublished endings would be located in that area before going down to Andalusian lands.
Andalucía and Villuercas
Of the second week is the section of the race that has least transpired, although it seems clear that the race will return to Andalusia. And, what is more novel, Extremadura will be very protagonist. In fact, Guadalupe and the next Pico Villuercas (about 16 km around 6%), in the province of Cáceres, points to one of the great novelties of the race.
El Barraco, present
Ávila will not miss this edition either, and one of the latest leaks took a stage for sure ending in El Barraco. One of the towns with the longest cycling tradition in Spain, land of names like Ángel Arroyo, Chava Jiménez and Carlos Sastre, would have a goal with a tribute flavor.
The Gamoniteiro
Of the third week of the race is the one that perhaps more data have transpired and those that have appeared are exciting. Cantabria will have a full day on inland and coastal roads before moving on to Asturias, with two decisive days in which a classic port like Lagos de Covadonga and a discovery like Gamoniteiro are mixed. The tough colossus of the Sierra del Aramo has been sounding insistently for years, and its inclusion makes that day point to a star day. Both in one and the other, the hardness of the previous route will count a lot.Final Jacobeo
The end of the party this time will be far from Madrid and it will be in Galicia as a celebration of the Jacobean Holy Year (as in 1993 and 2014). Three stages are planned in Galician territory of great wear and tear with new climbs. A final in Monforte de Lemos and a mountainous day with great accumulated unevenness between Sanxenxo and Mos, will give way to another of the great novelties: a final in Santiago and with relevance for the general, since it will be an individual time trial of which, As with the rest of the route, there is expectation to know the details ... that this Thursday will see the light.
Photos from as.com