Yanis Rahmani: "The Cup? We have plenty of staff "
The winger was Málaga's franchise player in the first round. Yanis sends a clear message about the tie against Granada: "The Cup is beautiful and we will go for it all."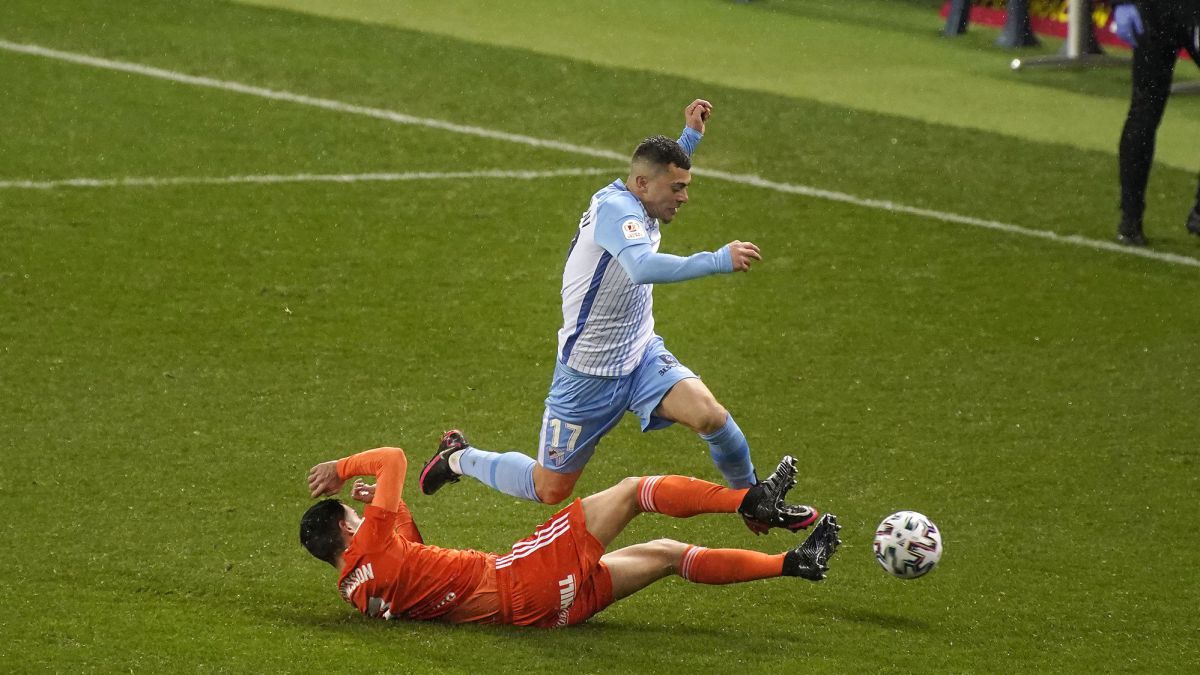 Yanis Rahmani, the franchise player of Sergio Pellicer's Málaga, does not want to hear about the possibility of raising his foot in the Copa del Rey. Granada visit La Rosaleda on Sunday (12:00) and the winger is very clear that the Blue and Whites will fight hard for qualification. "The Cup of course is good. We are qualified to play whatever matches. We have played five league games in 13 days and we did it at a high level. Now we have clean weeks, no problem. We have plenty of staff. We are recovering players who are going to contribute. There are guys from the subsidiary who have a very good level as seen in the Cup against Oviedo. We face the game with enthusiasm. The Cup is beautiful and we will go for it all. We are seeing that both Second B and Second Division rivals can beat First Class teams. There is no speculation. And it is clear that as a showcase it is very good. It's a very good opportunity for the kids and for us, but especially for the club. It is always important to pass. The greatest shame is that there is no audience, "he said in the microphones of the SER.
Regarding his excellent performance, Yanis assured that he was convinced that things would go well for him at Martiricos: "I only needed one opportunity in an important place and in the end, when they gave it to me, both in Miranda and here, I surrendered . It was a matter of betting, Malaga bet and I'm not disappointing. On a sporting level, being called by Málaga is a pride, a compliment. I knew it was a very good opportunity for me. When they assured me that they were going to register me, I didn't think about it. I had no doubts. It is clear that I have succeeded. It was always clear to me that coming here was what I wanted. I wanted to come to a club and a city like that. It was what he needed and he knew things were going to work out. Malaga is a spectacular city. The center, the outskirts ... Everything is beautiful, spectacular. The year is flying by. At the club level, it is another level in terms of facilities, social mass ... It is crazy and a privilege to be here. Malaga is one of the tops of the category. At the club level it is one of the most important there is. "
The winger also spoke about his future and that one million euro purchase option that the club has on him. Manolo Gaspar recently stated in his interview with AS that today it is impossible to think about exercising this option. The footballer claims to be focused exclusively on the present. "I enjoy the moment, the day to day. I am delighted to be here and there is no telling what will happen tomorrow, so I cannot know what will happen in six months. If I continue at a good level and the club sees it that way, I don't know if they will execute the purchase option. I don't think about it now. To perform I have to think only about the ball, enjoy training and enjoy this club. Many things in my situation are not going to depend on me. Offers? I have no idea. They don't tell me anything. My agent doesn't want me off-center. Such a season draws attention, of course. But I only think of Malaga and finishing the season well and giving back the enthusiasm to the fans, who have not had a good time lately. They deserve that we finish well and give them joy ".
Photos from as.com