Without Jovic ... what nines could they get within reach of Madrid?
The departure of the Serbian leaves Zidane only with Benzema and Mariano in an anemic Madrid goal. The market offers 'bargains' and young people with a lot of projection ...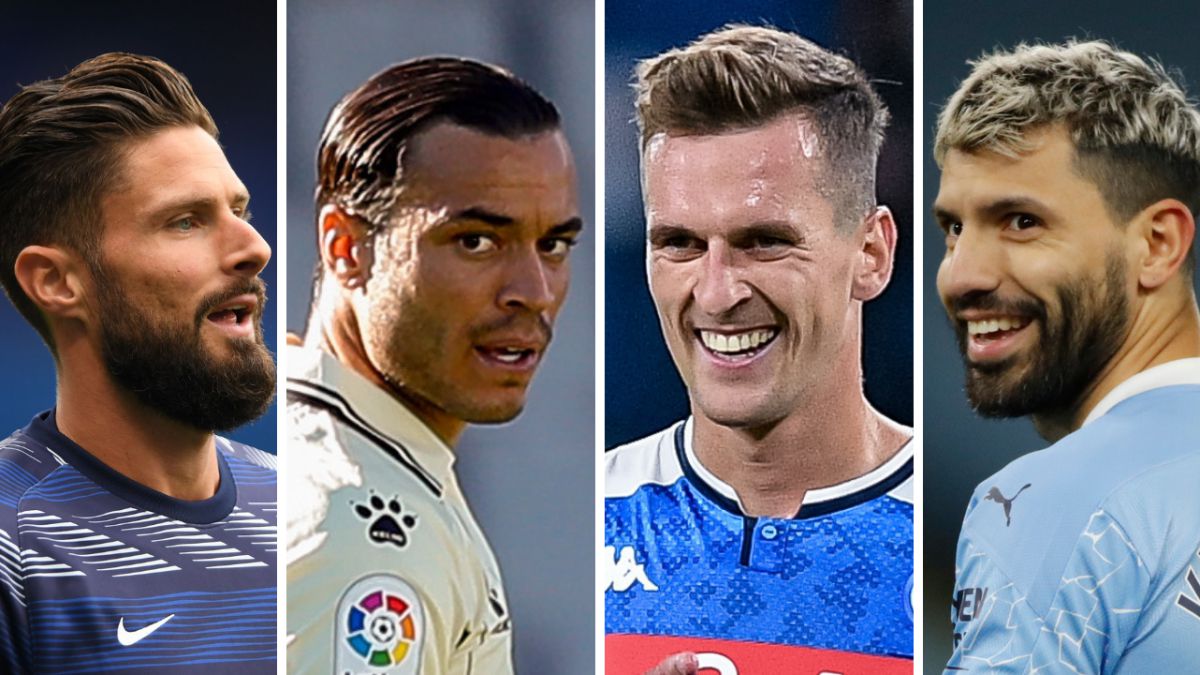 Real Madrid sees its next bell center forward in 2022, with Erling Haaland, but Luka Jovic's departure back to Frankfurt leaves the squad with just two nines (Benzema and Mariano) and the club with the potential temptation to scan the market . There are rams in advantageous contractual situations for an immediate start or in the summer, others wanting to leave their current clubs and a bunch of young people with a lot of projection and still at low cost. The economy, as the entity has been showing, takes maximum care of itself.
Madrid are not usually friends to go to the January market, but there are not so far precedents, such as Adebayor in the Mourinho era, a battering ram that was a low-cost market opportunity. Now, the stage brings out different profiles and all of them are ready to leave their clubs without having to break the piggy bank destined for Mbappé ...
Veterans wanting more rock and roll
The option of the experienced and contrasted footballer, in the final stretch of his current contract and with a high salary but quick adaptation offers interesting alternatives. The most obvious is Kun Agüero, who ends their tie with City in the summer. Pochettino wants him for PSG, but the frustrated love story between the little Argentine attacker and Madrid is known to everyone. Harassed by injuries and 32 years old, but always with a goal (23 last season). A line in which another nine moves much more similar to what Jovic offered, pure power. It's Olivier Giroud. Also in the final stretch of his career (34 years), he ends up at Chelsea also this summer and his departure from Stamford Bridge seems a fact. The problem could be the occasional public brush with Benzema ...
If the thing is French, something that in Zidane's Frenchified Madrid would not clash at all, Arsenal put another bleu international in luck, Alexandre Lacazette. With 29 years and a long history of comings and goings in his competitive attitude, Simeone likes him and his relationship with Mikel Arteta is not the best, in fact the Gunners have him in their squad cleaning operation. All in all, it continues to offer quality nights.
Old acquaintances and possible 'bargains'
In the window there is even an ex-Madridista, Raúl de Tomás. He stayed at Espanyol but the Second is very small and although his salary is impressive (close to € 5M), he has the advantage that he knows Valdebebas by heart. The particular situation of some players makes them almost bargains. Arkadiusz Milik (26 years old), the Polish tower of Naples, ends his contract in 2021 and wants to leave because the Eurocup is in danger for him. Naples, before losing it, would ask, according to reports from Italy, at least € 10M. Little for a forward who has scored 38 goals in 93 Serie A games and has experience in Ajax and the Bundesliga. From Italy and the Azzurra team, another mercato opportunity emerges, as they would say in transalpine football. It's Andrea Belotti, the capocannoniero from Torino. At 27 years old, the Bull has outgrown him and in his country they point to Milan as a possible destination if he does not renew Ibrahimovic. Transfermarkt, the website specialized in market values, 'rates' you at 40 million euros. But it will come out for less. The key is that he ends with his current club in 2022, so the forward has the upper hand.
The new lifeblood of Edouard, Lassina Traoré, Boadu ...
The last variant could be to bet on an emerging young talent who can learn as the third nine of the white team. Cheap, because it would arrive before exploding, and without pressure. A strategy that would approach, keeping the distances, to the one undertaken with Vinicius and Rodrygo.
There are nines on the market that are starting to get elbows. Two in the Dutch Eredivisie. Lassina Traoré (20 years old) has been growing up at Ajax. His power led to a monstrous match against Venlo. Of the historic 13 goals by the ajaccied, five were from the African attacker and he gave three assists. A footballer who played barefoot in his native country, whose mother was a footballer (and captain of the national team) and who comes with the stamp of the quarry of the Amsterdam club. Mayron Boadu (19 years old) is dating, for his part, at AZ Alkmaar. Under-21 international with the Netherlands, it is valued at 15 million euros and its projection is such that Mino Raiola has become its agent. A powerful representative with whom Madrid has close connections with first Pogba and now Haaland.
There is also a young French forward ready to give the best of European football a glimpse. Odsanne Edouard (22 years old) was a youth squad for PSG, he is a French Under-21 international and is scoring goals of all colors for Celtic Glasgow. Add 11 in 23 matches this year. The contract ends in 2022 and it is also affordable (it is valued at € 15M) so it is at the right time to go to a more powerful League and its agency is Bale's, with which Madrid also has a lot of ties for the Welshman ... and by Camavinga.
Photos from as.com