Wiseman and Professor Green
The explanations of the veteran Warriors player to the rookie are quite a sensation. The last ones, caused by the Spanish player.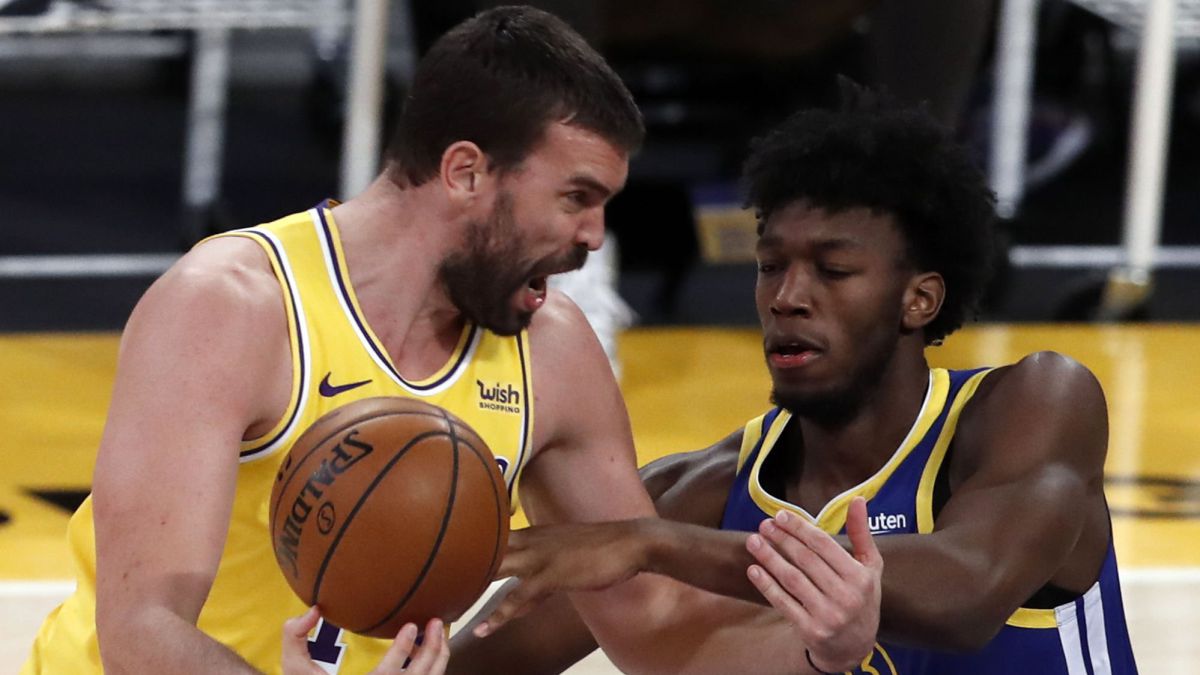 No one is born a teacher. Landing in the best league in the world, which is nicknamed that for something, is not always easy. Kobe Bryant, in his first season, averaged 7.6 points, 1.9 rebounds and 1.3 assists; Steve Nash, 3.3 points, 1 rebound and 2.1 assists; Dirk Nowitzki, 8.2 points, 3.4 rebounds and 1 assist. "If they suffered it, who is not going to suffer it?" James Wiseman, number two of the last Draft, must now think. The center, settled as a starter in the Golden State Warriors, has seen expectations about him skyrocket and, at the same time, his performance became more irregular. Bad match.
He started with enthusiasm, being (without exaggeration) Stephen Curry's most reliable partner and leaving glimpses of what he is: a different center, with capacity for coast to coast, intimidation under the rim or surprise from long range. But it has become intermittent. It intersperses bright nights (like yesterday, against the Spurs, with a 20 + 6 + 4) and dark performances. In the meritorious victory against the Lakers (115-113), he finished with 4 points, 3 rebounds and only 12:51 minutes on the court, due to the accumulation of fouls. Little time, but enough to get out of control (throwing a bottle on the ground) and take a new lesson from Draymond Green. The umpteenth, as if he was still in college.
"Look at the ball. Come here. I already told you. If you are open, anyone can surprise you. You could catch the ball there, but you haven't seen it. This is the question. You have to always look at the ball. You were open. against Marc Gasol, and I like that. Come on! "Green snapped at the young player, who had just ruined a possession. All this, with Gasol as a first-hand witness. It mattered little to Draymond, who did not cut a hair. It was a quick transition, a pass from field to field from the veteran himself to the rookie. LeBron James, who is still the smartest in the class, would anticipate and prevent a new duel between Wiseman and Marc, his dance partner and the reason for the frustrating rookie night.
Curry, Kerr ... Everyone trusts Wiseman
Not a flower of a day. Since Green returned to the Warriors dynamic, improving their faces considerably, the episodes between the veteran player and the young Wiseman have been happening. Golden State already wants the best version of the rookie and Draymond has taken it as a personal challenge: "Marc Gasol is very good. I love how he plays and he is a champion. So I went over and said (to Wiseman): ' I have put you in a difficult situation. I know, but I think you could overcome it, so I am going to do it again. 'I have a lot of faith in what he is doing, "he explained, already before the media.
Despite the irregularity of his last performances, Wiseman averages 11.4 points, 6 rebounds and 1.4 blocks, above all the legends mentioned a few lines above. In addition, he is the rookie with the most blocking, second in rebounding and third in scoring. It has the conditions to be considered one of the most interesting projects in the competition. In California they know and take care of you. "It's the best team in the league right now. It was a tough night for James. But there will be nights like this early in his career. I love the way he's running things," Warriors coach Steve Kerr said after the game. versus the Lakers. "I used to go to the bench for Acie Law. They are things that happen. You have to take it easy and learn the lessons you need to progress," added Stephen Curry, using himself as an example. The beginnings are not easy for anyone, nor for those who come from another planet.
Currently, the Warriors are fifth in the West, with eight wins and six losses. After missing out on the playoffs last season, need has taken hold of a franchise that is still in the process of fitting and that started in despair. Green, Kelly Oubre Jr., Wiggins (surprisingly key) and, above all, a stratospheric Curry have put dirt in the middle, but there is still a way to go. Not only are there many new pieces, the weight of recent history is on their shoulders. Part of him, on those of a Wiseman who came to perform from minute zero. Part of him, about a player who has everything (and everyone) to fit in. Patience. Kobe, Nash, Dirk ...
Photos from as.com