Wiggins, the damn number 1 reinvents himself in the Warriors
The Canadian is key in the good moment of those of the Bay beyond Curry's explosions. It progresses in attack and surprises in defense.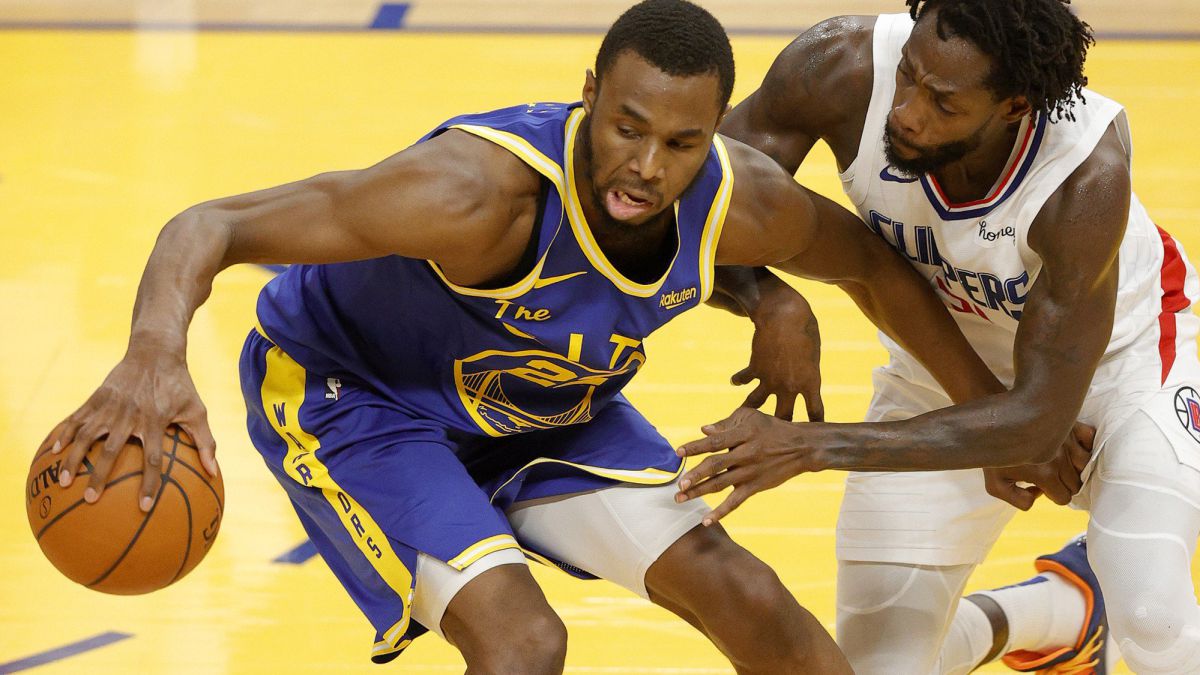 "Yes," answered Andrew Wiggins when asked if this is his happiest time in the NBA. "Definitely. We are winning, we are all happy. And we are going to go further, we still have a lot of room for improvement, we can be a great team ". Wiggins is 25 years old (he turns 26 in February) and he is already a veteran because the rhythm of the NBA is like that, a seen and not seen. The Canadian forward was a highly anticipated number 1 in the draft (2014), a player called to mark an era or, at least, has been one of the most important of his generation.
But, for now, nothing. Wiggins was chosen by the Cavaliers and sent to the Minnesota Timberwolves before starting his first season. In Ohio, LeBron's return had aborted any attempt at patient reconstruction and Kevin Love arrived to strengthen the LeBron-Kyrie Irving axis and form the big three that was NBA champion in 2016. Meanwhile, Wiggins languished in Minnesota. Many matches neither good nor bad, but quite the opposite. Which, when you're a highly acclaimed No. 1 in the draft, isn't exactly good news. Inefficient points and defensive disinterest for an unintelligent and uncompetitive player on the court. In October 2017, more afraid of him waking up elsewhere than confident that he could do so in Minneapolis, the Wolves gave him a five-year, $ 148 million extension. Bad business on paper, worse in practice. A year in the playoffs (2018) not only did not wake up a sleeping franchise but it put it in the mixer even more when Jimmy Butler forced his exit because he did not believe that you could compete at the highest level with talents without enough energy like Wiggins and Karl -Anthony Towns. Wolves owner Glen Taylor had personally asked the former to commit to improving before giving him that mega-extension. Jokes were made on their own in an NBA where things just don't work that way.
The second chance, still on time
But an NBA in which there is always a broken for a ripped. Wiggins ended up with the Warriors, who were operating on complex margins after Kevin Durant left. The Wolves wanted D'Angelo Russell and took over the point guard while they released Wiggins' contract, which fell in the Bay last February already surrounded, as soon as he landed, by rumors of more transfers and speculation about how the Warriors would use that contract. horrendous: this season he charges 29.5 million, he has for the next two 31.5 and 33.6. As the Warriors 'new future was stitched together, the League looked curiously at Wiggins' Bay lace: if Steve Kerr and company didn't get more of him in sunny San Francisco, it would be hard for anyone to do so. And above all, it would be difficult for anyone to feel like trying to do it.
Without Wiggins having given too many reasons for optimism in a team in a spin, actually on sabbatical, came the stoppage due to the pandemic and a restart in which there were no Warriors whose reconquest format was essentially aborted with the new serious injury by Klay Thompson, who is missing the second season in a row. Without him, the Warriors can aspire to, at best and in principle, be a playoff team in the West. In theory, no more. With Klay, and with the Curry-Klay-Green trio once again aligned, the Warriors were a fearsome unknown and pending the evolution of Kelly Oubre, number 2 in the draft, center James Wiseman ... and Andrew Wiggins, whom no one expected He would play Kevin Durant (no one in his right mind) but whom the Warriors were going to try to convert into a Harrison Barnes-style wing complement. But without Klay the plan changed, the team lowered its ambition and the start of the season was dramatic: 0-2 with a -65 total and the numbers in the shot of Oubre and Wiggins subjected to national derision.
But now the Warriors are 6-4 after 4-2 in six games. Stephen Curry has played at his hyper star level, Draymond Green (absent at the start) has returned motivated and with his enormous ability to improve his team, especially in defense. And Kerr has been building a valid rotation that continues to wait for Oubre to make more shots but in which they contribute several secondary ones and in which Eric Paschall (very interesting second year player) and, yes, Andrew Wiggins are shining. He scored 17 points in the fourth quarter of a victory at Detroit that put his team at 2-2. That he hit a triple over Paul George in the epic comeback against the Clippers. And that he is defending players like Kawhi Leonard, Paul George, Pascal Siakam, Kyle Lowry, CJ McCollum with a remarkable level ... And averaging 17.5 points and 38.5% in triples, the best figure of his career.
Wiggins is not doing anything extraordinary and he will never live up to his thunderous contract, but he is being able to contribute what the Warriors need from him. And you are performing like a good NBA player if you forget where you come from and how much you charge. What his teammates do, who celebrate his growth game by game and his ability to finally take on the defense of the best players on the rival team. Intense and focused, two things he's never been in Minnesota, and brave, useful in pick and roll protection and in one-on-one plays. He put the Raptors 4 blocks for 15 totals on the season, the same as the gigantic Wiseman. And his defensive rating (110.8) is remarkable. The Warriors have a mantra: to be a playoff team, their defense has to be one of the top ten of the season. That's part of Draymond Green, of course, but he's getting a serious boost from Oubre and Wiseman's wingspan (with their rookie mistakes included) and Wiggins' physique, who is finally using his body as a weapon while at the same time. , progresses in attack with better decisions, more effectiveness in the shot (and a valid selection) and more sense of the game and the movement without that tunnel vision that so desperate of him in the Wolves.
Maybe, surely, I will never be a big star, although the potential is still there. But Wiggins may (indeed should) have the best years of his career ahead of him. For now, and beyond the dazzling explosions of Curry, it is one of the keys that the Warriors begin to be steadily better than it seemed they were going to be after Klay's injury and his horrible start to the season. Let's see how far they go and see how much they get out of a Wiggins that, remember, is still 25 years old ...
Photos from as.com