"Madrid was wrong with Achraf"
The president of Valladolid has granted an interview to 'La Gazzetta dello Sport' in which he praises the role of the full-back. "If we had played together ...".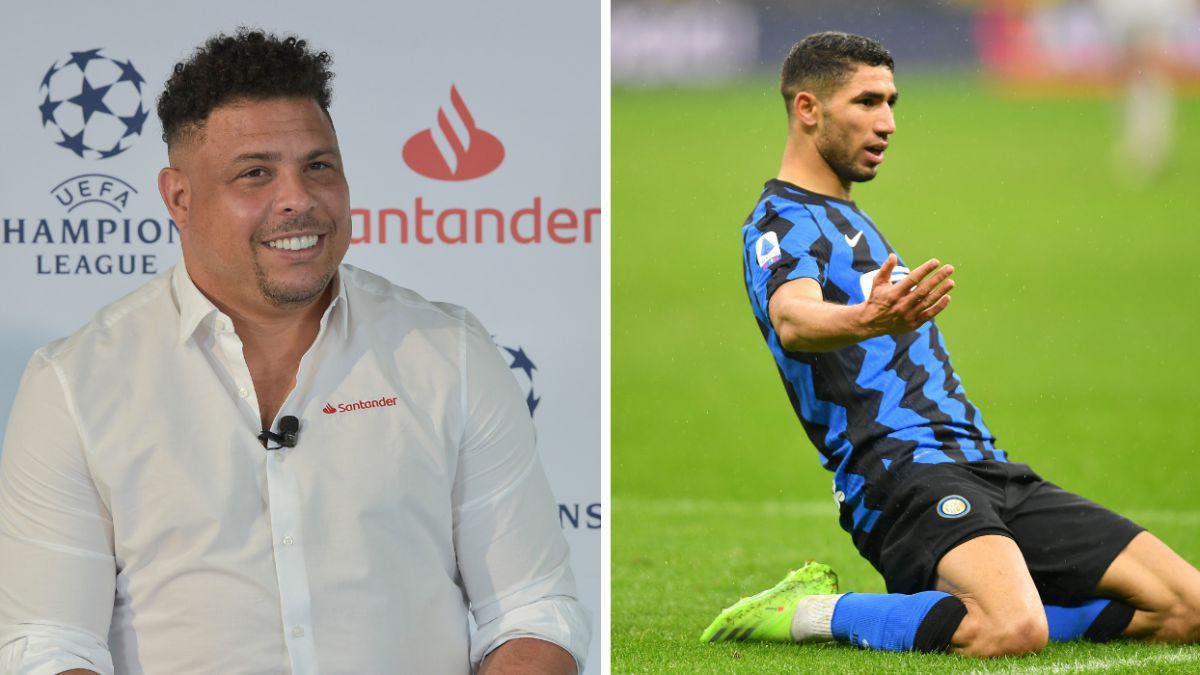 Ronaldo Nazario is a football legend and the question will always remain as to how far he would have come without the injuries that so many games and afternoons of glory stole from him as a player and from the planet as football fans. Even so, he had time to be part of the history books of great clubs like Barça (only one season), Inter de Milan or Real Madrid, the latter two being the teams in which he enjoyed the longest longevity. On the occasion of Inter-Juventus this Sunday (8:45 pm), 'O Fenómeno' has been interviewed by 'La Gazzetta dello Sport' to analyze the crash. There have been many issues on which the extensive meeting has revolved and there are some that concern the Madrid parish, such as the signing of Achraf Hakimi.
About the Hispano-Moroccan full-back he was full of praise and affirms that he is "an extraordinary player", in addition to adding that "Real Madrid was wrong to lose him like this." Likewise, he allowed himself the luxury of fantasizing about the possible partnership they would have formed: "Every now and then I think: 'Ronnie, imagine you and Hakimi together, we would have gone at great speed ...". Moreover, the now president of Real Valladolid defends that "it is one of the best triumphs in the Inter market in the last ten years" .
Cristiano's records, obsession or gasoline? , but there is something that does not change. Did you see against Sassuolo? He can be in the shade for most of the game then decide everything in a minute. " While he sent a message to the Nerozurra fans, since the big games are always marked in red on the Portuguese crack calendar: "Ronaldo has always liked important games a lot, because they are the ones that are remembered. Like the records They say they are an obsession for him, I call it gasoline ".
And although the former striker surrenders to the capabilities of the '7' bianconero, he considers that there will be a player on the pitch with greater final weight on the result or, at least, with greater importance for his team: Romelu Lukaku. "I bet he can even move trees ... They are very different, but they have one point in common: when you have a player like that, it's hard not to lean on him. Especially if he's like Lukaku. If he scores almost one goal per game, it's It's inevitable to do so, but don't expect it to do wonders with the ball at your feet. "Lautaro and Morata, not so secondary actors
Another of the great players who will be cited in San Siro is the attacking partner of the Belgian, Lautaro Martínez. The Argentine is characterized, in addition to his scoring voracity, by the intensity he exudes, which is asked if Ronaldo is excessive. "Too much?" He asks. "I like him, because he is not afraid of anything, because he is bad when he plays. You get distracted for a moment and he does not forgive you. He has an ability to play football and not many have it. He feels the goal, he is a pure striker, with eyes forward, "he answered.
And so, the fourth attacker of the match, Álvaro Morata, appears on the scene: "He has shown what he can do. Juve has been behind many forwards, but I think he played it safe. That's Morata. You know what he can do for you. give and you know he will give it to you ".Eriksen and the benches
Ronaldo has not dodged any bullets, not even thorny questions like the 'Eriksen case': "Even if you have quality, it is not easy to show it when you change leagues. Even less if you are not fixed in the team, but you must show that you can be. " However, he clarifies so that it does not seem that he is charging against Conte: "No (...). I know that he does not always like his management of changes, but sometimes there are needs that are difficult to see from the outside. It is the destiny of the trainers...". In addition, he wanted to remember the occupant of the other bench, Andrea Pirlo: "I don't know who called him that ('Il Maestro'), but a teacher by profession teaches what he knows. It will take time, but if Juve has bet on Andrea, I think who will give it to you ... ".
"Maybe we will celebrate it with a nice friendly match with 'my' Valladolid"
Finally, we could not miss the question about the winner of the match and, although the colors and the past may, our protagonist tries to be as objective as possible: " I am partial, but even as a fan I would say that Juve are strong opponents. But Inter can believe in victory this year. " All this to end with a wish: "And maybe we will celebrate it with a nice friendly match with 'my' Valladolid, if the Covid gives us a break ...".
Photos from as.com