With the signing of Mario Mandzukic by Milan, the Croatian and Zlatan Ibrahimovic will form a forward 'rossonera' with 73 years, 774 goals and 56 titles between them.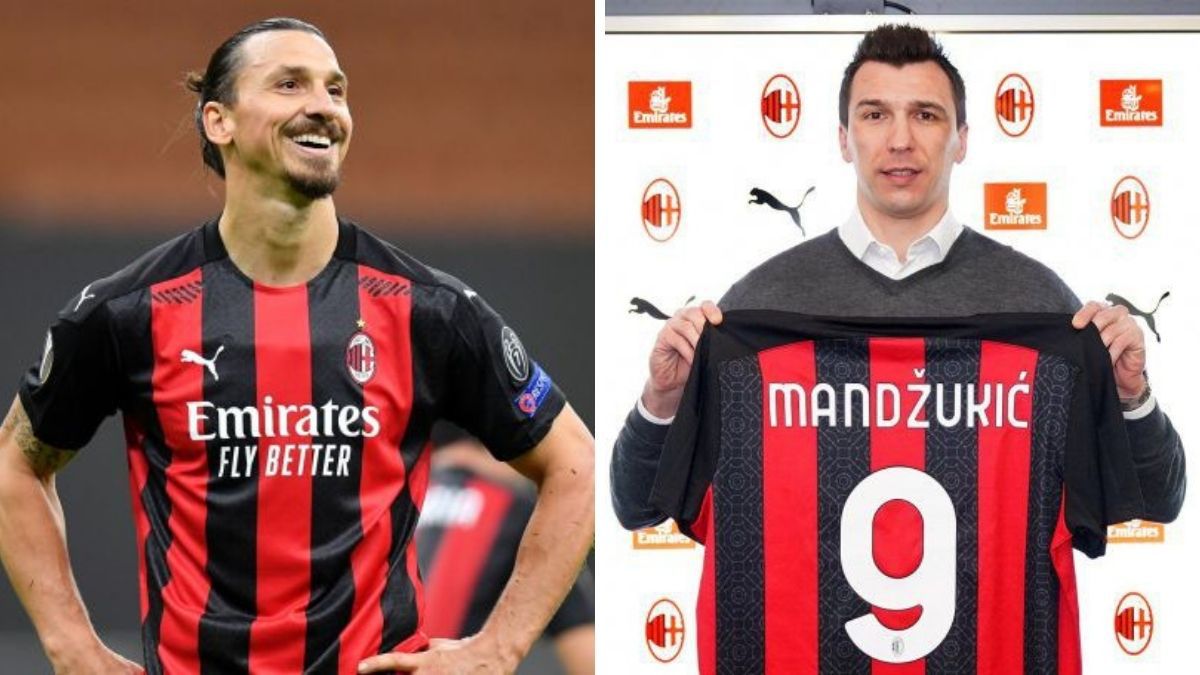 Are Milan back? It is one of the many questions that great football fans ask themselves. One of the most glorious teams in Europe, the up to seven-time Champions League champion, seems to finally set the course right. After a sweet 2020 year, in which, unlike the rest, the 'Rossoneri' experienced an almost historic comeback, now they are at the top of the 'Calcio'. With Stefano Pioli at the helm, a legend like Paolo Maldini on the board, and the arrival of Zlatan Ibrahimovic to San Siro in January 2020 as 'Messiah', a sleeping giant has been raised.
Currently, they are leaders of Serie A with 43 points, they are alive in the Europa League (round of 32) and in the Coppa Italia (quarter-finals). And, in addition, history repeats itself in this winter market. If in 2020 it was the Swede who returned to the Italian championship, this 2021 Mario Mandzukic is following in the footsteps. The 34-year-old Croat returns to Italy just one year after leaving Juventus to sign for Qatari Al-Duhail, a team he left in July and in which he barely played seven games with a goal scored.
Therefore, Milan can go on to form a forward as veteran as possible: Ibrahimovic-Mandzukic, two players who, adding both ages, reach a total of 73 years. Of course, without forgetting the huge number of goals (774) and titles (56) that two 'old rockers' carry behind them. However, the Croatian, just as the Swede has shown with his 39 'tacos' since he arrived a year ago (in 2020-21 he already registers 12 goals in Serie A right now), he is coming to do what he does best, fight and pierce rival nets. That is to say, two profiles, in that aspect, the most similar (you just have to see the last pique of the Swede with Diego Godín).
It is true that Milan de Pioli already has some gears and a defined system. A 4-2-3-1 with Ibrahimovic as the only reference, escorted by two extremes and a mobile midfielder. But if there is something that characterizes 'Marione', it is its versatility. He has already shown it in his time at Bayern Munich, Atlético de Madrid or Juventus itself, where he played winger on numerous occasions. For this reason, the 'rossoneri' win an important trick, either as a refreshment or variant to enter the second half, or as a main plan. In addition to adding even more height: if Ibrahimovic is 1.95, we must add the 1.90 of the Croatian.
Two veterans in a 'Baby Milan'
A dose of refreshment and experience that, however, adds Stefano Pioli for a very precocious squad. And, despite the "high" age of his two strikers, we must not forget that the current one is a 'Baby Milan'. In this season they keep the "record" of taking the XI with the youngest average age (22'8 years) of all the five major leagues in Europe. What's more, even a study carried out last October by CIES, the Football Observatory, revealed that the 'Rossoneri' had the youngest squad (24.5) .
You just have to see what kind of players make up its backbone: Gianluigi Donnaruma (21), Theo Hernández (23), Ismael Bennacer (23) or Franck Kessié (24), as well as others like Brahim Díaz (21), Sandro Tonali ( 20), Alexis Saelemaekers (21), Rafael Leao (21), Diogo Dalot (21) or one of the next partners of Erling Haaland in Norway, Jens Petter Hauge (21). Two other mainstays, such as Alessio Romagnoli and Hakan Calhanoglu, who are in the midst of a "war" for its renovation, are no more than 26 years old.For this reason, that sum of experience and youth must form the ideal cocktail so that Milan, once the bulk of the season arrives (with the three competitions ahead), remains and does not fall down like a house of cards. Without Juventus as powerful as previous years, Serie A is more open than ever, with Inter and Naples also competing as candidates. So the 'Rossoneri' will have to break a sweat to maintain the leadership and, finally, break a decade-long drought without conquering the 'Scudetto'.
Photos from as.com