Three winners and one loser in Harden's mega pass
Who does he favor and who could have done better in this mammoth operation? Nets and Rockets radically change their future.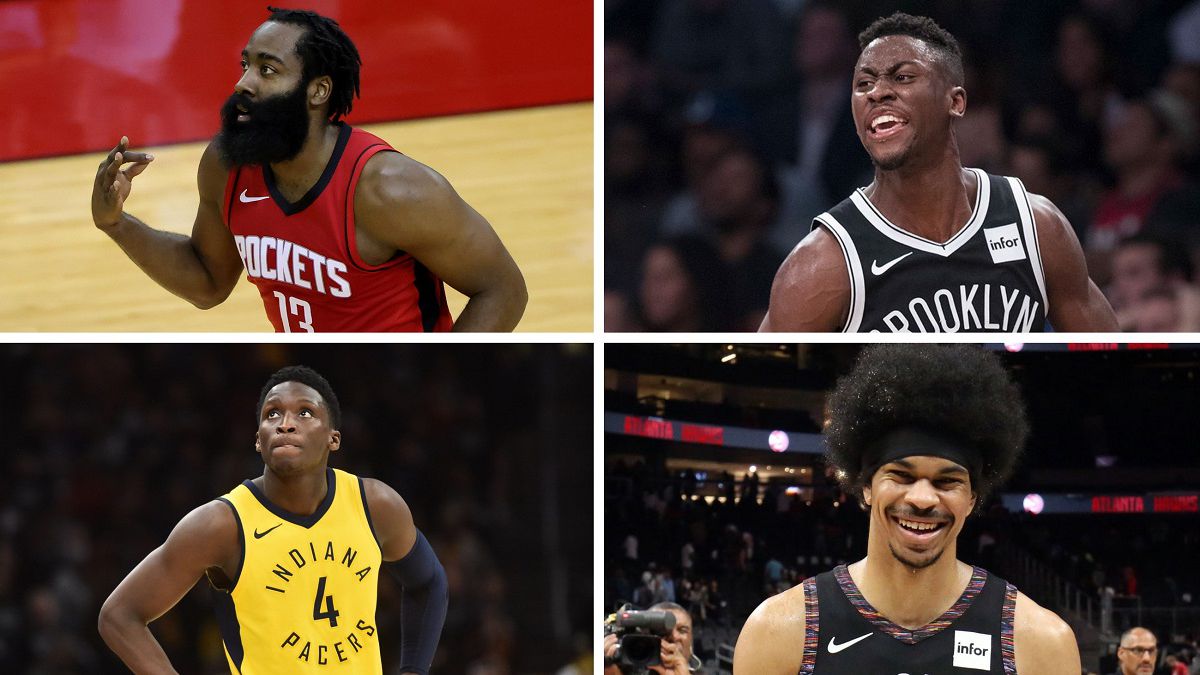 A fly feather, it is difficult to place an operation from the first impact, the very short term. Plus a mega-step that can redefine the hierarchies of the NBA and also involves four franchises and future assets whose development we will not know for a few years. But James Harden, that's the important thing, has finally left behind (finally for him, of course) his eight-year stretch at the Houston Rockets, an era of records and scoring exhibitions closed without a single ticket to the Finals, and is going to form an atomic big three in the Brooklyn Nets with Kevin Durant (they were finalists together, and with Russell Westbrook, in the Thunder: it has rained a lot) and, presumably (the point guard is an unknown in motion), Kyrie Irving. Everything changes in Brooklyn and Houston and two other franchises jump on the bandwagon to fish in the whirlpool. The transfer, finally, turned out like this:
The Nets take James Harden and the Cavaliers' 2024 second round (which, surprise, was not their goal in this operation) .
The Rockets are left with Victor Oladipo, Dante Exum, Rodions Kurucs, the Nets' first three unprotected rounds (2022, 2024 and 2026), the right to trade first four rounds (unprotected as well) with the Brooklyn franchise (2021, 2023, 2025, 2027) and the first round of the Bucks in 20222.
Indiana Pacers seizes Caris LeVert and a second from 2023 arriving from Houston.
And Cleveland (who delivered the first of the Bucks to complete the operation) steals Jarrett Allen and Taurean Prince, who appeared to be headed for Texas.
And these are, a priori, the winners and losers of an operation that should have a radical effect on this (already complex) 2020-21 NBA season: 444 444TRANSFER WINNERS
BROOKLYN NETS. For now, winners. If it goes wrong, it will be an epic, monumental, great disaster, which will be dissected for years and always waved as a white flag by those who prefer not to take great risks in the market. The Nets know it, less than eight years after the failure of the Kevin Garnett / Paul Pierce deal that put the future of the franchise in bankruptcy. But, seen this way, in less than a decade they have finished with three of the best players in the NBA, so why not try again ...
It's obvious: the Nets don't have a complete or even reliable rotation right now. They only needed to have her behind such a big three (Durant-Harden-Kyrie). It's hard to imagine who will defend and rebound; They do not even know if Kyrie will return or when he will return if so and they have an inexperienced coach, Steve Nash, in charge of handling the same ball (there will not be three) players totally used to being in control of the game. In ratios, like the last Houton Rockets Harden, historical. So yes: it can be a wonderful and colossal disaster, a perfect leap into the void.
But, the reality today is that the Nets have assembled a lot of historic offensive talent. And that they have two squires of incredible scoring ability (Harden and Kyrie) alongside one of the best players ever: Kevin Durant is, no matter what you want to think of him (each one knows…). They have what everyone wants: differential talent. A ton of it, in fact. They are supposed to rebuild their rotation, to fish before the market closes and look for a center, another forward ... things. They have the prorated part of the tax payer midlevel (5.7 million) and have a disabled player exception on the way (another 5.7) that they will receive for Dinwiddie's injury, who will now be greatly missed. They have lost LeVert and Allen, sure, but they have added James Harden. If it doesn't come out, you had to try. If it goes well ... they are the favorites in the ring, at least the best positioned to topple the Lakers. These, in fact, left last season a perfect example that talent finally wins ... as long as it is managed. That work starts now. At high risk, but with a simply unimaginable ceiling.
KOBY ALTMAN AND THE CAVS. Like who was passing by, Altman, a 38-year-old general manager who deals with the ruins of the LeBron empire in Ohio, took Jarrett Allen and only released Dante Exum (a promise unable to live without injuries) and a first round of the Bucks who does not seem very appetizing with the future of Giannis Antetokoumpo assured in Wisconsin. Altman is following an excellent rebuilding script: drafting talent and leaving a trail of valuable little moves. As he did last season to release Jordan Clarkson and also to seize Andre Drummond for nothing, before this to sneak into the Marc Gasol operation with the Lakers and take a pick tied to JaVale McGee ...
The Cavs, who are also made with the useful Taurean Prince, have an interesting young core (Sexton, Garland, Porter, Okoro ...), a block that Allen fits into by age (22 years) and by a talent that was definitely exploiting on the Nets. An excellent intimidating center who is going to more in attack and that in principle will be the future of the position in Cleveland (he is a restricted free agent at the end of the season) with Andre Drummond, who will also go on the market, far from that rebuilding timeline. Great move from Altman and another firm step from the Cavs. Little by little.
INDIANA PACERS. Victor Oladipo has been in trouble with the Pacers regarding his future. He finishes his contract and his continuity was complicated and he would come out (he has played at a very good level this season) at a gold price and with a high risk due to the injury problems of the guard. From that point of view, a franchise that always avoids the luxury tax and never has an inflated salary bill, doffs a brown and replaces Oladipo with Caris LeVert, who has a good contract for this season and two more (for a manageable 36 million). And who is younger: 26 years for 28.
LeVert neither shoots nor defends as the best version of Oladipo, but he is a player with a level peak that suggests that he may end up being (depending on how they both do) not much worse than him. And a priori he can take advantage of the excellent culture that Nate Bjorkgren is creating in a Pacers in which he joins Sabonis, Brogdon, Turner, the now injured Warren ... In the classic way of doing things for the Pacers, this is an operation not striking but interesting. And with meaning.
TRANSFER LOSER
HOUSTON ROCKETS. There will be many who will not see it that way, of course. And the Rockets have put themselves so clearly in the hands of that draft capital they have obtained (they were peeled after the Russell Westbrook trade, too) that we will not know what this transfer was like (we will review it often, sure) this transfer for them until within some years. We do know that they have lost their franchise player (and a generational talent, no matter how ugly their goodbye may have been) and that, although they needed to speed things up after the last Harden messes and it is true that you almost never get a fair return for a great angry star, it seems little what they have finally obtained. Especially if Ben Simmons was really within reach via Philadelphia 76ers.
The feeling is that (that's what Harden wanted) the Rockets (with good reason) were fed up, they wanted to put La Barba away and the Sixers option was still stuck. As they have never had a great love for the players that the Nets offered (LeVert, Allen, a Dinwiddie also injured for the whole season ...) they finally chose to focus on the draft capital, so everything will now depend on how they end up being high the rounds that have or may change with the Nets in the medium and long term. The one they have from the Bucks for 2022 shouldn't (with Giannis around) be high. But if in Brooklyn everything goes wrong or if, simply, that team is for better or for worse (it seems that by ages and personalities) with a narrow window (a couple of years), then… Harden, Durant and Kyrie have the three player options in the summer of 2022. And how things go in Brooklyn will depend if this ends up looking the same in Texas, that is what the Rockets want, the legendary (for failed) trade for Garnett and Pierce, the loot that prompted the rebuilding of the Celtics.
But in the meantime, they have hardly been made with filler (Kurucs, Exum) and an Oladipo that ends contract and will be very expensive in summer, it is not known if it comes or goes with injuries and that it could even be transferred again before the closing of the March 25th. The Rockets started from an important young piece as a starting point in their claims, and Oladipo (he will finish the season at 29 years old) does not fit that profile. From there, devotees of draft capital and endless lists of picks can lick their lips imagining how everything could go well in Houston. But the fact is that a cycle has ended badly, that there is an owner (Tilman Fertitta) who only seems interested in saving and that what comes is not particularly exciting in the short term. We'll see, sure, we'll see.
Photos from as.com