Manolo and Mónica, a pilot father and co-pilot daughter, lived a terrible moment when they ran over the Frenchman Susset, who has several bruises. "It was inevitable," they tell AS.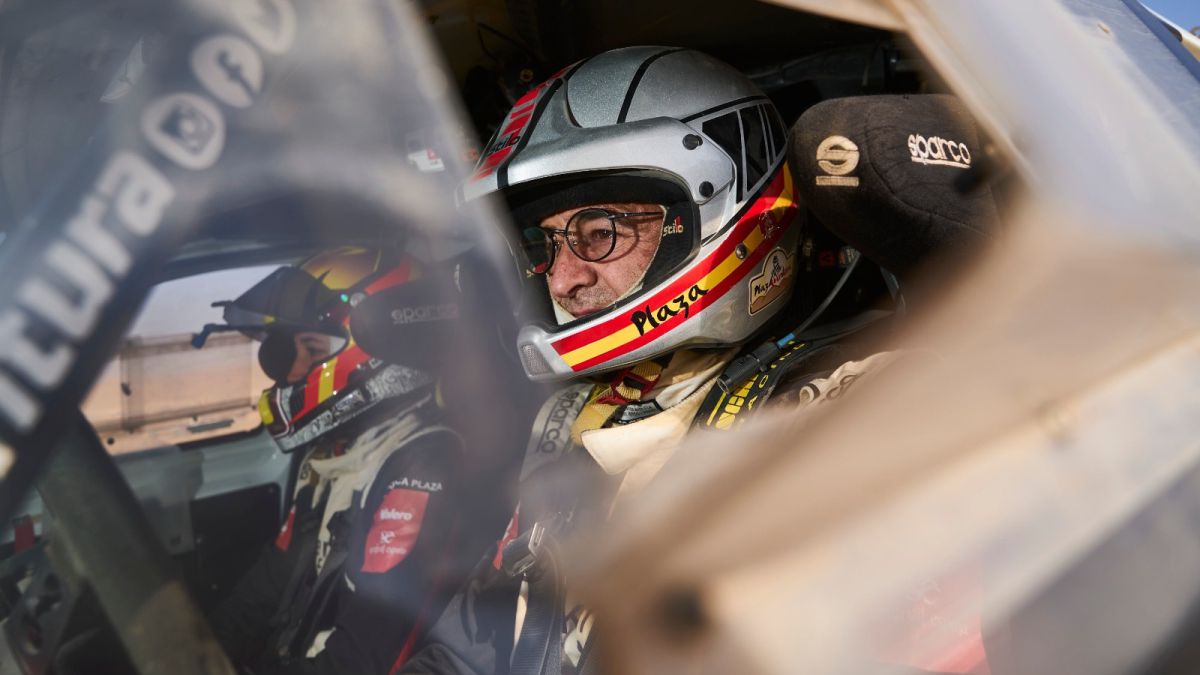 Manolo and Mónica Plaza are a father and daughter who are happy to enjoy competing in a Dakar together. It is the second they have run and they have had to live an experience that no one can wish for ... At Km 419 of the seventh stage they had the misfortune of running over a motorcycle, the 94 of the Frenchman Olivier Susset, and they passed some of the worst moments of his life. The first thing to say is that the pilot has several injuries, including an ankle and an elbow, and is pending the MRI result, but it seems that he is out of danger.
AS talks to them in the Sodicars tent, their team, so they can tell us first-hand how they lived it. Monica puts us in a situation: "We were on the main track, there were four motorcycles that we were going to overtake, one was on the left side and there was a car stopped. Then the car started to accelerate, the motorcycle tried to avoid it and got into on our line. We were going 86 km / h and it was a huge shock. " "We went over the motorcycle and we also ran him over. He stayed between the front and rear wheels and the motorcycle caught fire," adds Manolo.
"When I hit him, I thought he had stayed under the car and until I opened the door and saw him outside ... He didn't give time to stop or anything," says the father, and his daughter takes over: "They were very, very difficult moments, we feared for his life. I thought he had died. I began to speak to him, to tell him his name, that everything was going well, that he was calm ... and luck is that it seems that he is fine , out of danger, but until they tell you how he is or what is wrong ... It was something inevitable, it touched us as it could have touched others ".
"The first 10-15 minutes he was unconscious. Until he began to move his legs and took Mónica's hand ...", continues Manolo, who admits that that night he could not "hit a single eye": "With In the years that I have been racing (this is his 14th Dakar) nothing like this has ever happened to me. Bikers who go behind many times go to the limit of their strength and cannot control the bike, you always try to avoid them, but in this case ... " . "They were taking photos of the lines, with which all the trajectories could be seen perfectly," adds Mónica.
Their Dakar so far
"It was almost 50 minutes" interminable until they evacuated Susset and they were able to continue with their Dakar somewhat more calmly, knowing that they were leaving in better condition than they thought. His career up to that point had not been easy either: "The first week was very complicated, we had temperature problems. In the second stage we broke a shield and lost four hours, we were almost out of the race. And in the fifth we had to get one. Tire kicking. From then on we went well. With the car and with the team we are very happy ".
They are 35th overall, where the pace at which they are also going "is crazy." "Look at the one they have to carry in front ...", says Manolo, who "is surprised that navigation has been so complicated". "I like it, what happens is that sometimes you have to lift, you cannot expect to bring the speed of a rally in a navigation raid", says the co-driver, who acknowledges that on Monday's stage "sometimes I saw a tree and I thought it was a motorcycle ... ":" But we can't torture ourselves too much. Knowing that he's fine, we have to keep up our pace. " "The objective is to finish and continue enjoying", concludes Manolo. Fortunately, they can try to do it calmly.
Photos from as.com