The year Tiger won the US Open with a shattered knee
El Tigre arrived at Torrey Pines in 2008 without a cruciate ligament after years of severe physical wear and tear. He endured the pain with military discipline and won his 14th major.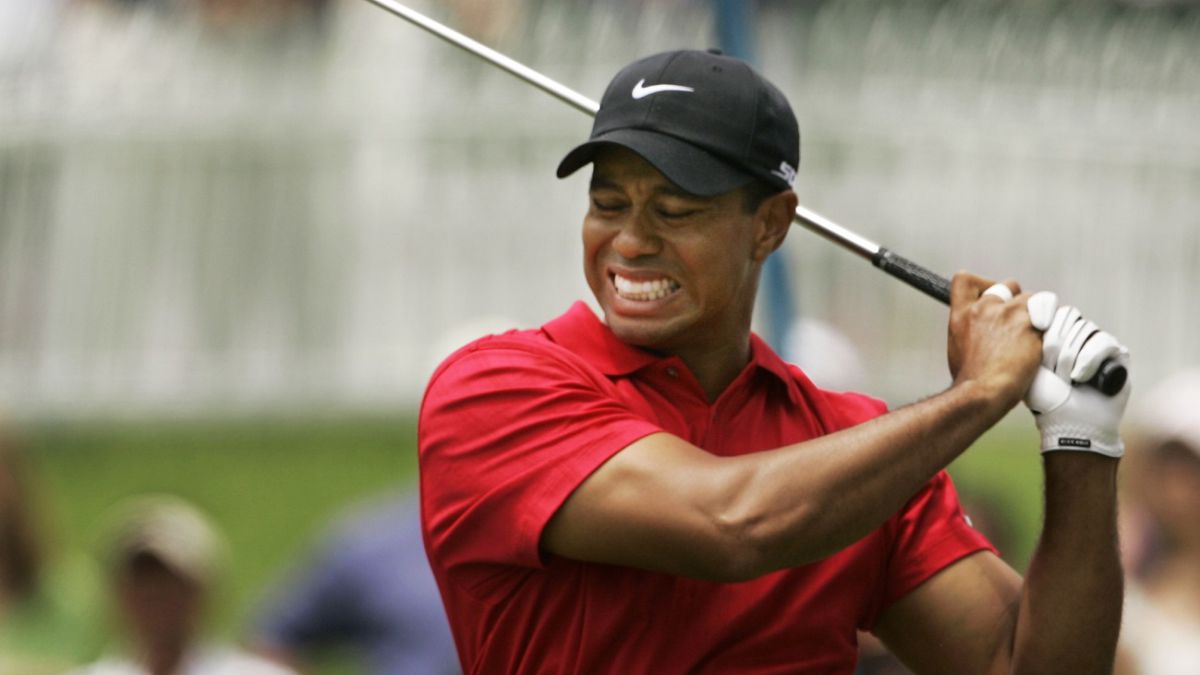 Tiger Woods' life has so many meanders that inevitably some end up imposing on others in the struggle to occupy our memory. Since that Masters of 1997 we have seen him tread the top, fall crashing into a vaudeville of revelry and wild sex, destroy his family and his body and rise from his own ashes.
Everything that happened off the field, the nights in Las Vegas with Jordan and Barkley, the escorts, Rachel Uchitel, the divorce of Elin Nordgren, is the common thread of the second part of Tiger, HBO's unauthorized documentary about him, which premiered this Monday in Spain. But there is also room for the golfer Tiger, who in the temporal space covered by the chapter did something absolutely insane, an insanity beyond the reach of anyone other than him: winning the US Open with a shattered knee.
This is 2008. Two years after the death of his father Earl, the man who 'programmed' him to reign, Tiger is riding high. He has 13 majors in 12 years as a professional, the brands have made him one of the highest paid athletes in the world and he has been happily married to Elin Nordgren for four years. Although by then she also leads the double life of excesses and extramarital affairs (also influenced by Earl, a womanizer) that will be revealed shortly after.
The loss of his great reference affects Tiger deeply, who takes refuge from pain training with the special forces of the US Army. It's a way of honoring him, as Earl served with the Green Berets in Vietnam (he even considered quitting golf to enlist). But the physical wear and tear of the hostage rescue maneuvers, hand-to-hand fighting, etc. in which it participates suppose an excessive punishment for a body already battered after years of comings and goings.
A medical examination reveals a complete absence of the anterior cruciate ligament in his left knee. But Tiger doesn't want to stop. He keeps training and ends up with two broken leg. Doctors say it will take time in the dry dock. Tiger doesn't slow down either. You need to get a little closer to Nicklaus' Big 18.
So he goes to Torrey Pines for the 108th edition of the US Open very depressed. It's Thursday, January 13, and he's on the 1st tee. He takes his explosive swing and his face twists into a wince as the ball goes off the fairway to the left. What follows is a sequence of errors and misguided expressions that baffle audiences and TV commentators. His caddy at the time, Steve Williams, asks him to quit. "You are risking your career," he warns him. "Que j ... n, I'm going to win this tournament", replies Tigre.
And so it was. The military discipline that Earl injected him, so pernicious in other aspects of his life, allowed him to overcome the pain and focus only on the ball. Between Friday and Saturday he left a string of impossible blows, signed a -4 (in a US Open, with one leg) and led Sunday. He would end up tying with Rocco Mediate, whom he defeated on the first hole of the playoff.
It was kind of like Jordan's fever game, but for five hours a day four days in a row. "I looked at him and thought, what the hell are you doing? I came to believe that maybe he was immortal. When you were close to him you felt something special. That you couldn't hide, that you were facing the best," Mediate says. Certainly Tiger was for a time, stories like this are proof, immortal. Until a Florida tabloid, the National Enquirer, brought him down to earth.
Photos from as.com