The McCollum Explosion: "I'm a killer looking for food ..."
Impressive start to the season for the guard, who has never been all star. His shooting range, a surprise: he is the player with the most triples in the NBA.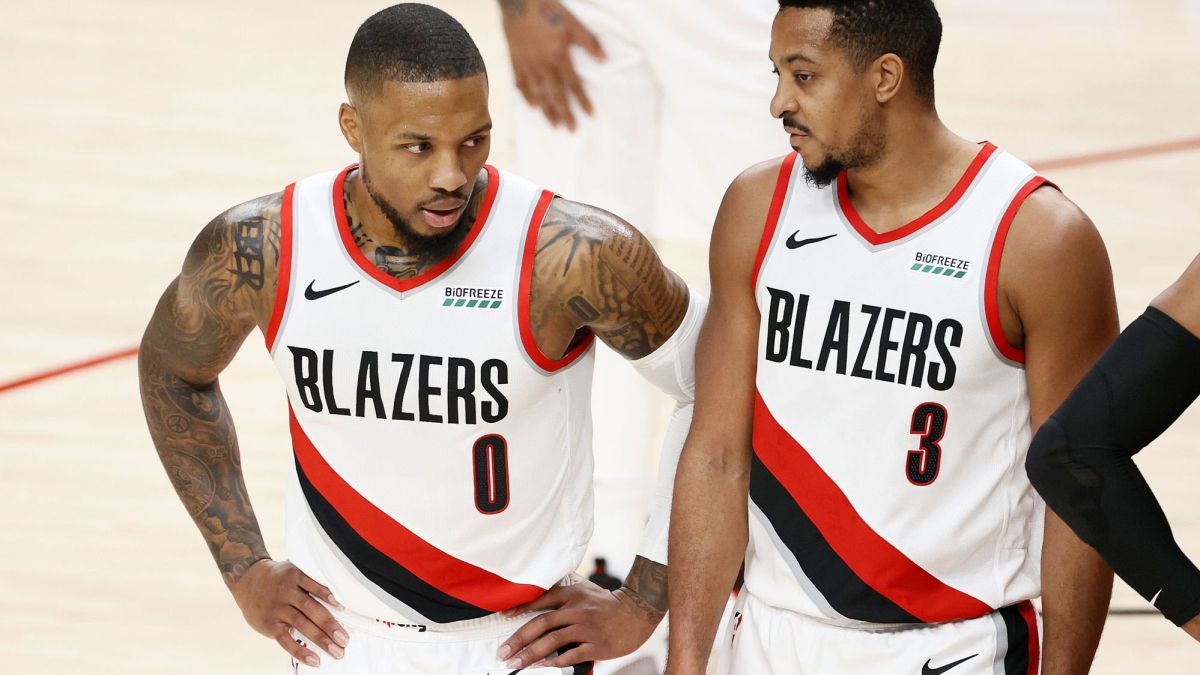 Can you win with Damian Lillard and CJ McCollum? And winning in this case is WINNING. Earn rings or at least be in a position to earn them. That's the question the Trail Blazers keep trying to clear, one that passes an essential test in a course in which the Oregon franchise has tried to patch up its defense, an abysmal hole that sent the 2019 West finalist to a most summary elimination. in 2020 against the Lakers. To get there in the first round, it took Damian Lillard to play at an all-time high in the Florida restart.
Damian Lillard is 1.88 and CJ McCollum is 1.91. They form an extraordinary backcourt in attack but they are two mediocre defenders. And that's to put it nicely. There are not a few who believe that together they have a clear ceiling, which is to be in the playoffs every year and move from round to round depending on rivals and states of form. The growth of Gary Trent Jr, a guard who defends and hits triples without amassing possession, has fed a chorus that has long pursued the Northwest team: with Lillard untouchable, already at levels of legend of the franchise, it would be convenient to transfer McCollum, place Trent as Lillard's bodyguard and get help in the transfer for a frontcourt where health, intimidation in defense and creation in attack are often lacking.
But, what if this time Lillard and McCollum ... that's always the door the Blazers leave ajar. And, essentially, the future they embraced in the summer of 2019, when they decided to bet on their partner, one forged with Lillard as a bridge to the rise of the escort after the dismemberment of the promising previous project (LaMarcus Aldridge, Nico Batum, Wesley Matthews, Robin Lopez, Arron Afflalo… transitioning between eras, McCollum went from playing 16 minutes a night to starting and Most Improved Player in his third season (2015-16). After the 2019 West final, GM Neil Olshey bet Big time: It would be with Lillard and McCollum or it would not be. He gave the point guard (29 years then, 30 now) a 196 million extension for four years. And the guard (28 then, 29 now) a 100 for three Contracts extended through 2025 and 2024 and an extra 300 million for a total of 414 in the Blazers' accounts over six years.
Last season was a mountain of bad news beyond stating that Lillard is one of the NBA's most iconic, and most magnetic, stars. And this one? For now, and you have to start from there, the thing is not to shoot rockets: the Blazers are 6-4 in a season in which almost everyone seems to be 6-4. They have played (a story that their fans know by heart) good games and bad games, capable of winning the best and losing to anyone. And with a porous defense. All that has not changed much, and it is not a good sign at first, and Damian Lillard has started slowly. At least, for his standard: 26.1 points, 6.4 assists (30 and 8 last season) .
But McCollum is playing at the best level of his career, one in which he has never been an all-star yet although he has brushed it (the West is like that, ask Mike Conley). His usual pot-and-build game is more generous with his teammates, more effective and, above all, more range. With an old school touch always due to his finesse in temperate attack zones, he is shooting and scoring more than ever from three. He averages 28.1 points, 4.1 rebounds and 5.5 assists (22.2, 4.2 and 4.4 last season). And, above all, he is making 44.5% of his triples. He also throws 11 a night (7.3 last season, 6.4 two ago). It is, and is a big surprise, the leader in triples scored (4.9). Stephen Curry is at 4.2 with an average of 36.8% to 44.5 of the Blazers. They are the only ones who shoot more than 10 (11.4 and 11). They are followed by Buddy Hield and Damian Lillard in shots (9.9) and Paul George in runs (4.2 / 8.2, a fantastic 50%). McCollum's growth as the main attacking weapon in the NBA today puts him and Lillard both above 250 points in the first 10 games of the season. Numbers for Shaquille and Kobe, Curry and Durant ... numbers that a backcourt couple (point guard and guard) had never done. In addition, they have added 86 triples (37 Lillard, 49 McCollum), a record of two teammates in ten games. The best mark so far was Stephen Curry (59) and Klay Thompson (24), who had 83 after ten crashes of the 2018-19 season.
And he's happy, of course. Airing the benefits of wine, one of his great hobbies (volcanic wines, now) and thus explaining his definitive explosion as a scorer: "I'm a killer. One who looks for ways to eat. I think that is the best way to describe myself. Sharks go out and hunt, they don't worry about other things. This is how I live my life too. "
Photos from as.com