The curse continues in Atlanta: Bogdanovic breaks
The Serbian guard was injured in Saturday's game and may be out for several weeks. His absence joins those of Gallinari, Rondo, Dunn and Okongwu.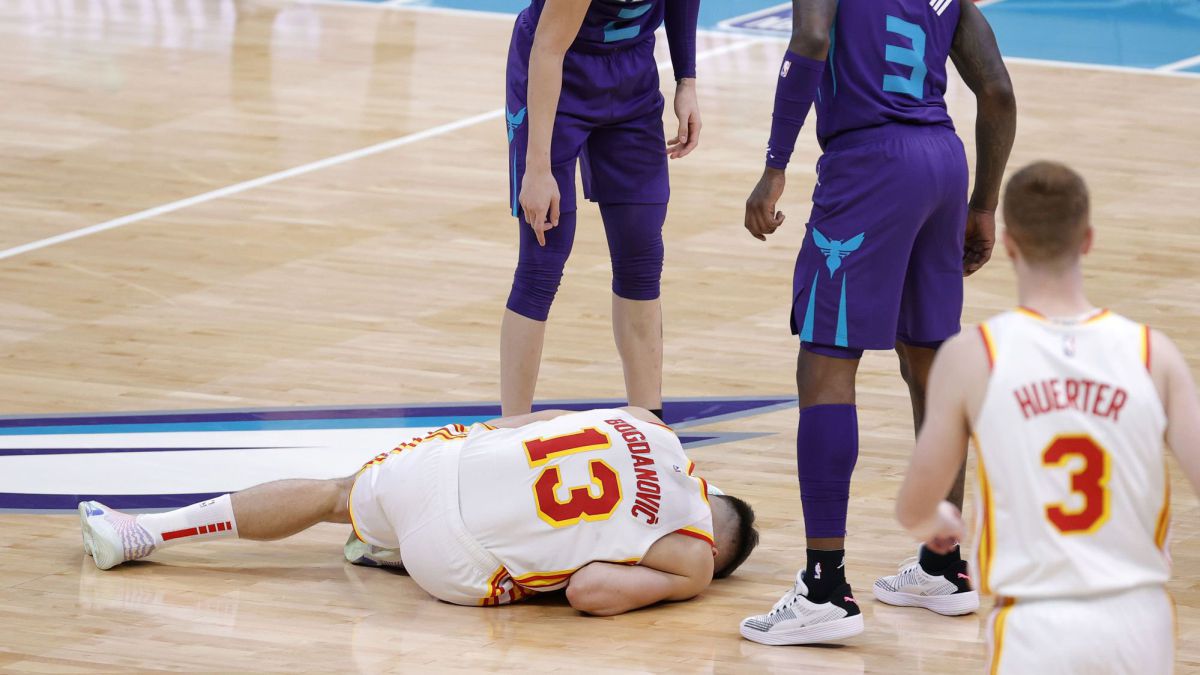 It was all joy in Atlanta when the Hawks were 4-1 fighting for the lead in the East and with a Bring Young playing in MVP mode. At last it seemed that the good times were returning to the capital of Georgia, but a plague of injuries is threatening to wake them from sleep prematurely. The last to fall, and perhaps the most serious, was Bogdan Bogdanovic. One of the star signings of the team (they have signed him four years and 72 million dollars), suffered an injury in Saturday's game against the Charlotte Hornets and yesterday the team announced the ailment he suffers.
This is an avclusion fracture in the right knee. These types of injuries occur when a small part of a bone that is attached to a tendon or ligament breaks. In addition, the player also showed soft tissue inflammation and a bruise on the bone. The Hawks have not determined the exact time out Bogdanovic is expected to be. At the moment the plan is to review him again later this week. Avlusion cases are usually treated with ice and rest and with controlled exercises to regain the joint's range of motion, but in the most severe cases it can end in the operating room.
So far Bogdanovic was averaging 9.9 points on 36.2% on 3-pointers. The guard injury is not the first suffered by the Hawks, who were already without four players. Danilo Gallinari, the other star signing, has only played two games for a sprained ankle; Rajon Rondo is recovering from a knee injury and Kris Dunnn has not even made his debut due to ankle surgery. All of them new players, like Onyeka Okongwu, number 19 of the last draft and who has not dressed short yet. In his case due to an inflammation in the left foot. Okongwu, a 2.03 center, can contribute many things to the Hawks' inside defense and the Atlanta franchise hopes to have him in the next few days.

Photos from as.com