The complaint of Fuenla before the abandonment of its City Council
From the Azulón club they denounce that they have not been allowed to use light machinery in the cleaning tasks of La Aldehuela after the passage of 'Filomena'.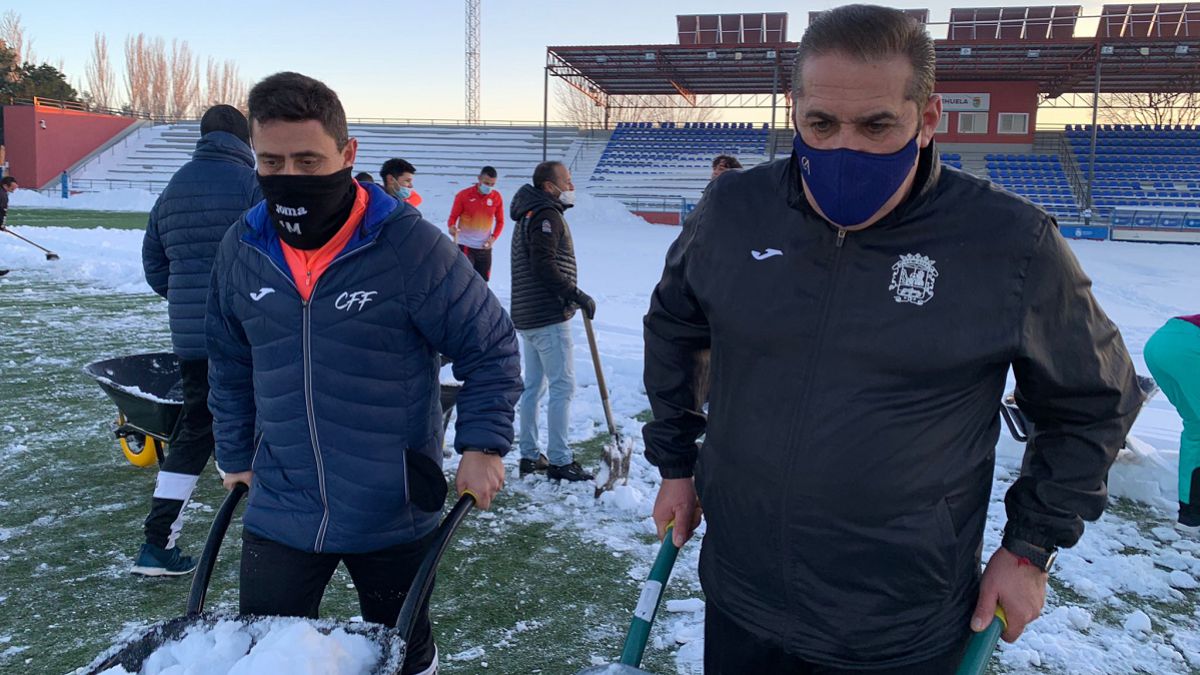 A doctorate in overcoming obstacles is, in part, what Fuenlabrada's two years in professional football are being. Today, less than 24 hours before the dispute of the cup-bearer match against Levante, the Fuenlabrada coaching staff, with Sandoval at the helm, and the vast majority of club managers and employees are in the Aldehuela, historic field for the azulón team removing snow. The motives? The 'abandonment' by the Department of Sports and Public Works of the Fuenlabrada City Council.
Sandoval's pupils plan to train there on Monday as Fernando Torres remains impassable after the passage of storm Filomena. For this reason, and in order to finally complete a normal session, the entire Fuenlabrada family has set to work to clean the field but, as usual, without hearing from the City Council.
In fact, the material used (shovels, hoes, picks and wheelbarrows) has been provided by Fuenlabrada since the council has not been able to authorize the use of the light machinery rented by the club for fear of deterioration in the land of game. This has not happened in the Ciudad Deportiva del Leganés where they have even used an excavator. This is how the azulones denounce it on their Twitter. An 'abandonment' by the city council that comes from afar: the works of Fernando Torres, municipal property, still awaiting, local assignments ...
Photos from as.com