The BAXI Manresa gives a loud slap to the worst Unicaja
New defeatist composer, who is still in free fall, against some Catalans who did things much better. Very good game from Jou. Casimiro, questioned.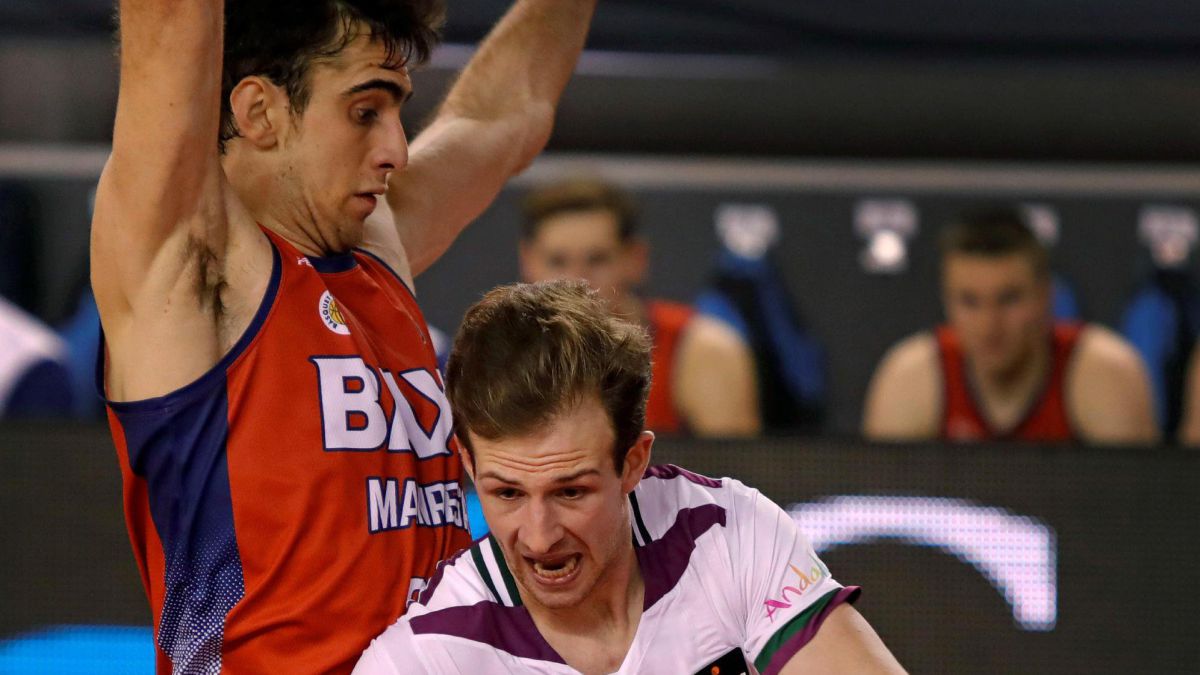 Unicaja is still in free fall. New defeat and another deplorable game against BAXI Manresa, who contained their rival by doing things a little better. Luis Casimiro's team was a disaster cubed. Very bad in defense, surpassed in the rebound by a single player, Guillem Jou, with 14 no less, brimming with losses and only holding on to triple, he never gave the feeling of being able to overcome an opponent who came from three defeats in a row, but who has known to redeem himself. Eighth defeat in nine games (two of them Eurocup) for the greens who offer tremendous doubts to face that Copa del Rey for which they have qualified as a true filly without any merit.
The first half was of poor quality. More mistakes than successes and excessive swings. From 4-9 of minute three it went to 22-13 coinciding with an unstoppable run by Sajus, unstoppable for the weak Malaga defense, which improved a bit with the entry of Nzosa. Alberto Díaz returned to the courts after two months off due to injury and match 300 in Jaime Fernández's Endesa League.
Unicaja came around the scoreboard (29-32 min. 17) more due to errors from Manresa than due to his own flashes. Those of the Congost were very unfortunate with the triples in this section (2/13 in 20 minutes), almost as much as Unicaja with the losses, ten. The break was reached 39-36 and a feeling of regret for so little play on the track. The best, along with the 12 points of Sajus, the eight assists of Dani Pérez (he would finish with eleven) .
Casimiro, questioned
Unicaja's game was still an atrocious nonsense. The Manresa, almost to tran tran, escaped on the scoreboard with a 12-2 partial. Casimiro stopped the game to find a solution at 51-38 (min. 14). The feeling was that Manresa's greatest enemy could be… Manresa. And Casimiro's anger at Gerun, probably, for its null intensity. For this reason, Carpena's men need a pivot.
Unicaja tried to re-float based on triples and with good moments from Francis Alonso and Abromaitis but no one could stop Mason, whom Pedro Martínez had to sit when he was better because he was loaded with four personals. The lack of fluidity of the Catalans and a triple on the Abromaitis horn rescued those of Malaga for the cause. The third quarter closed with 66-61. A mirage.
Csasimiro's men did not find the key and their concentration errors prevented them from reaching the shore. 76-66 at 33 '. In the absence of five minutes Manresa lost by five personals to Vaulet and Mason. In the absence of 4'40 the BAXi acquired its biggest advantage, 14 points, 83-69. Guillen Jou, a colossus under hoops. Unicaja never gave the feeling of being able to disturb the Manresa and in the end he takes another slap that leaves the team trembling and Luis Casimiro increasingly questioned. BAXI Manresa, for its part, revives.
Photos from as.com