The list of players with a past in the Spanish competition who stand out in Italy is very long: Achraf, Cristiano, Morata, Ibrahimovic, Theo ...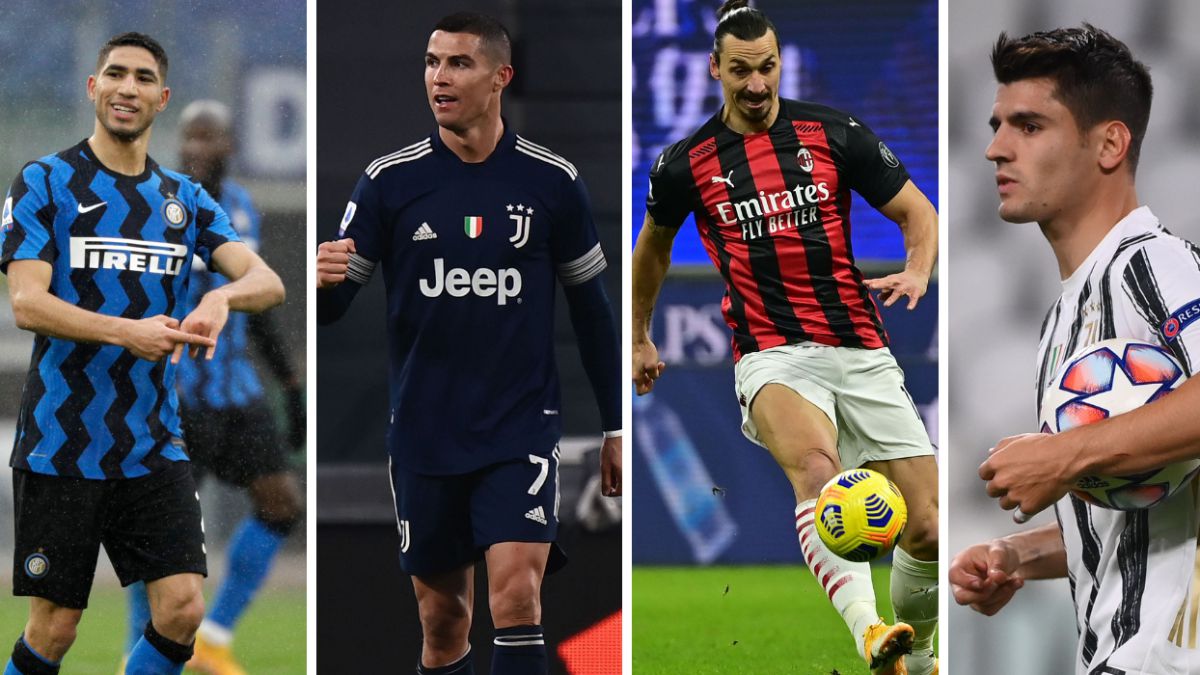 Nobody doubted the quality of Zlatan Ibrahimovic when he did not triumph under Guardiola at Barça. Nor of Achraf's when he had no place (at the moment) at Real Madrid. Theo Hernandez's star faded at Madrid and is now one of the most dangerous full-backs in Europe. Álvaro Morata did not find regularity in the Spanish capital and in Turin he is the ideal partner of Cristiano Ronaldo. Luis Muriel was a powerful bet from Sevilla that came out a frog; like Ciro Immobile, current Golden Boot who left the Pizjuán through the back door. Interestingly, all these names have something in common, now he plays in Italy. And it is that, in recent times, it seems that Serie A feeds on LaLiga.
Succeeding in the world of football goes hand in hand with many variables, in addition to having the necessary skills. Injuries, confidence or fit in the tactical ideology of the coach are as or more important than talent. The puzzles don't always fit together, even though the pieces appear to have complementary edges. But this does not make football Eden disappear, it must be found elsewhere. And that is what most of our protagonists have done in these lines.
Cristiano and Ibra as headliners
The name, perhaps, the loudest of all the slips is Cristiano Ronaldo. The Portuguese became a Madrid legend, but in 2018 a series of reasons made him change his course. Juventus was the graceful one for their scoring voracity. The '7' was not a discard, but it was a Morata who has rediscovered himself as a bianconero. La Vecchia Signora also enjoys the rebirth of Danilo, who did not finish convincing in Madrid, and tries to get rid of a Khedira (also with a past white) come (very) less. Arthur arrived this summer after losing flight at Barça and, for the moment, he has not recovered the star.
Among all the greats of Serie A, Milan is the one with the most players with a Spanish past among their squad. And if Ibra has become Benjamin Button, Theo Hernandez has turned out to be the plane that Madrid sensed when he 'stole' it from Atleti. While Brahim is showing that his football has a place among the elite and his return to Paseo de la Castellana is taken for granted. Samu Castillejo was a strong bet (€ 21 million) after standing out at Villarreal, when the Rossoneri were mired in constant fallow. While Simon Kjaer, discarded by Sevilla, has found San Siro his ideal home.
Achraf, Fabián, Luis Alberto, Gonzalo Villar, Immobile ...
Achraf Hakimi followed the same path as Theo and, although Madrid keep the right of first refusal, the lack of opportunities at the Bernabéu has made him one of the best signings in the summer. And Inter is congratulated for it. Just as Roma should be congratulated on the solid link it maintains with the Spanish championship, without which its team would be totally different: Mayoral (ex Real Madrid and Levante), Pau López (Espanyol and Betis), Gonzalo Villar (Elche) , Carles Pérez (Barça), Pedro (Barça) and Fazio (Sevilla) have a past in LaLiga. Same case as a Fiorentina who enjoys Pezzella (Betis), Martín Cáceres, (Villarreal, Recreativo, Seville and Barcelona), Borja Valero (Real Madrid, Mallorca and Villarreal), Callejón (Real Madrid and Espanyol) and Tòfol Montiel (Mallorca quarry ) .
Other big names that stand out are Fabián Ruiz (accompanied by Fernando Llorente, exAthletic, and Lobotka, exCelta), who has confirmed in Naples what he was aiming for at Betis, or Luis Alberto, who has established himself in Lazio as one of the the most solid players beyond our borders after passing through Seville, Malaga and Deportivo. And the latter's companion is a Ciro Immobile who lost his aim at the Pizjuán, but who has more than recovered it in the Italian capital. A case similar to that of the current Golden Boot to that of Luis Muriel: he arrived as a signing of campanillas (€ 24.5 M in 2017) and had to return to 'his' Serie A to resurface and now be a threat to Madrid in the Champions League with the Atalanta.
Former Barça and Madrid coaches, former coaches, Atleti legends ...
Many other names blow the radar when you take a look at the Series rosters. From Atleti (and Villarreal) legends like Diego Godín to coaches with a Valencian past like Cesare Prandelli (Bologna) and a Ranieri (Sampdoria) who also coached Atlético de Madrid. Iago Falqué, now at Benevento and who went through the quarries of Madrid and Barça, as well as that of Villarreal and Almería and Rayo; Keita Baldé, at Sampdoria and also a former Barça player; or Gerard Deuolfeu (Barcelona and Seville), who shares Udinese with Rodrigo de Paul who could not succeed in Valencia as he is doing in the transalpine country.
If we mentioned the case of Achraf before, the Hispano-Moroccan shares a dressing room with two ex-Barça players, Arturo Vidal and Alexis Sánchez. Both the midfielder and the winger are already war veterans, but they are important, when physical problems allow, for Antonio Conte. Pepe Reina, also in Lazio, like Luis Alberto and Immobile, is another noteworthy and Patric (Barça youth academy), Escalante (Eibar) and Felipe Caicedo (Espanyol, Levante and Malaga) complete the Spanish representation in the Olympic. The list (Marlon, Kalinic, Gary Medel, Roberto Soriano, Zapata, Simone Zaza ...) is eternal and does not stop growing because, given the success that some have achieved in the transalpine country, it is not surprising that many others seek to resurface in the boot of Europe.
Photos from as.com