Sergio Ruiz: "Las Palmas is a perfect place to continue growing"
The Cantabrian midfielder is one of the sensations of Pepe Mel's team. "Having beaten Espanyol and Mallorca was not by chance," he warns.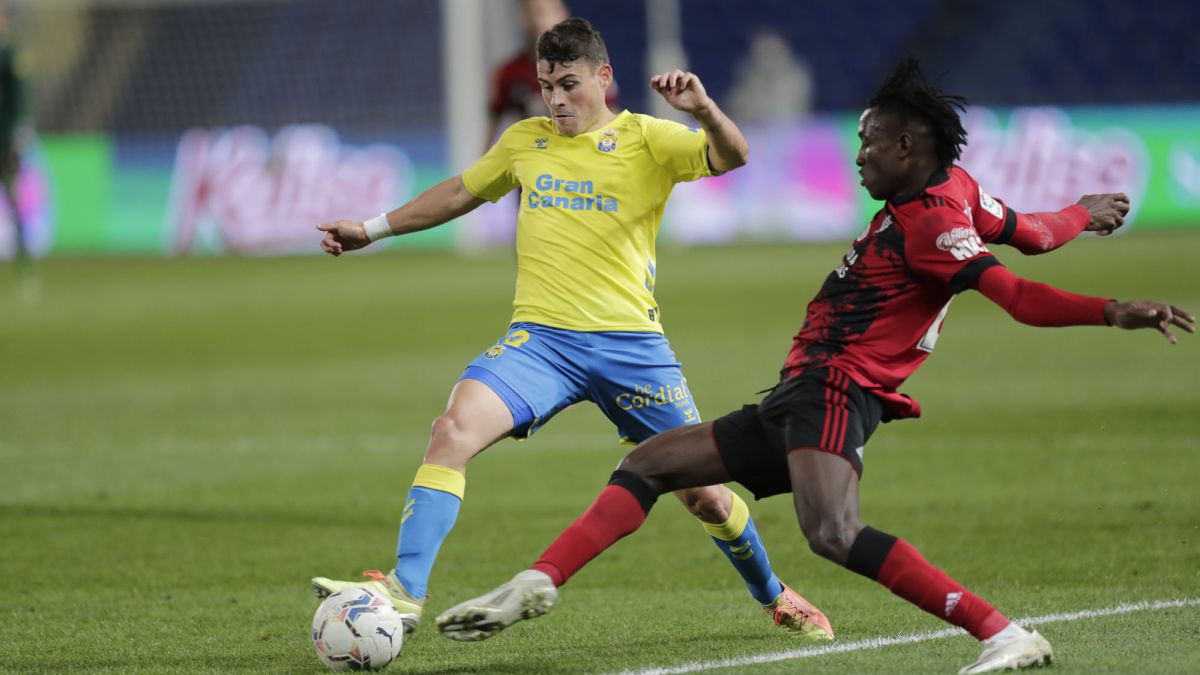 Arrive and kiss the saint. This is how Sergio Ruiz's career began to develop in Las Palmas, fundamental for Pepe Mel from day one. "I did not expect it, but I had my opportunity and I took advantage of it," he said this afternoon in a telematic press appearance from the club's Sports City.
"If we want to be at the top we must have the regularity that we have not had until now," warns the former Racing midfielder and on loan from the American Charlotte. And he insists: "In the last two games we have been good, but it is not enough for us to compete only with those from above. We also have to find that special motivation against the teams below. "
His partnership with Javi Castellano stands out. "You have my back and you give me more freedom to get to the opposite area," he says, and is restrained about his decisive reappearance with the other Sergio, Araujo: "Only two players do not make the team work."
He spoke about this and much more this Thursday:
The role of the Sergios (Ruiz y Araujo)
(smiles) Just two players don't make a team work. It has coincided that we have won two games (Espanyol and Mallorca), but it is a merit of the work of the starters, substitutes and the coaching staff. We are training very well, and a Unión Deportiva Las Palmas has been seen with ambition.
Possibilities to stay in Las Palmas.
I still have a year left here, I stay until December before going back to Charlotte. There is a long time for that, but it is something that does not depend on me but on the clubs. Yes it is true that I am very comfortable here.
Roof of your computer
We did not end 2020 with a good feeling after losing and having only 23 points. On top of that, Espanyol, Mallorca, Leganés came from behind us… We knew we had to give much more. Coming back with so much energy after Christmas is what has made us win two games. It is no coincidence that we have beaten Espanyol and Mallorca, but it is not convenient for us to think long term or put the pressure on ourselves to want to play the playoffs. Because of the type of group we are, with a lot of young people, we have to take pressure off.
Importance in the team
You always like to feel that you are an important footballer for the group. But I don't want it to go up or eat my head. I feel very good here and it is my teammates and the coach who make me feel important.
A must for Pepe Mel from day one.
No (emphatically) I thought I was going to be playing from so soon. I had not done preseason with the group, but I had the possibility to play because we had several injuries. Physically I was not 100% either, but little by little I was feeling better. I took my chance and kept playing.
Couple with Javi Castellano in the double pivot.
He is a player with a lot of experience and pose. He has played many games in this category and knows how to compete in this type of football. It covers my back a lot and helps me get high. In addition, it gives me freedom to reach the rival area more. We complement each other well. But we also have other good midfielders. For example, when we play three we also work well.
Irregular team
If you want to think about being higher, you have to have more regularity, something that we have not had. In the last two games we have been good, but it is not enough for us to compete only with those from above. We also have to find that special motivation against the teams below. For example, against Cartagena and Sabadell we were not at our level, but it is something we talked about to correct.
Disposals in the winter market
The same thing happens every year (talk about it), but we have to focus on playing. Anyone who does not want to be here should discuss it with the club, but it is something that does not influence us because it does not depend on us.
Canterans.
I think it's good that people from the house are given opportunities, but it's something that you have to earn later. Here we have Kirian, Fabio, Eric Curbelo, Álex Suárez ... That there are many homegrown players in the first team is a pride for the club.
Situation of Racing de Santander.
It is a team that I follow a lot for being from my land and having played there. He is going through a very difficult time, but we hope he will find a solution very soon to return to professional football as soon as possible.
Relationship with Luis Helguera.
I knew him before because we are both from Santander. It was important for my signing for Las Palmas. He told me they were counting on me, and I really liked the project he told me about, with young people. And of course, being called by a club like Las Palmas is always a compliment. It is a perfect place to continue growing.
Possible renewal of Pepe Mel.
Depends on the club. We had a good first round, but all this can change from one game to another. We weren't that bad after losing to Rayo and now we're not going to be promoted by beating Espanyol and Mallorca. We have to be focused. When the time comes they will surely reach a good agreement. In addition, Pepe Mel is a good coach for the philosophy that this club has.
Photos from as.com