Espanyol goes from 83% to 55% of the points when De Tomás does not score, who starts 2021 empty despite the fact that on average he should have three more goals.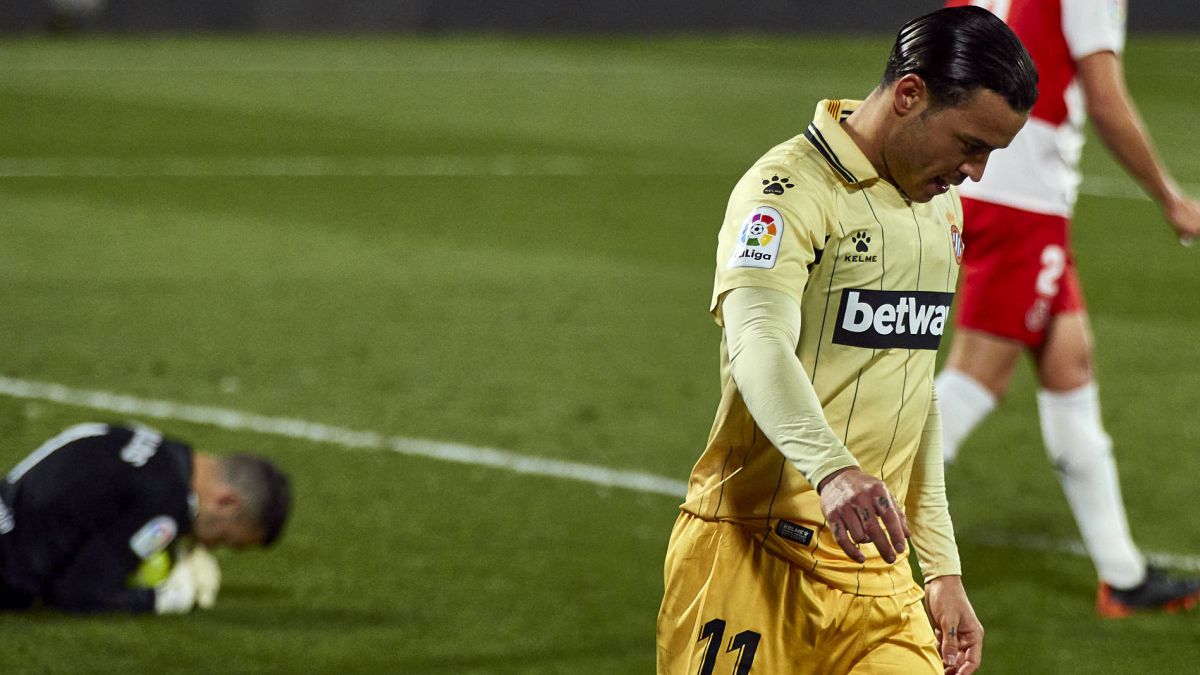 Three shots on target, two blocked between Juan Carlos Martín and Jordi Calavera's face, and two outside. Such is the offensive balance of Raúl de Tomás in the unfortunate defeat of Espanyol against Girona. A lack of effectiveness that is not lagging behind that of the rest of the team, which collected another 20 shots and did not score either, but which draws attention because it is the 'top scorer' of Second, because it comes from a frustration that has already expressed the previous matchday against Castellón and because it links three league dates without scoring, in a team that depends - as happens to the vast majority - on its top scorer.
That Espanyol needs the goals of Raúl de Tomás is evidence shown by the numbers. Having played the 22 rounds, he has 12 goals spread over ten games, in which Espanyol has added eight victories, a draw and only one defeat (this, precisely, against Girona in the first round). In the other ten games in which it has not seen the door, the parakeet has won six wins, two draws and up to four defeats. In other words, when he scores, Espanyol achieves 83.3 percent of the possible points - which, extrapolated at this point, would mean taking 55 instead of the 45 reales -; when he does not score, he gets 55.5 percent, so he would have only 36 points without the goals of the Madrid native.
And what is his current scoring break due to? Undoubtedly, ineffectiveness. While it is true that against Las Palmas he did not even finish, against Castellón he shot five times (two on goal), at seven (and three on goal) on Saturday in Montilivi. That is, 13 shots (five on target) without a goal. An outrage considering that, until that moment, De Tomás managed to convert one in four shots, 12 targets in 49 shots, so if he had not changed his aim he would have accumulated another three goals in these days in which he has not 'wet' .
Another example of this wet gunpowder is that in none of the ten games in which he scored had he needed to finish more than three times on goal and that in five of them, half, he made all the kicks that were between the three sticks: against Oviedo (in which he established a double), Ponferradina, Málaga, Fuenlabrada and Girona at the RCDE Stadium.
An aim that has been temporarily lost, which can be attributed to the obfuscation of wanting to score and not achieving it or to a much more technical criterion, such as its location often far from the area, which prevents it from reaching the finish as neat as it should , although this already happened to him when he did score.
In any case, it is not the first but the second time this season that De Tomás has been at zero for three consecutive days. The previous bad streak began against Rayo Vallecano, who in addition to being his former team is the next rival, with whom he will try to remake himself. On the first occasion, after three empty games, the 'top scorer' chained five scoring. Starting on Sunday, it will be possible to see if history repeats itself.
Photos from as.com