Pochettino: "What coach in the world wouldn't want a player of Messi's caliber?"
The new PSG coach attended AS to analyze his signing for the Parisian club, talk about the future tie against Barça and his own names.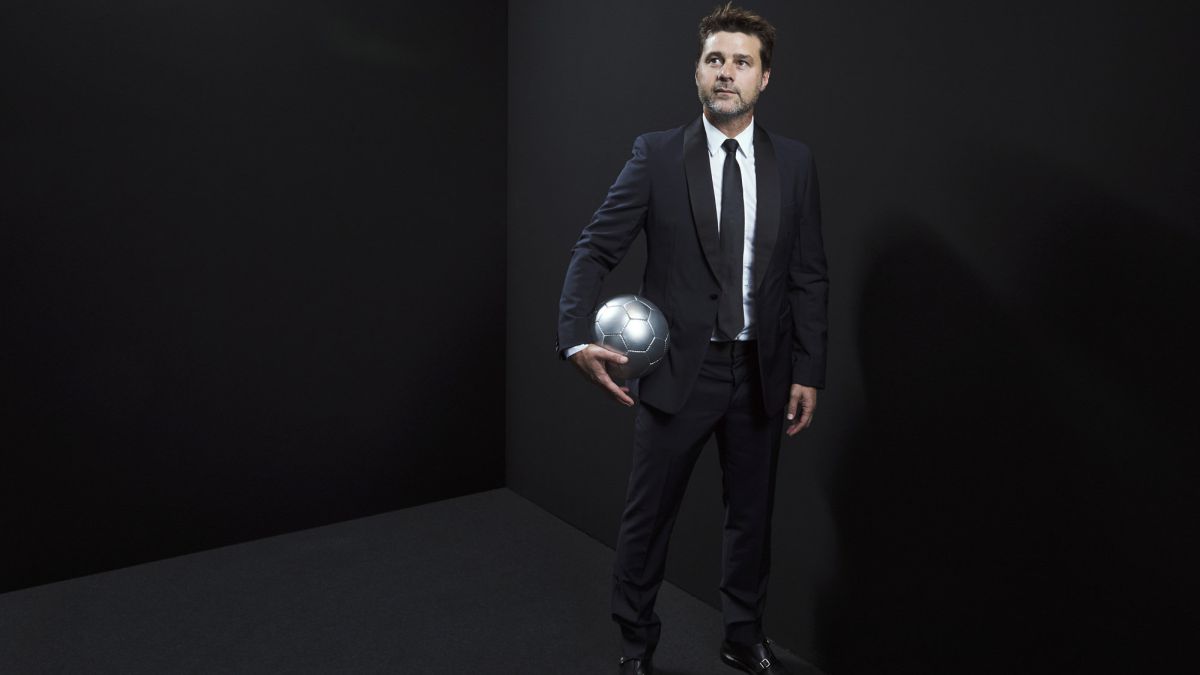 Fully recovered from the attack of the damn COVID, Mauricio Roberto Pochettino Trossero (Murphy, Santa Fe, Argentina, 48 years old) sits in front of the computer camera with a smile that reveals his state of mind. He's a happy guy. Just a month ago his work from the last dozen years has been recognized and he has arrived at PSG, one of the European clubs that is part of the squad of true candidates to win the Champions League.
The interview that falls before your eyes today has had its cooking time. Three months. And not because the interlocutor refused to do it, but the moment had to be found. The values that Pochettino protects with central defense zeal invited him not to grant it while he had no equipment. "I do not want anyone to think that I speak because I do not have a job and may be offering me." It was to sign for PSG and set the date. No longer hurt responsibilities.
He was unemployed for a year. How does a coach work without a bench?
We form a very active coaching staff, with daily concerns. We have done a lot of work on our own analysis. Self-criticism that every coaching staff needs at the individual and collective level. We were fortunate to stop at a very critical moment in life in general and in football in particular. New technologies allowed us to work to keep abreast of everything that moves around. We didn't have time to do everything we wanted to do, but I also think it was time to go back to work.The good thing about that situation was that every morning he woke up in a different club. One day they placed him at Madrid, another at United ... At PSG ... 444 444
That is why he did not need to have that media visibility. I had it without wanting to. He was a bit lucky. They linked my name to different clubs. The exhibition came spontaneously. He was traveling virtually from one club to another. Surely when you talk you have some basis, but for it to be done for real, as with PSG, ties have to be closed.
To a club like PSG, you can't say no ... Or can you say no?
It depends. It was important how the club approached me. Besides, he already had a past here as a footballer. All the conditions were met to say yes. For us it is a tremendous joy to be in one of the best clubs in the world.
Now Mauricio, these are big words. It is not saving Espanyol, it is not landing in the Premier at Southampton, it is not revitalizing Tottenham… Now they have signed him to win the Champions League. It has no network.
We know. Experience allows us to take this step. Experience is important as long as you know how to capitalize on it. All this process is essential to lead a project like this. There are no networks here. Here you have to win and you have to win the European Cup. If it is not possible in four months, do it in 10. This type of project requires you to win as the main objective, but you can also create strategies for a solid project that gives the club a structure. Winning and creating a solid structure is not incompatible. It's about winning titles and playing football well.
After a lost Champions League final, a lost Capital One final, a second place in the Premier ... it took 12 years and 517 games to win his first title.
We did things in these years that were much more important than winning titles. Arriving and winning a title is always important. But it's not the most important. I have won three Catalan Cups with Espanyol. If one day Catalonia is independent, it will have a lot of value because we beat Barcelona and in a row. Not just any team. That is going to have enormous value ... I even told Neymar, Rafinha and they told me they had value because we had beaten Barcelona.
You have been with your new equipment for more than 15 days. Mbappé is as good from close up as he seems from afar in matches. It is so 'machine', what would Xavi say?
Today I was talking to a colleague about Kylian humanly and they said to me who is not going to love Kylian? As a person he is adorable, with a smile, an energy that wins you over. He is a boy who won the World Cup with France as a starter at the age of 19 ... What else can I say about him? It has enormous potential. An incredible talent. I hope you are with us as long as possible.
And has Neymar already thrown a 'pipe' or a 'hat' in training?
No. If he throws it at me, I'll kick him. He is a great footballer. One of the great world talents. We have a good relationship from the first moment. The feeling is good with the group.
In one of your two books, I have read that you want wolves, people with ambition in your teams… In such a sophisticated club with so many stars you can find that type of player.
Yes. I asked that question at Tottenham when I arrived. I told you what we are here, wolves or dogs? Some got confused. They received the question out of nowhere and said they were dogs because they were faithful, loyal ... And of course they were also domesticated and what I want are wolves that are not domesticated. They go and hunt alone. In my players I want that survival instinct of aggressiveness and then they all started wanting to be wolves. The footballer has to let himself be trained, have the commitment to belong to a group, but at the same time he can never lose that animal instinct that makes you a killer. That you want to win above all else. On the field the player has to follow his instincts and his talent. And that is part of the responsibility of the coaches. We like to have control of the team, that they are mechanical. I think that order is important in the defensive phase, but in the offensive phase the player must always feel that he can use his instinct and his talent to surprise the opponent. That is why wolves are needed, not dogs. When they have the ball, those who rule are the footballers. In the last three quarters of the field they can do whatever they want. They have freedom for everything that occurs to them. I will never reproach a player for what he does in the last third of the field.
Did you know that the day you were appointed coach of Espanyol, 20-1-2009, was that Barack Obama entered the White House?
Yes, I knew. "Yes we can." It was the motto we used to save the team.
And his first game as a professional on a bench was against Barça ... and now his first big clash, in the Champions League, will be against Barça.
Yes, two training sessions and playing against Barça in the Cup (00)… And now the first good one was the final of the Super Cup against OM. Here is a great rivalry with them. If you win it, nothing happens, but if you lose it, you are in big trouble. Of course the game against Barça is a marked day for PSG. Having been so close last year to having won it makes the illusion even greater. Seeing her so close, as it happened to us with Tottenham, makes the fierceness of having another chance be there.
Two weeks into the game against Barça, is there something I don't know about Koeman's team? They have returned to 1-4-3-3.
As much as you can analyze from the outside, you are never inside. The same thing that happens to them with us. Who better than Ronald to know the essence of Barcelona. He is a club legend. Sometimes circumstances demand a type of solutions when competing. Every coach needs time to find what he wants and for the pieces to come together tactically. Upon arrival, you make decisions and discover what are the best combinations so that the team works as you want.
As a Newell's leper, how can he say something about Messi that has not been said.
There is nothing left to say. I respect and admire him so much that I prefer never to say anything, or refer to him. It is the best tribute you can do to someone. We share the two of us who have worn the Newell's jersey and that is something very big. That bond unites us. That he is one of the best players of all time I will not discover and when we meet we will fight for our interests.
And how central defense, what would have been done to stop him that has not been done until now?
All I could do is kick him if I could catch him, as I will have done with some. But it would have been difficult for me to stop it. It is so fast and intuitive that it both eliminates opponents and dodges kicks. Puyol said that even in training it was impossible to get the ball from him, impossible to stop it. It has a capacity for unbalance, which allows it to be unique.
Di Stéfano told me one day that the only way to mark Messi is with chalk.
It's true. You make a cross on the back or on his chest to mark him ... but you won't be able to stop him and get the ball out.
You have never been so close to being able to train him in your life. He is at PSG, he ends his contract and Leonardo his sports director would sit him at his table.
There is a lot of talk. There are the strategies of all the clubs to be able to improve the teams. In the end we will see what happens. My responsibility is to have respect for the players who play for other teams and to keep that distance. Not everything goes in football, but all clubs work to get the best players to be closer to victory.
But if you ask him if he loves Messi, he would say yes. It is impossible to say no ...
Sometimes words are unnecessary. With the question you ask me, everything is understood. What coach in the world would not want to have a player of the caliber of which you are telling me? I totally understand the question, but it is looking for a controversy. It is a dangerous question if a word of mine is taken out of the context ... Pochettino will come disrespectfully, Pochettino talks about this, Pochettino talks about the other.
I don't think anyone can accuse you of disrespect. Being faithful to his values, he said no to Madrid in June 2018 because he had a contract with Totthenham.
That depends on how each one sees it. You cannot judge anyone. In life you are to make the decisions that make you happy with respect for others. You have to act accordingly to what your values are.
But that offer from Madrid that did not have a coach at that time was like having had a moment of weakness ...
I'm sure I have weaknesses. Loyalty, honesty are qualities that in life have to be ahead of many other things. Things have to come when they have to. And they will come to you naturally, you cannot force them. Sometimes you have bad consequences for making decisions that do not enter your reason and go against what you feel. When I give my word, it is more than a signature. And at that moment I had given Levy my word to continue until the stadium was completed and the project they had come looking for me for five years ago. There was a relationship of respect and gratitude because he signed me from Southampton. He had always complied with me and it was more that I had not complied with him. I behaved as any person would have behaved. I was loyal and honest with my speech.
But as follows and believes the words of his mentor Griffa. "Let yourself go, football will take you where he wants." He is sure that one day football will take him to the Bernabéu, although he would like to be taken to the Metropolitan.
It was not just their words, it was their values that have marked a generation.
For how reserved and respectful he is in his opinions, I am surprised that one day he said that he would like to coach Madrid and the Argentine team. Why say it said it, no?
Yes. I had the opportunity as a player to have signed for Madrid and it didn't happen for whatever reason. And also because when I arrived at Espanyol in 1994, with Camacho, he always spoke to me about the culture, the mentality, what it meant to be part of a family like Real Madrid. It stuck in my head. Also later with Alfredo di Stéfano. Griffa threw more for Atlético. The more mature I got, the more Camacho's influence reached me. He represents the values of Madrid, how the club loves… It was always a goal to be able to play for Real Madrid and when you cannot fulfill that dream. One says, well, look, one day to be able to train Madrid, after Espanyol. And why not also one day to the Argentine national team, because one is born with the flag placed on your body. These are the two things that football will say if they can be met.
"I don't like copying in soccer at all"
I shy away from earthly issues of the present. Uncomfortable when he has to talk about Mbappé, Neymar, Messi, Real Madrid, Barcelona, his future ... Mauricio puts on his boots when the conversation drifts towards purely football.
-Is there anything left of the Pochettino who did his coaching practice at Espanyol for women in the 2007-08 season?
-A lot. It was an unknown part of football for me. I valued many things that one does not value when immersed in the professional bubble. Getting out of there made me a better person, a better coach. My passion for soccer increased. I knew that one loves from different ways. The soccer ball is the soccer ball and everything that we can become in life moves through the emotion that that ball transmits. Soccer is not just a sport, it is a way of life. The teachings, the values ... As coaches we have the responsibility that the essence of football is not lost.
- His teams are meat and fish at the same time. One day he seeks more possession, another day he throws more of the counterattack. Some play with three behind, others with four ... They have a bit of everything.
- Soccer as a game is having the ball and looking for strategies to deceive the rival, putting the ball in the most important part of the field, which is the goal and avoiding, at the same time, that the opponent puts it into yours. Tactical wealth makes you unpredictable. There are very few coaches who can sign the best in the world. The most normal thing is to adapt to what you have and find a way to make them perform as well as possible. The system is an inert number, it is a reference point, but it does not mark the philosophy of a team.
-Why do you consider that the goalkeeper is the most important player of a team?
-Because it defends the most important space within a soccer field. It is becoming more and more fundamental. It marks the intention of a team when it comes to the strategy to be used.
-Del Bosque says that now the coach of the team that does not start playing from behind has his card taken away…
- He is one of the people with the most common sense. Everything he says has a meaning. And in the simplicity of how he explains it is wealth. I agree with him. Things are sometimes done because they are 'fashion', or because they are marked by a certain team that has won and in the end it is copied. And I don't like copying. You have to have the ability to create and process the idea with emotion to convey it to the players. Copying for copying is unsuccessful and creates conflicts in the game.
-And if you were told a year ago that Atléti de Simeone was going to come out playing from your area with the centrals, you were going to give twenty passes from the inside ...
-It is part of the evolution of every coach. I have suffered it too. The identity of the Cholo is there. It's the passion, the energy, that competitive spirit. It is a number one. I admire how he loves football and what it transmits, beyond the fact that we can agree on other details of the game's philosophy. The change he has made speaks of his intelligence to adapt his ideas to the players he has.
-Five lateral passes or two perpendicular ...
-It depends… On the result, on the moment of the game. A team has to have the ability to know when to accelerate and when to slow down, breathe and pause. The ideal is balance. Knowing how to be dizzying and having patience.
-The speech of playing well and playing poorly bores him a lot ...
-Aesthetics must be maintained. The most important thing is to win, of course it is. But then there is what you feel and want. We became radical in ideas. Those who say that football without aesthetics is nothing and those who say that football without the pragmatism of simplicity and no matter how, is nothing. I'm in the middle. I respect that there is direct play, in three passes you score a goal and then defend 90 minutes behind without creating another goal opportunity. It is very good if you win games and titles. But it's also good to win 5-4 and put on a dizzying show with area-to-area transitions. Others like more the lateralized game, of possession, of building, of taking three minutes to get from your area to the opponent. If you play badly and you don't win, you go to the street, but if you play well and you don't win, you also go to the street.

Photos from as.com