Pellicer: "Hopefully we will be the surprise of the season"
The Málaga coach avoids talking about the playoff, but is clear that his team will not give up anything: "We have the ambition, in the last 12 games we will see what we can fight for."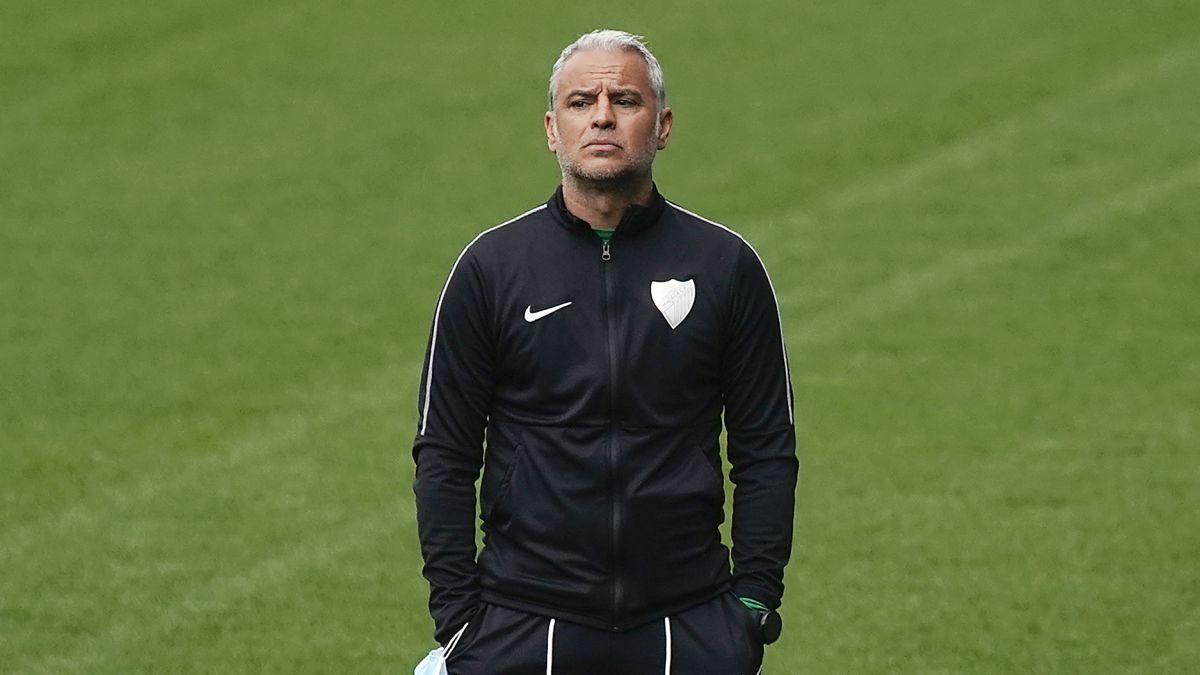 Sergio Pellicer participated this Monday in the 101 TV program Area Malaguista. The Málaga coach gave a broad interview and took stock of his year at the helm of the Blue and White first team, praised the work of Manolo Gaspar and the commitment and soul of his players and did not rule out the possibility of finishing the championship fighting among the best of Second. "I hope we are the surprise of the season, but we have to be realistic: it costs a lot," he said. His renewal, of course, was also on the table: "We have to focus on the goal and later talk" .
Various stages in his year leading the team: "Before this nightmare that is still with us happened, the team was flying. You saw him train and he was liberated. I don't know what would have happened, he flowed. We were going with the same idea, he they had forgotten their egos. After the pandemic everything changed, Luis Hernández's injury, sanctions, more injuries. It cost us. We competed at a good level, but there were games in which we were weighed down to suffer and save the category. We have to look at the Deportivo's mirror, he came to La Rosaleda that seemed to be totally saved and look what happened to him. It was a huge achievement to achieve it. This year, from when everything was closed, there is a new team, with great work from the sports management , now we are in the process. In the second round we must improve certain aspects ".
Implication of the team: "The group of players, on a professional and human level, is a group that has a soul, that believes. It has an energy that helps us to find in moments when fuel is weak, there the soul appears. Except for Lombán, Benkhemassa and the subsidiaries, it is a new team. The work has been impeccable in the sports direction. We need to improve the regularity at home, the entry into the matches in the second half, the defensive issue, actions in attack ... we need to improve Everything. But despite that, the team has a DNA and a DNI. Its hallmarks are work, commitment and solidarity. That is the way to achieve the objectives ".
Ambitious speech: "We have the ambition. We know the difficulty, we must be aware of reality, but that does not prevent us from being ambitious. The second round is complicated, there are many uncontrollable circumstances: injuries, pandemic and other situations in which the state in terms of the players ... there are teams that are going to be strengthened, others that are seen with few points now will do more. We will try not to think further. Think about day-to-day, at work, about adding and achieving goals . The three points in each game and from there we will see the last 12 days where we can work and where we can fight. Last year there were situations of teams with a very calm first round and that were promoted and others that were in a situation without look up or down and then they went up, like Elche. That tells us what the category is. Ambitious but without pressure on the players, work daily and continue. When we achieve the first objective, we must look at the maximum. There is no conformism on the part of anyone ".
Playoff: "It is a tremendously complicated category. Every game it seems that the opponent is not in the game and in a transition or set pieces he gets into the game and changes everything. We cannot look much into the future, it is very repetitive, but we have lived so many things ... We must remember the past to prevent the future, we only have work, work and work left. We have to fight for the maximum, but talking about the playoff now does not touch. What we have to do is talking about Ponferradina. "
Promotion: "It is the dream for everyone. I could retire. It would be the illusion as a group to do something, especially for the attitude. I tell them that what they are generating beyond the points and that we cannot have the fans with us, but what they transfer us is because the team has an attitude. That is non-negotiable now. The promotion would be something incredible that I hope that in the not too distant future we can access it. If I could be there, it would be the best data that the Malaga is doing well ".
Do you look at sixth place or nineteenth ?: "I look at the two places above and the two places below. It is true because a victory puts us in a more comfortable situation and a loss can be three or four places. Each game, add It is ... This year the category is different from last year, especially because of the ocean liners that are Espanyol and Mallorca, not like last year when they fought with Cádiz and Huesca the direct promotion until there were two left days. This year it seems that there is a difference but there will also be surprises. I hope we are the surprise, but the message to send is realistic: it costs a lot. Every training day, when I finish and no player is injured is the best for me What can happen to me. We are on a wire, with sanctions, injuries ... It is a sinvivir, at heart. The players are the jewels of the team, so I am very tough and not contemplative in other aspects. They are the protagonists and there are to have them plugged in together so that individual performance serves the collective ".
His best moment in the year he has been in charge of Málaga: "My best moment is every day I step on La Rosaleda. Every day that I go to train is the best moment. At the game level, there are important moments. Carranza's game, that he was the leader, we were in a difficult situation, with internal noise… That week was tremendously hard and the team competed at a great level.This year Castellón's victory was very important because of everything that was being talked about and because of what was happening. They gave us zero points in the first four days and for everything that was happening it was very important. The day to day, the people, the club, training, it is a dream. We work as if there were no tomorrow. The players have to feel privileged to be here at Malaga. That is the way, to come together with Malaga, not them and not Malaga. "
The casualties he most regrets for the ERE: "Miguel Zambrana Sr. is an institution. As a player it would be unfair. Adrián was very important on a daily basis, on a personal and professional level. From what people do not see. I have received many and sent messages. Hard moments unite. In soccer, everyone has a path that you can join later, soccer is a ball that spins and spins. You always have to be clear and transparent. The important thing for a player is that you never they deceive you, the truth hurts at the moment, but in the long run they thank you. It is what we try, to be close and demanding, to get the most out of it, but in addition to the player there are people, like all human beings ".
Renewal: "The coaches have it difficult. I arrived and was a newcomer and now I am the third longest. With Pellicer, Málaga will not have any problems. Manolo and José María know it, we know the situation of the club . What we have to do is focus on the objective and later talk. We have to be very aware, realistic. I come from home, many times they say low profile, because I correspond with humility and work. What we seek, on Everything, that the most important thing is the club. With my contract there are no problems for one thing or another ".
Does Pellicer have red lines ?: "No, in the end the red line does not exist with me. The club is very lucky to have Manolo Gaspar. In addition to his ability, the club hurts. It hurts his soul. It will depend on me, the players and the results. The club can also change course. I don't think about that, I focus on training and on a day-to-day basis ".
Would you understand that Málaga decided not to renew him ?: "I understand everything. You cannot imagine the things I have understood. I am very clear about it, when in a few years, when we can sit down and talk, we will be able to write a book. Faced with problems , We must find solutions. The Pellicer-Malaga issue will not be a problem, it will be addressed as clearly as possible. I notice a lot of heat, it is true that we cannot notice the heat of the people because we live in a bubble now, but it happened until Sunday An anecdote: I went to speak with the referee Del Cerro Grande and he congratulated us. Outside sometimes what is inside is valued much more, but not the coach, but the club and everything that is being done ".
Changes from last season to this: "What has changed the most is the management of uncertainty, of everything that is generated outside, of media noise. On a daily basis we try to evolve, look for different records, game models, transfers from training sessions to matches. This year we have varied various situations of the game system, but depending on what we see in our day-to-day work, the player profile and the one who is better. We do not have a model like Barcelona or the Madrid. They have the same plan to prepare for each game. We have to have different plans beyond the one we like to press, be vertical, make very fast transitions ... Many situations that we are adjusting. Day by day we have evolved What changes most is the management of uncertainty and the group. In the end, the players are people at any level. The most difficult thing to control is the ego, at the level of training and emotional management of the group. " .
Differences of opinion with Manolo Gaspar ?: "The best thing to grow is that there may be differences in criteria, but I think that 85% of us agree. I have a thermometer of the matches: the match ends and Manolo goes down to the locker room, We talk and when we talk I have a very clear thermometer of the feeling of the game. We are football people, each one has his place. There were many coaches who skipped the sports director and spoke with the property, you have to have an order and that's what It is. We have a very fluid relationship, we are Malaguistas and we seek the best for the club. Many times someone from outside or with a more media name is valued, but we think that the coach is not there to show off, he is in the shade to work and get the most out of it ".
Winter market with almost no movements: "A super-calm market, the calmest there is. You know the limit of chips, we talked to Manolo and he said it, to be able to fight one more chip that would be to make a subsidiary player who is constantly with us. We have to Ramón, Ismael, Cristo, Hicham and now several more that we count as first team players. Hopefully, but it seems to be that it is complicated and penalizes us ".
Have there been any offers for any Málaga player ?: "Manolo Gaspar has to decide that, I won't go in there. I think the whole group is happy to be there and want to fight for the goals to improve the club. If there is any player that he is not happy or that he thinks he has to have more minutes, that he talks to Manolo and it is solved. No one is essential. No one is above another. Above all, collective performance. A game can be won by the player but the goal is achieved by the team ".
Orlando Sá is still far from his best level: "Last year he barely competed, he has had a preseason with problems, discomfort. Since the week he played against Alcorcón he had another week with discomfort and now is when he is better. He is a player Totally different from Chavarría and Caye. He needs to be in the area, in the opponent's field. Yesterday we had a game plan and we had thought that Chavarría and Caye would play in the second half. It is a very specific player profile. He needs to have people close by, he needs keep working, take on his characteristics and from then on he will give us better moments than now. Without pressure, everything changes for the strikers in a split second ".
Important role of the quarry: "Everyone's daily growth. I consider myself tough with them but I also put myself in their place, I try to be delicate. I'm there. I try to convey to them how difficult it is to be able to stay at the top level. From there, The proudest thing I am is to see the young people who go from the youth or from Malagueño to the first team and train at that speed and make decisions and you see that they compete. We don't put up walls, I have learned that in the end when you have aptitudes , attitude and hunger and then talent… We have talent and we cannot put walls on talent ".
Do you keep in touch with some youth players who passed through your hands and today are successful in other clubs ?: "When a footballer grows up they forget things. I don't train them to send me a message at Christmas, I train them to improve. I don't want to befriend the players. The obstacles we put in place are for them to improve. Sometimes I am tremendously hard, but when they are wrong, as it happened to me that I was wrong and had to leave Valencia, you have to have empathy and seek The improvement. Their environments already tell them how good they are. It costs a lot to maintain a competitive regularity. I could make you an eleven of homegrown players from all the teams I've been to and top-level players who aimed higher. "
Academia: "Without facilities it is somewhat complicated. The other day, with Manolo, we had a meeting with all the quarry technicians and I came back seven years ago when I arrived and they continue to have the same problems. It is true that situations are solved every time, But imagine, having a sports city, the feeling of belonging that it generates and the quality of the training sessions. Let's see if we soon have the sports city, it would improve the quality of training ".
Your request for this year: "Improve the training facilities, incorporate someone in the coaching staff to help us on a day-to-day basis, continue to have people from Malaga and inspire people with a competitive team that can fight and seek goals above. It would be the best for everyone. The most important thing is to work being happy transmitting as one wants. To work with passion, that always transmits ".
Photos from as.com