Orlando Sá recognizes contacts with a Polish club
"The truth is that there were, but people know that I like being here," he said on 101 TV. The Portuguese also charged against the VAR.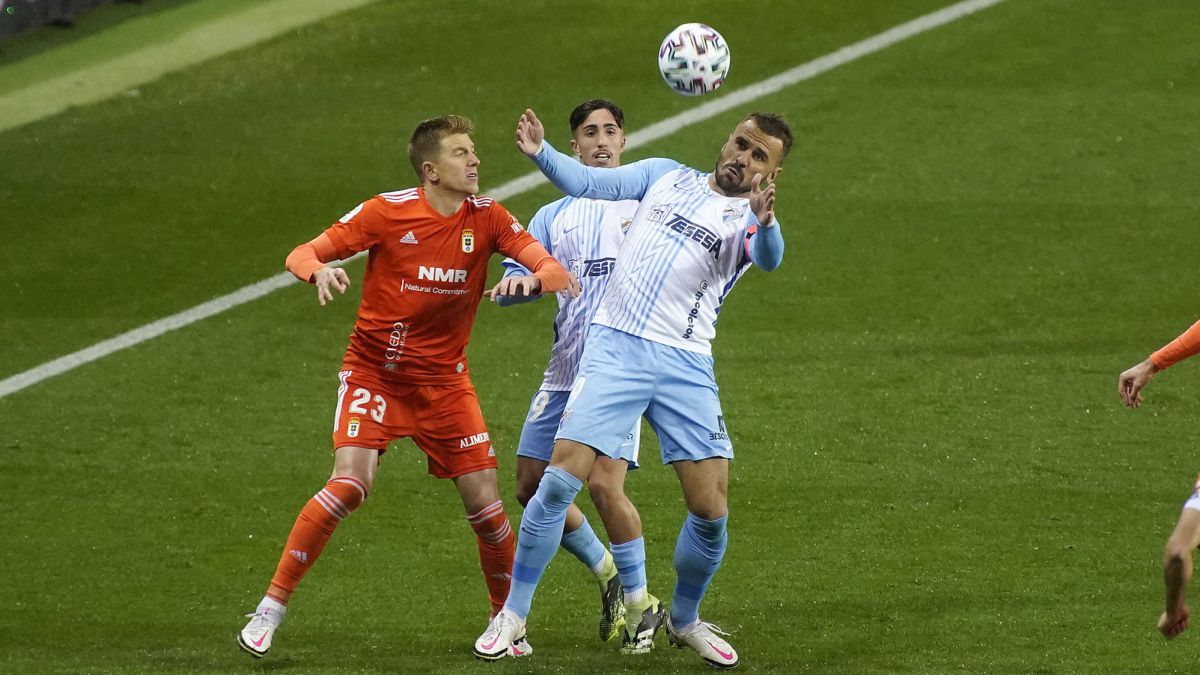 Orlando Sá answered the call from the 101 TV program Area Malaguista and recognized contacts with a Polish club. This Monday there has been speculation in Poland with the possibility that the forward will sign this January for Wisla Cracovia. The Portuguese also was critical of the VAR and openly praised the work of Manolo Gaspar and Sergio Pellicer.
Possible return to Poland: "I had messages and calls from teammates and friends of mine asking about Poland. The truth is that I had contacts there, but people know that I like being here and that I have a project until the end of the season, until the end of May. There are still six months until the end of the season and the project that we started ".
Option to continue in Malaga for another season: "As always in my life, I think every day, what I can do today and what I can do tomorrow. I am not able to say about the next season. I love being here. I feel better physically and I have no reason to change ".
Compliments of his teammates: "The truth is that we have a very good group, it works like a family. People are preparing to play and trying to make a strong group. If something does not go well, the first they will sacrifice is the coach . We have to be a strong group, know how to help in the good times and in the bad that we will have. We have to know how to live in the best way with the fact of playing sometimes and sometimes being on the bench ".
What do you think of the Second Division ?: "There are very balanced and competitive players and the teams are very tactical. From what I see, it is a League with few goals, the teams are very defensive. You have to have good players, I was positively surprised , I did not expect the level to be so good, they work hard every day to score points. It is a very competitive League ".
28 points in the first round: "28 is fair. If you tell me that we score more than 28 points in the second round, I'll sign it. We have the qualities to do more. In the last two games we were not as lucky as in others and we deserved more Many times it does not depend on us, there are days when we have bad luck, decisions of the referees ... We will have games in which we will not play well and win, and others the other way around. We must highlight the fundamental work of Manolo Gaspar and the coach, they have formed a team. Having at this time 28 points after we started the season in Alhaurín de la Torre (there was the preseason stay) is very good. Only a few players who are in the group and I know what we went through in Alhaurín of the Tower.
Did you ever ask yourself 'where have I gotten myself' ?: "I didn't ask myself where I've gotten myself because I had very serious and very direct conversations with Manolo Gaspar and the coach. I knew the problems that we had to go through mainly up to the ERE. Players with A situation that is not the current one. We did not know who we could count on, who to talk about certain things, who we could trust. It was very complicated, difficult days. 'Chapeau' to Manolo Gaspar and the coach who have brought in very good players and they have created a very good group ".
Pellicer: "He seems to me a fair person, he is not afraid to bet on the kids or tell you things to your face. He knows the kids from the quarry, that is necessary now. They have made a good group. You have to face defeats, We are not so bad when we lose or so good when we win. Now, 28 points with everything we went through, 'chapeau' for Manolo and the coach ".
His style of play demands more centers to the area: "There are wing players like Yanis or Joaquín who center, they go well on the wing. There are others who go for the wing on the inside, more inside like Jairo or Larrubia. It depends on what you want. the coach. If one day Chavarría and I play together, the team should be more direct and have more centers. I am more of a reference, I live off the centers of my teammates, I like to play with my back and attack the balls, but I will always do whatever the coach tells me. Whatever he needs, I'll do what I can ".
VAR decisions: "The VAR is annoying us, we are not lucky, but we could have a few more points. We have bad luck with the decisions of the referees, a bit strange. We have a good balance between the kids and the experience. We could have easily four or five more points, mainly for the last games. That way people would be much more excited. But the bad luck of some decisions ... Football is not mathematics, we have to keep working and know how to live with it ".
Do you think he deserves more minutes ?: "I have never answered a decision of the coach. I am 100% sure that what they want is the best for the team. The first thing is to respect their decisions because we know that in football the first sacrifices they are the coaches. I don't admit that things go wrong and the finger points at the coach, I think the finger has to point at the players. I am available to play for five, ten or more minutes. I work to play, so that the time comes. If I had a little more luck, the feelings of confidence would be different. The forward lives on goals and I am no different. I keep working because how I feel now has no comparison with how I felt before. To my teammates I jokingly say: 'If you have a very good and old car in the garage, you can't take it out and give it a great trip, you have to go little by little' (laughs). It has been very difficult physically, I find myself ready for 90 minutes, but the intensity is very strong. Physical In my mind I feel much better, the goals will come naturally ".
Photos from as.com