Odegaard's return plan to the Royal is activated
The Norwegian player has asked the white club to leave on loan in January and has contacted the San Sebastian entity and his former teammates.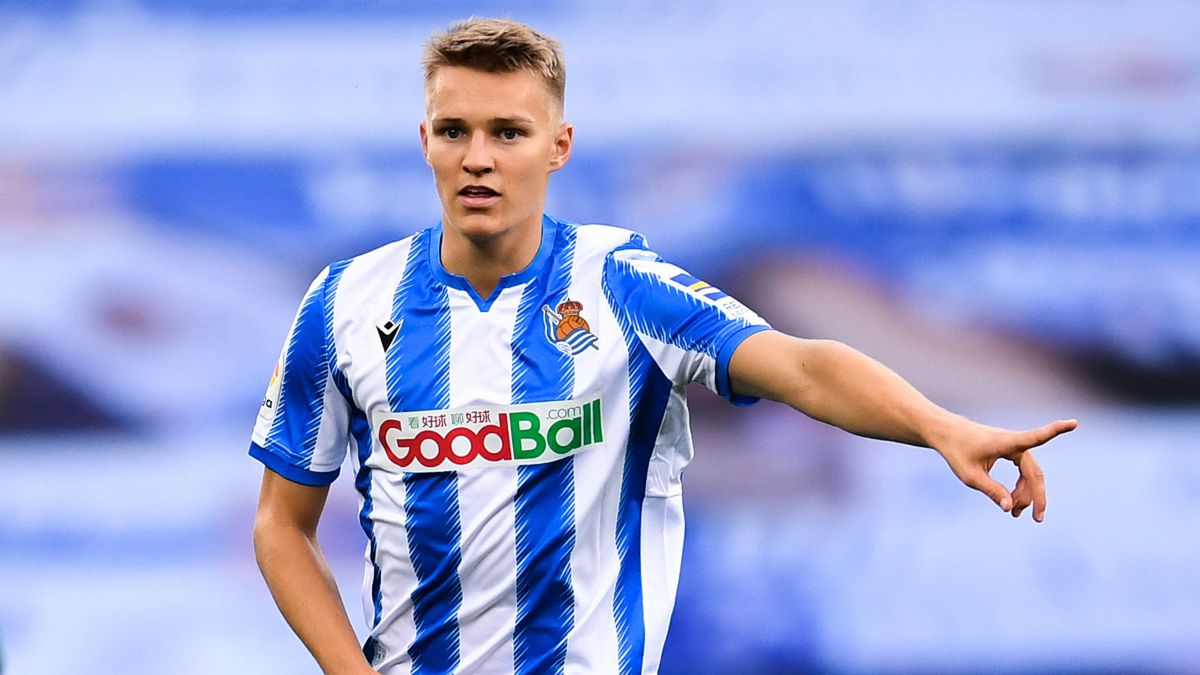 Not one of your priorities in this winter market, but the latest moves may make you change your mind. Because the reality is that since he left, the Royal Society has never lost sight of Martin Ødegaard, hoping that in January the door could be reopened upon his return. The memory that the Norwegian left in San Sebastián was magnificent, and it was never understood that Real Madrid recovered it in August, two days before the start of the preseason, with everything ready for him to play his second season on loan as txuri-urdin, who it was the agreement that had been reached the previous year.
That door back from Ødegaard to the Royal may be opened in the next few days. Because he has asked Real Madrid to leave on loan again, and he has already contacted people from San Sebastián to return. So in the Anoeta offices they are very aware of the movements that Florentino Pérez is going to make with the Norwegian. The plan for his return to San Sebastián has been activated.
After being left out of the squad for the Copa del Rey match in Alcoy against Alcoyano de Segunda B, Martín Ødegaard exploded, and formally asked Real Madrid to leave on loan in this winter market, as reported by the Diario AS in the last hours. The Norwegian player is tired of the few opportunities he is having with Zinedine Zidane, and has asked to find a solution to his situation. He does not understand that he is not going to play or Cup matches against inferior rivals. From the white club it has come to slide that the French coach is not happy with his attitude and performance in training, something that surprises for example in San Sebastián, because at the Real he had an impeccable attitude from when he arrived until he left. Ødegaard left a fantastic sensation in San Sebastián and the Norwegian also left, leaving open a very good relationship with the San Sebastian club. For this reason, both El Mundo and Noticias de Gipuzkoa have published that in the last hours they have called Real to tell them that they want to play again for the remainder of the season in San Sebastián, something that of course is seen with very good eyes in the realistic entity, which is now going to be very aware of the decision that Real Madrid makes with Ødegaard in this month of January.There has already been a call
AS has been able to confirm that this call from Ødegaard to Real has taken place, and that the terms of the conversation have been to ask him to request his loan from Real Madrid for the second part of the season, noting that he has its acceptance and that it has already requested it from the white club through its representatives. This newspaper has also been able to contrast that the response of the Royal to Ødegaard has been positive, indicating that it will activate the necessary mechanisms to achieve his return to Zubieta. This means that the talks between the two clubs could be activated in the coming days, although the contacts have been continuous during this time due to their good relationship, and that Real has not stopped asking Real Madrid about the Norwegian's situation. It could be said that there is work going on, and that the agreement should not be complicated. In the realistic entity his way back has always been left open, with the hope that the possibility would open in January. And now it's open, with Ødegaard fully responsive, which is what you really read was concerned about.
La Real, pending on Madrid
It is now necessary to know the position of Real Madrid to solve this problem, although at Real they fear that the one who needs to be convinced is Zidane, who was the one who requested it in summer when he learned that they were not going to bring me signings and who is reluctant to give it up now in January, for fear that he may need it at some point in the season because of the losses he may have. But Ødegaard wants to leave, and he has already made it clear to both the coach and the sports management of Real Madrid. And he wants to return to La Real, it is his preferred destination if they let him out.
In San Sebastián, he achieved his best version and found a changing room in which he made one of his best friends that football has given him. Precisely, AS has also confirmed that Ødegaard's calls to Real have not only been made to the highest levels (the agent has spoken with the president Jokin Aperribay and the Director of Football, Roberto Olabe), but that the Norwegian footballer himself He has also contacted some of his former teammates to express his desire to play with them again and to help them overcome the challenges that lie ahead, such as the Copa del Rey final for which he himself was of paramount importance last year.
The Real dressing room already knows that Ødegaard wants to return, and also welcomes his return. In some way, the Norwegian has also asked his former teammates to make force on his side to help the Real take the final step and activate their return plan. And that step may not be long in coming.
Photos from as.com