Now or never: Simmons, last chance at Sixers
He's happy he didn't go to Houston, but he's no longer untouchable and if things don't work out they will reshape around Joel Embiid, not him.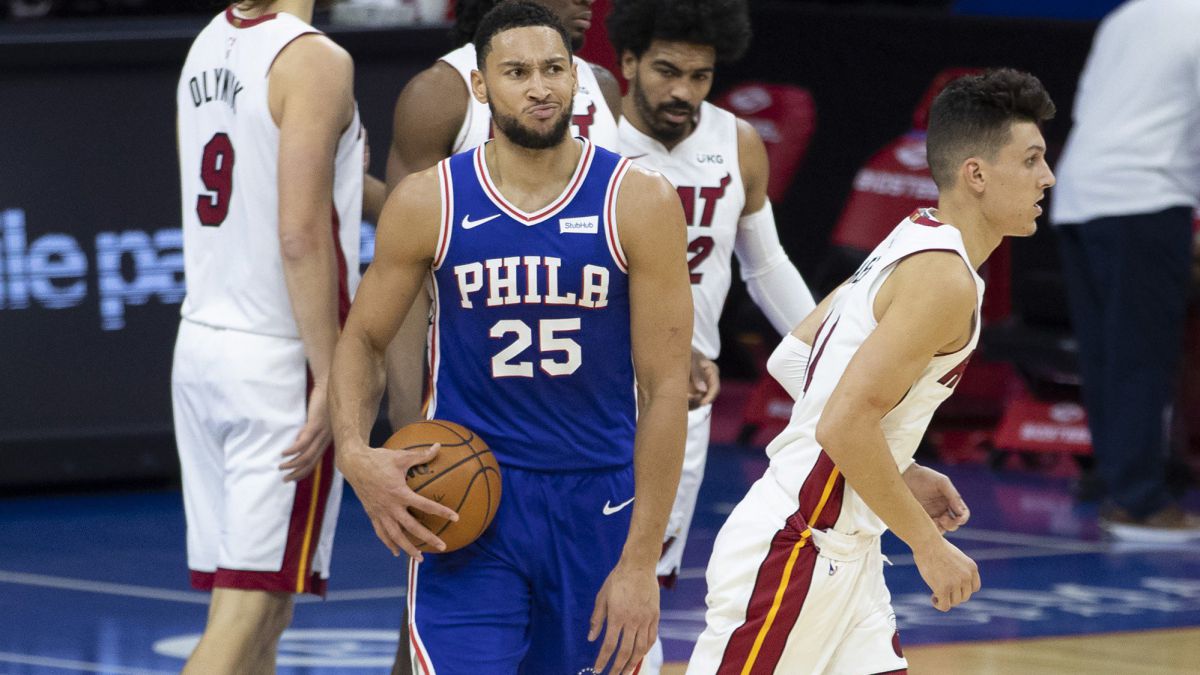 Ben Simmons was "ecstatic," according to the Philadelphia press, when James Harden's transfer to the Brooklyn Nets was announced. Yes, his Sixers watched an already strong rival from the East turn seemingly fearsome, but he dodged a bullet. He didn't want to go to the Houston Rockets and he didn't go to the Houston Rockets. Stay in Philly. But he does so with a countdown already underway, a now or never for a version of the Process in which, essentially, he and Joel Embiid remain.
With Daryl Morey as the architect and Doc Rivers as the coach, a new regime, the Sixers have made sense of their rotation. Lighter, more elastic, without the huge volume of last season (impossible to fit Al Horford and Embiid with, to top it off, Tobias Harris at forward) and with more throw. Featuring Seth Curry and Danny Green, a Doc Rivers rehabbed Harris (who brought out the best in him on the Clippers) and a fierce Joel Embiid, who is positioned in the noble zone of the early MVP race. The Cameroonian, in excellent physical condition, averages 25 points and 11.5 rebounds with a devastating impact on defense. Already, without a doubt, the franchise player of the Sixers and, therefore, to whom the team has to accommodate the construction of its rotation and the distribution of roles. It is always like this.
And Simmons? The Australian is fine ... but with pending issues and that, surely, will not resolve until the playoffs. When the rivals plan racks their brains to squeeze the limitations. Ask Giannis Antetokounmpo. Simmons, No. 1 in the 2016 draft, is in his fourth season (he didn't play the first due to injury) in the NBA. He is 24 and can still grow as a player. But, from what we have seen of him, it seems more likely to expect a maturation that makes him better in the things in which he is already (very) good than an evolution in fields in which he remains denied. Simmons, at his current level, is a perennial all star, a decisive defender and an excellent passer. But he does not advance either as a shooter or as a scorer (which are not identical concepts) and that, as good as he is at other things, complicates his relationship with Embiid. Simmons seems like a player who needs to create a team and a plan at his service ... but he has shortcomings that make him a second sword, not a franchise player. And that come to light especially when the best player on the team is a pivot who fills in the areas with his immense presence.
With more handles and the track more open, you could expect more percussion spaces and quicker transitions from Simmons. But, for now, the Australian is at minimum in points (12.4), shots to basket (9.2) and percentage of success (51.5). He grabs 8.6 rebounds and gives 7.9 assists but the feeling is that his problems will increase, and will dictate his particular final judgment, when the playoffs come. He's at a terrible 33% in the distance from one meter to the hoop to line three (his loophole isn't just long distance, where he literally lacks range). And he's in the 13th percentile (horrible) in scoring as a pick and roll ball handler. The obvious risk is that when the rivals want, they will be able to exploit those deficiencies, leave him immense spaces, take away destinations for his passes and collapse on Embiid. It would be checkmate for the Sixers' aspirations.
In the late days of Brett Brown, there were those who were clamoring for creative formulas to use a player as interesting as Simmons in a different way. Let him abandon the more classic point guard role and start playing power forward, even power generator, doing some of the things that players like Draymond Green and Bam Adebayo have done wonderfully in recent times. Act as a passer from inside positions, create superiorities over surprised defenders, be the finisher and not the initiator of the pick and roll with direct routes to the rim and open teammates at every angle. The problem with these options, which sound very interesting, is that they collide (as he would physically collide) with the inner presence that Embiid guarantees.
Simmons, we go back to the countdown, maybe you don't know exactly why it didn't end up in Houston. Maybe the Rockets demanded too much in the barter, maybe (it has also been said) Tilman Fertitta (owner of the Rockets) took a bill for the scared of Daryl Morey. But he does know that, although in the short term he is reinforced, his name is already in the debates, his team has already negotiated his departure (he is no longer untouchable, that is over) and if things do not work out they will reformulate around Embiid, not from him. And James Harden is no longer on the market but maybe Bradley Beal, CJ McCollum will appear on it (with his outside range…) So this season is especially important. For the Sixers, for Simmons and for his union with Embiid. Tic tac, tic tac…
Photos from as.com