Novak Djokovic, in the face of criticism: "I use my privileged position to help"
The Serbian defends himself against criticism from citizens for asking for the quarantine of the 72 isolated tennis players to be relaxed and for being in Adelaide instead of Melbourne.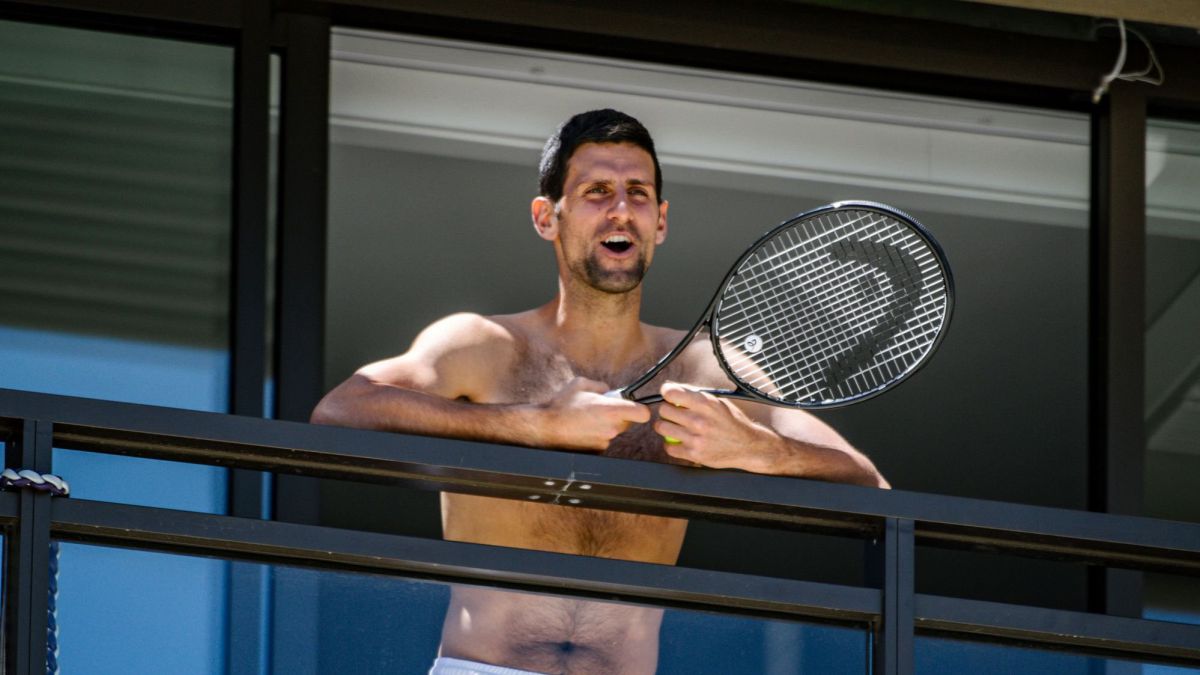 Novak Djokovic came up against the criticism he has received from many Australian citizens, as a result of the letter he sent to Craig Tiley, tournament director, to try to soften the quarantine conditions of the 72 tennis players who have been affected by the infections on flights to Melbourne. The Serb believes that he has been misunderstood. That neither he nor the rest of the tennis players are "selfish or ungrateful" .The world number one, faced with the misgivings of colleagues about spending his quarantine in Adelaide in better conditions, clarified that he asked to do it in Melbourne so as not to benefit from privileges, but the tournament refused. Djokovic is in Adelaide with Rafa Nadal, Dominic Thiem, Simona Halep and Naomi Osaka (top three ATP and WTA minus Asleigh Barty who is Australian) and the Williams sisters (for health reasons) .THE ENTIRE RELEASE
"Following the recent criticism received on social media about my letter to Craig Tiley (Australian Open director), I would like to clarify a few things.
My good intentions towards my colleagues in Melbourne have been misinterpreted as selfish or ungrateful. This is far from true.
When I see these kinds of things, I wonder if I should just sit back and enjoy my benefits instead of paying attention to other people's difficulties. However, I always choose to do something and be helpful despite all the consequences and misunderstandings.
I care about my peers and understand very well how this world works and who gets more and better and why. I have earned my own privileges based on my hard effort and for that very reason, it is difficult for me to be a mere spectator knowing how much each help or each gesture helped me when I was small and insignificant in this world. Therefore, I use my position of privilege to help as much as I can and when necessary.
I have always had a good relationship with Craig and I respect and appreciate the effort he puts into making each year the Australian Open a place to want to return to every time. In our email exchange, I took the opportunity to pitch to him some ideas for potential improvements that could take place in the player quarantines in Melbourne during the lockdown.
It was some suggestions and ideas that I gathered from other players in our conversations and there was no bad intention, I was just trying to help. I knew there weren't many options for requests to be accepted, such as my request to quarantine with my team in Melbourne, rather than Adelaide, which was denied prior to our trip due to strict government measures. As I was unable to be with the other players in Melbourne, I made myself available to them if they needed me.
I understand that organizing a sporting event like this in the middle of a pandemic can pose a risk to local health and the players themselves. Therefore, I want to express my gratitude to Tennis Australia, the government and the citizens for taking that risk, for the love of this game and for what it can contribute economically to the country and its people.
I think the impression has been generated that gamers (myself included) are ungrateful, weak and selfish for the opinions they have expressed during their quarantines. I am sorry it has reached that point because I know how grateful many of them are.
We have all come to Australia to compete. Not being able to train and prepare before starting the tournament is not easy. None of us has questioned the 14 days of quarantine despite what has been said on the networks.
I am looking forward to playing in front of the people and joining the energy of the city that has seen me win so many times. Also, I am looking forward to joining the rest of my teammates in Melbourne. I am totally overwhelmed by the number of gratitude messages I have received in the last few days.
I wish you good health and love, Novak ".
Photos from as.com