Nanterre shakes Unicaja, which almost says goodbye to the Eurocup
New typesetter failure, which was beaten by the French. It depends on a miracle to stay alive in Europe. Insufficient Abromaitis (26).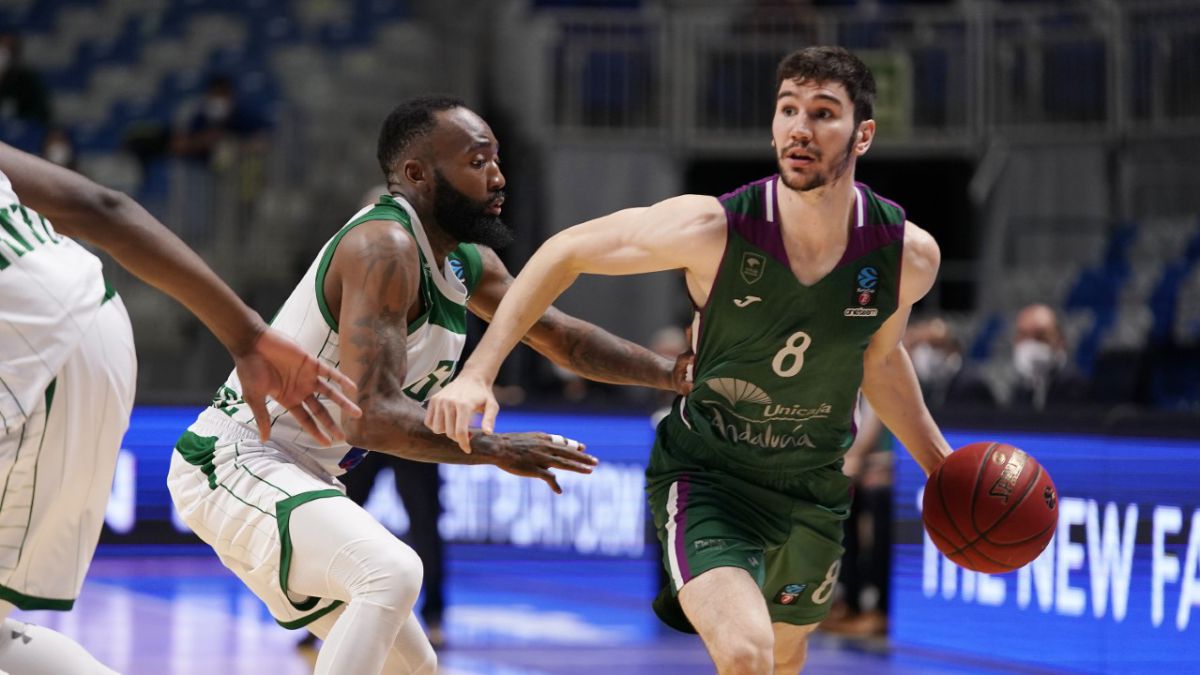 Fotis Katsikaris has a job. This Unicaja does not go and needs a whole surgery to revive his mediocrity. The Malaga team conceded their eleventh defeat in 12 games, sixth in a row at Carpena, against a good Nanterre who scared with an interesting trident: Cordenier, Warren and Kaba. Unstoppable for a Unicaja unfortunately recognizable: weak in defense and discontinuous in attack.
Going forward in the Eurocup will be a miracle The accounts are those of La Lechera in the story: Unicaja must win at the Nanterre track next week by ten points of difference; in Badalona to Joventut for another ten, to Monaco for 20 ... and pray. And, the truth is, this Unicaja is not for miracles. It is for the drag.
The Greek coach detected what he considered a burden for Unicaja. Weak defense, low point forms and hasty shot selection. At first it drew attention that it took 2:17 'to change Rubén Guerrero for Nzosa. Despite the desire of the Congolese under the boards, the greens continued to concede points as always while being punished from the outside by the naughty Isaiah Cordenier. From 22-24 of minute 10 it went to 45-36 seven minutes later thanks to four triples from Abromaitis, two from Bouteille and another from Brizuela. The French reacted and managed to reach the break alive with 49-46. It is striking that in this section Francis Alonso and Gerun did not play for a minute. The first was just over five minutes without points or confidence and the Ukrainian did not play. Unicaja wants to take him out and find another pivot. It will not be easy. Needless to say, good hopes faded. One more time.
The usual disaster
The usual. After the restart, Unicaja returned to his old ways. To disappear, to its despairing lagoons, to give wings to a rival and to despair. The triples stopped entering and the team in block was abandoned. Cordinier did what he wanted and when he wanted. Unicaja only breathed every time Nzosa caught a rebound. But that was not enough. At 31 'the score was 60-73.
Unicaja needed new ideas. Two 3-pointers by Waczynski pushed the scoreboard to 71-75 in the 35th minute. Lacking quality, Unicaja at least had a heart. But that was not enough. With disorderly arreones the parties do not go back. Neither, with disorder, absurd losses and lacking defense. The 26 points of Abromaitis or the good feelings of Nzosa were of little use. Unicaja does not work. He has not been a team for a long time and Katsikaris needs to revive him not just a scalpel but a complete operating room.

Photos from as.com