"Marc Márquez? Karma for what he did to Rossi in 2015"
"In hindsight I realized that it would have been better to keep it for myself," says Loris Reggiani who predicts that the Spaniard will not dominate in the premier class again.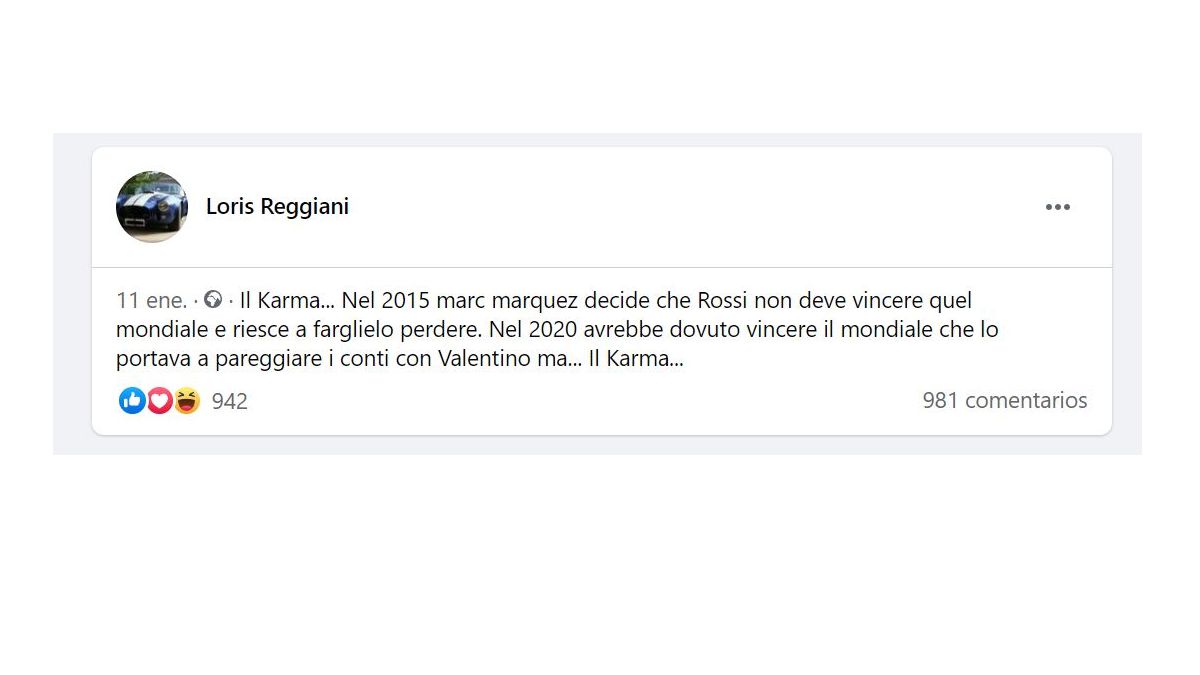 "It's karma. In 2015, Marc Márquez decided that Valentino Rossi should not win the World Cup and managed to make him lose it. In 2020, he was supposed to win the title that would lead him to balance the accounts with Valentino. But ... Karma". This publication by Loris Reggiani on his personal account of 'Facebook' on January 11, which he later deleted, about the origin of the serious injury suffered by Marc Márquez and which has forced the eighth champion to go through surgery up to three times , has caused a real earthquake in the MotoGP World Championship.
The controversy has reached such a point in social networks between fans of '46 and '93 that Reggiani has had to come out to show his face in 'Mow Men on Wheels'. The runner-up in 125cc in 1981 and 250cc in 1992 has assured that he did not want to harm or offend anyone, although he has insisted that he is a person who believes in karma.
"In hindsight, I realized that it would have been better to keep it to myself. It was a figure of speech, to bring back the concept that everyone reaps what they sow. I didn't want to hurt anyone or offend anyone. I had this on my head and I said so. In the same year that Márquez should have won his ninth title and caught up with Valentino, he got injured. It may be a simple coincidence, but I'm one of those who believe that what you do, for better or for worse , come back to you, "said Loris.
Similarly, the former Forlì driver has predicted that Marc will never again dominate the championship with an iron hand on the back of the RC213V as in the past: "I think he will never be able to be what he was again, no matter how much I think an injury like this really brings you back to earth, and he hasn't been on earth for long. Even Agostini, who is a big fan of his like so many of us, has been saying for four or five years that I should have been more careful because if you fall like that you run the risk of hurting yourself ".2015, the origin of the controversy between Marc Márquez and Rossi in MotoGP
The history of disagreements between Marc Márquez and Valentino Rossi in the MotoGP World Championship, and whose effects are still valid in the championship, began more than five years ago in the GP from Australia 2015. At a private party organized by the Golden Wing factory after the Phillip Island appointment, 'Il Dottore' approached Marc to once again disapprove of his having deliberately slowed down his pace during the test to benefit Jorge Lorenzo, his top rival for the title that year.
A first differences that increased in the 2015 Malaysian GP, where after a first scuffle during Saturday's practice that Race Direction did not see fit to investigate and other inflammatory statements by the Italian towards the Spanish, Márquez ended out of the race after a Valentino's gesture, which for some was a kick and for others a reflex action when he felt Marc's head on his leg, but it cost the Yamaha rider to come out last on the grid at the 2015 Valencian Community GP and lose the title in favor of Lorenzo by five points difference.
"How disgusting! Did I tell you or didn't I tell you?" Valentino Rossi said to Carmelo Ezpeleta as soon as he finished Cheste's career, and later accused Jorge, Marc and Dani Pedrosa of biscotto (pastry). An eternal pique that seems to have no expiration date.
Photos from as.com