Madrid did not sign Tyus in the summer for Campazzo
The pivot admits in an interview on 'Walla Sport!' contacts between whites and their agents. That was the reason for signing for Galatasaray.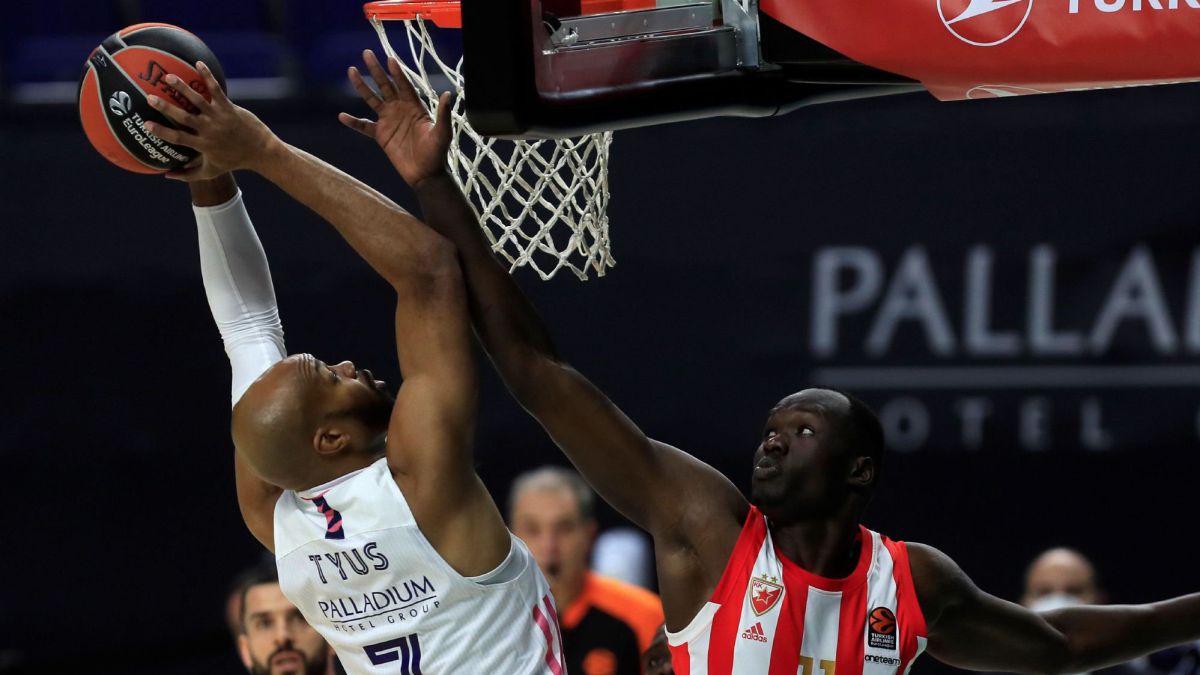 Alex Tyus (33 years and 2.03 meters) became the second Real Madrid signing for this season at the end of December after Alberto Abalde (Alocén was acquired in 2019). The pivot landed in the capital after the serious injury of Anthony Randolph in the Euroleague match in Athens against Olympiacos: Achilles tendon rupture, goodbye to this season.
However, his signing has been brewing since before the match in Greece. Already in summer, Madrid and the American, who was free at the time, held talks to replace Jordan Mickey, who returned to Khimki after just one year as a Real player.
"The truth is that the signing for Madrid did not surprise me", reveals Tyus in an interview with the Israeli website Walla Sport! "The team members already spoke with my agent during the summer and finally decided to wait and not sign anyone until they saw what was happening with Facundo Campazzo. I knew that if I went to a Euroleague team, I would not be able to go to Madrid, and I did not want to give up that option. So I took a chance. And I decided to go back to Galatasaray, so I left the door open and made sure I was available, "he continues.
The pivot meets again this Thursday with Maccabi Tel Aviv this Thursday (9:05 pm, Dazn) at the Menora Mivtachim Arena, a team in which he played for three seasons (2016-19) and with which he won a Euroleague: 2014 in front of ... Madrid. "No (I have reminded them of that final). I think they would rather forget about that match. Beyond that, they have also won the Euroleague since then and that's why I came here: I want to win that trophy again, "he says in the interview.
Of that champion squad, the Maccabees only have four survivors. "Coach Yannis (Sapropoulos) knows that the recipe for success is to keep as many players together as possible. Over time, Maccabi have changed their squad from year to year, making it difficult for them to succeed. This, by the way, is a great advantage for Madrid. They have been together at Real for many years. "
Walter Tavares
Tyus is playing (for the moment) a small role within Pablo Laso's scheme. In his three games played to date in the maximum continental competition, he averages 9:24 minutes in which he has scored 3.3 points and captured 3 rebounds for an average PIR of 4.3. His main function is to give Tavares minutes of rest, the Cape Verdean giant is playing more than ever in his career with 26 minutes on average. An outrage.
The American praises his new partner: "I haven't been able to plug him yet," laughs Tyus. "It's not an easy task, you know. It is incredible to train with a player like that. It sharpens and improves you as a player. When I got here, I knew I would have to do little things, like blocking, helping on rebounding and on defense. I realized that I belong to a team that already has everything. I will have to fit in. "
Photos from as.com