Luis Suárez puts Granada within reach of Europe
The Nasrids prevail with sufficiency thanks to a goal from the Colombian and an own goal from Herrera and are three points behind the Europa League positions. Osasuna, unable, is still in the well.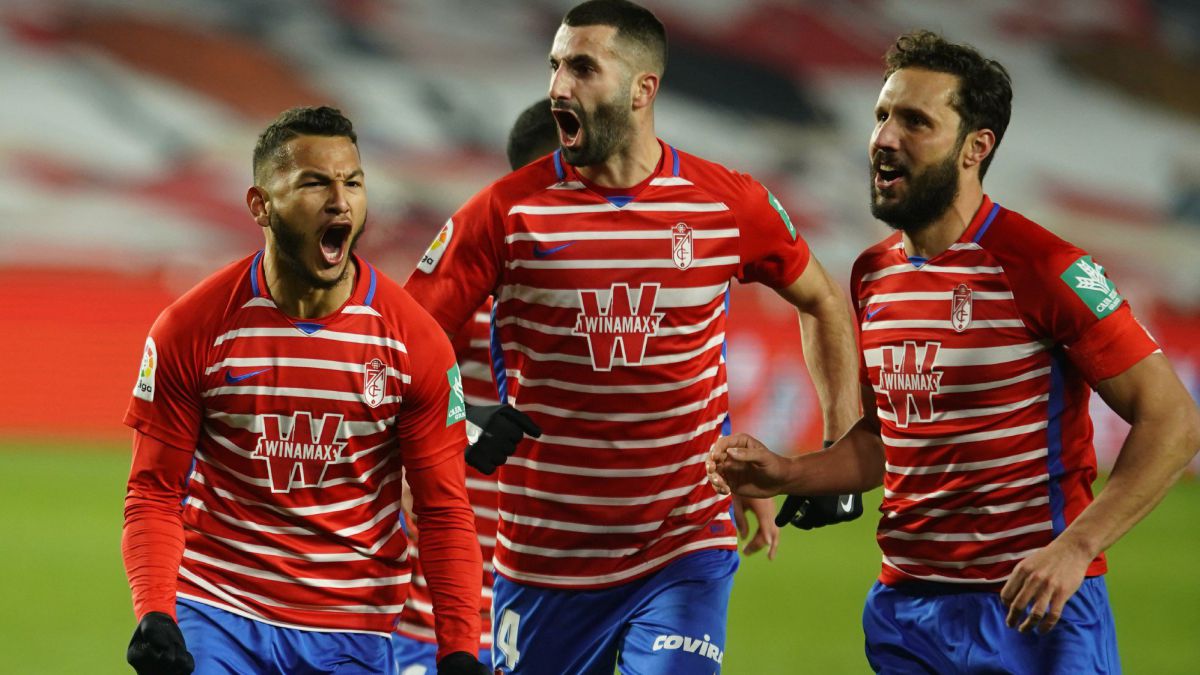 This Granada that walks through Europe and that has dazzled his fans manages many records very well. And that translates into wins and points. Diego Martínez's men recovered their most competitive version after the blur against Barça. He lacked brilliance against Osasuna, but he found in the set piece and in Luis Suárez the way to a victory that puts him back at the gates of European positions.Two bad defensive actions by Osasuna in two corners left the game down for Granada. The Nasrids did not even need Machís to set up two good centers. Between Calleri and Sergio Herrera they did the job for him. The striker made a horrible clearance in the first one and the ball fell to Luis Suárez. At first, the Colombian, pure dynamite, soon bounced the ball next to Herrera's left post. Unattainable. 1-0.At the edge of the break, in a kind of Groundhog Day for Osasuna, Machís crossed from the corner to the near post. Calleri wanted to clear but hit the air and misled Herrera, who when he wanted to react had already introduced the ball into his goal. The bleeding could be greater if the Venezuelan winger had correctly defined the heads up that he had shortly after 1-0. But he lost the duel against the Navarrese goal. The good feelings with which the rollers faced the match jumped into the air in 45 minutes. Inoperative in attack and back failure, the Arrasate team returned to their old ways in Los Cármenes and will continue for another week occupying a relegation position. Osasuna wanted to be proud after the break. But the outburst only lasted a few minutes in which, yes, it forced Rui Silva to sign his first two stops of the game with shots from Rubén García and Roberto Torres. Granada quickly balanced the game, limited itself to playing by the clock and did not struggle until the end. Arrasate pulled Budimir, Torró, Enric Gallego and Kike Barja, all of them unsuccessful movements. Osasuna did not lower his arms, but his attempts remained in the will and in a clear exercise of impotence. The only setback of the game for Granada was the new injury to Gonalons, who came to the match between cottons and left it early with a new muscle injury. To prevent more scares, Diego Martínez took advantage of his team's absolute control over the game to rest Montoro and Machís and continue shooting Luis Milla, Puertas and Nehuén.
The victory leaves Granada within the shot of a European match (Sevilla and Real Sociedad have three points ahead of them and the San Sebastian have even played one more match) and Osasuna returns to the starting point. Arrasate and his team have seen the threat of reaction nipped in the bud and are left with 15 points, three from salvation, and very touched.
Arrasate: "It's a step backwards"
Osasuna's coach, Jagoba Arrasate, admitted that the 2-0 defeat suffered this Tuesday against Granada at the Nuevo Los Cármenes Stadium is "a disappointment" and also "a step backwards", after of the "good dynamics" of his team in previous matches. "The assessment of the game is negative. We were in good dynamics despite not winning, but today has been a step backwards. If you make mistakes against Granada it is very difficult to score and the two set pieces have tipped the balance," said Arrasate at a press conference after the crash. "We know about Granada's potential from set pieces, but one goal was after a rejection and the second was scored by us. We were defending well until then, but against Granada it's very difficult if you go down," said the team's coach Navarrese.
Arrasate also recognized that the second part of his team was "wanting and not being able" because Granada "manages its advantages very well" and Osasuna lacked "continuity and fluidity". "What we have to do is continue working to get Osasuna out of where he is, which is a salvation game," added the Biscayan coach. He admitted that the 15 points they have "are few", although they are "close" to the permanent posts, so "we must quickly recover our spirits and strength, surely we are going to get it together," he stressed. -EFE
Diego Martínez: "Having 27 points is wonderful"
Granada coach Diego Martínez stated that his team competed "at a very high level" to achieve their eighth victory of the season this Tuesday against Osasuna (2-0), something that he qualified as "extraordinary", and reach 27 points, which he defined as "wonderful" .
The Granada coach highlighted at a press conference that Granada controlled "perfectly" a game in which they defended "very well", although he acknowledged that in the second half they lacked "continuity with the ball due to fatigue" .
"We have returned to compete at a very high level. Beyond the success, the team gives everything it has," said Martínez, who gave "much merit" to the Granada match against Osasuna who has "a very good set piece ", a virtue that they neutralized" with attention ".
He said that they knew that the Navarrese team "was not going to give up at any time", although he assured that his team solved "their direct game very well, where Osasuna is an expert."
Diego Martínez advanced that Frenchman Dimitri Foulquier could not play after suffering an anaphylactic shock in the locker room, just before starting, although he stated that he is already well.
The Galician coach believes that they are not aware "of all the value" of what his team is doing, and stressed that he falls "short" in valuing his players, of whom he said that they started the game against Osasuna "tired" for the load of encounters in recent weeks.
"You add eight wins is extraordinary and having 27 points is wonderful," insisted Martinez, who recalled that they are still "alive" in all competitions and that now they have to "recover" because "this does not stop." -EFE
Photos from as.com