Lucas Vázquez is left out
The Galician will be out against Levante due to muscular discomfort that have prevented him from working with the rest. Carvajal stayed in the gym and Odriozola is emerging as a starter.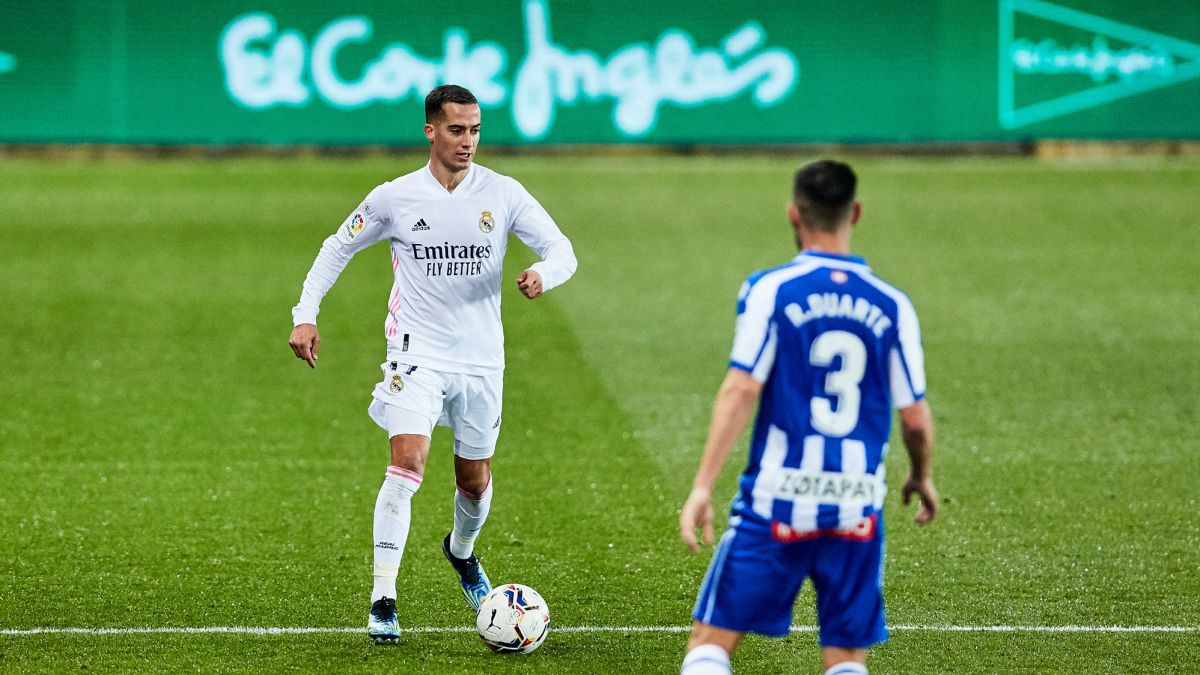 ... And in what would be his 21st consecutive match, Lucas Vázquez will be out. The Galician footballer is forced to leave his post due to muscular problems that will leave him out of the squad against Levante (Saturday, 4:15 pm). The Curtis will stop playing a match with the white jersey three months after making his debut as a starter in the tie that the whites achieved at the last minute against Borussia in Mönchengladbach. In total there have been 20 consecutive matches in four competitions (League, Champions, Super Cup and Cup) with an amazing balance: he finished 16 of those 20 games (80%), while in three of them he played an average of 76 minutes. Only in one match, against Huesca in October, did he play fewer minutes: 52.
Lucas began this journey in Germany. But he had won it before: in the Clásico that Madrid won at the Camp Nou against Barcelona. The Galician had to replace Nacho, who was injured during the match. The Madrid central defender, in turn, made up for another casualty due to Carvajal's injury, so Zidane was forced to use Curtis's on the right wing. And Lucas has not disappointed who has been one of his great supporters in the squad. Despite the fact that the white board showed him a way out to Asian football (Qatar) last summer, the Galician decided to continue. And he has taken advantage of his moment: two goals, four assists, three shots at the sticks and a remarkable performance to make him an indisputable piece in the Madrid team ... until now.
Meanwhile, Lucas, who has an offer from the white club to renew his contract, will give way to Carvajal, who could return to the right back after overcoming a muscular overload that has prevented him from playing against Osasuna and Alavés in the League, Athletic (Super Cup) and Alcoyano (Cup). In the penultimate training session, he was working in the gym due to slight muscular discomfort and will pass a final test in the last session (on Friday 29). If he couldn't play, it would be Odriozola who would occupy the right-hand side. This is not the campaign for Carvajal, who injured his ligaments in October, which kept him out of the competition for two months: he missed eight games between the League and the Champions League. He came back and fell again. There Zidane used Lucas as a winger again, a position in which he had already played with Rafa Benítez. Now, the Madrilenian, and after training with his teammates since last week (some annoyances made him go prudent with him and he was left out of the travel list to Vitoria), he could fall again from the eleven. Sergio Ramos, Valverde and Rodrygo will also remain without a call (the three are recovering from injuries), like Nacho and Zidane, positive for COVID, and who are isolated in their homes. The one who is also out after 20 games is Lucas Vázquez ... 444 444
Photos from as.com