Laia: "A month ago I didn't know if I could finish a stage"
She is angry not to compete at her level, but the Catalan is "happy" with her Top 20. Of course, she admits that "it is being very dangerous" for motorcycles.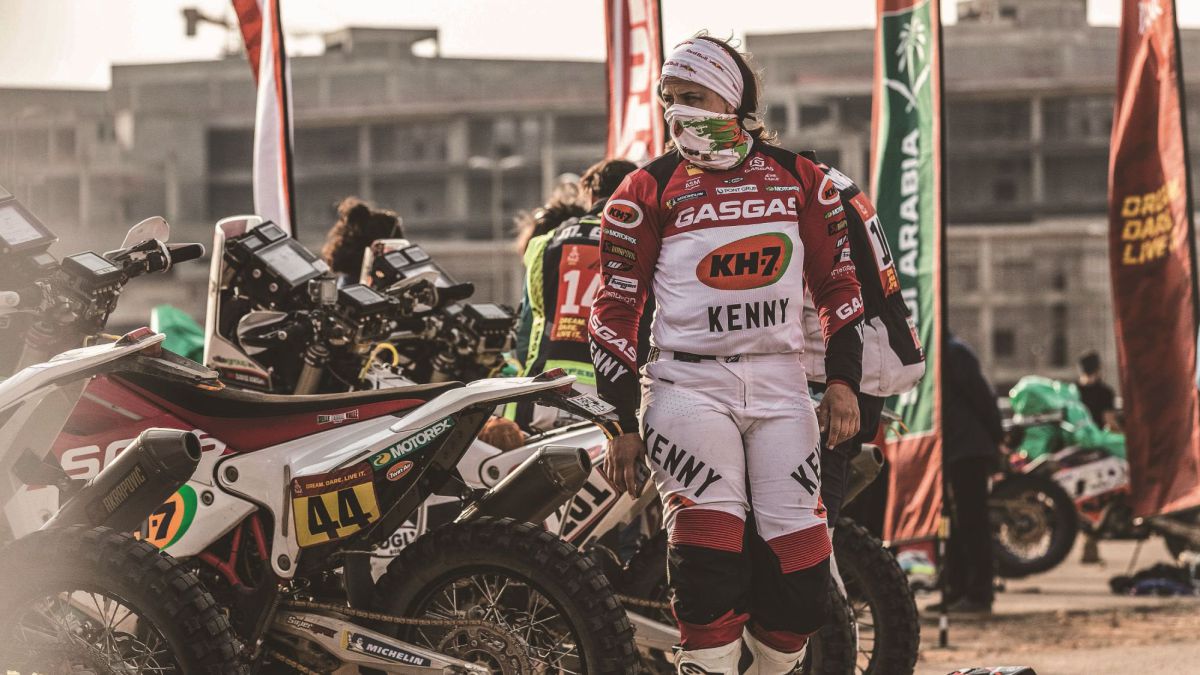 It was not an easy day for Laia Sanz. None of them are this year after arriving at the start of the Dakar without the best possible physical condition by contracting Lyme disease months before, but on Wednesday it became eternal when he rolled so many kilometers in the dust. Even so, she overcame, finished another stage and is 20th overall, a position she hadn't imagined a month ago. AS talks to the Catalan at the Al Ula bivouac about her Dakar and how dangerous it continues to be for motorcycles.
— Complicated stage this tenth.
— It wasn't very hard because I really couldn't even run, the previous one was very hard and very ugly, very, very dangerous. Today was a bit different, there was also stone, but much less, and it was a shorter stage, which could have been done well and it had been quite comfortable, feeling better than yesterday, because it was more sandy, but before the first neutralization I've gotten lost with Buhler and Knight. And just when we found the right path, others came from behind who also got lost, much slower, and they passed us just when we had found the place. It's a bit angry, because we were faster drivers and they didn't let us pass. We are left in the dust behind three quads and a motorcycle that is out of the race ... so you can imagine how angry I am today.
— Sure, because then going through is very complicated, right?
— I have eaten the quads 150 kilometers ... Besides, I had to stop because I couldn't see anything with the dust. You can try to find the hole on a motorcycle and pass it, but on a quad it's impossible. So, I have spent the day in the dust and at no time have I had a normal rhythm, it is that I have not gotten tired, I have gotten tired of the head, of the anger, but not of the physical.
— And he says that the previous one was more dangerous, there were several falls ...
— Yes, that's when I decided, when I started to see motorcycles and what the stage was like, to go through a little of everything and reach the end, I also had a small fall. There was so much to lose. It was one of the slowest stage of this Dakar, but the most dangerous because there was a lot of stone.
— What goes through your head when you see so many accidents and coming from where we came last year with such dramatic news?
— Well, you really want a four-wheeled 'junk' when you see stages like that, really. Toby (Price) and Luciano (Benavides) are already here with the team and, with the speed that there is, it is good news that they are more or less well.
— Yes, because it keeps going very fast even though an attempt has been made to slow down.
— On terrain and straight-line type of stages it's very hard to get. More work has been done and navigation has been done, which is very good, but at these speeds, whether or not we have an airbag ... I think the specials should change a bit more than anything. Yes, it's being dangerous.
— And what solution can there be?
— It's difficult, because the problem right now is that everyone navigates very well and it would take a lot of trouble for people to get lost. Also the type of terrain here is different, in South America there was more variety, here in the end it is like that and many kilometers are done in a line. We would have to try to find a way to really slow down.
— The six rear tires not quite working?
— I am totally against it because it is even more dangerous. In a stage with so much stone, the elite riders go with the tires hit and the speed does not drop. The only thing that adds is more danger.
— How are you physically? Because we talked on rest day and I was very tired.
— Yes, that day I felt bad. I guess my adrenaline dropped a bit and I had picked up the pace a bit. It's true that on the one hand I needed it, because after not training being here for a full week left me exhausted, but I had a terrible time the next day. I was at zero energy. On Tuesday I was better and today too. I am also touched by the hand and I am suffering a lot from the lack of training, in long stages it is difficult for me, I do not have my rhythm ... 444 444
— Even if he doesn't have the rhythm, but he holds onto the Top 20. Not bad considering how this year has come.
— If they tell me a month ago, I'll sign it for sure, because I didn't know if I could finish a stage either. Those who have lived this year close to me, and myself, if they told us this, we would not have believed it. I think I can be very happy, but it is clear that once you are here, it is annoying not to be fighting with who you are used to doing and to be further back, but hey.
— You can almost see the finish line, but there is still a long way to go, also with a difficult penultimate stage.
— Yes, there is much left. Tomorrow, long stage, I will go out in the dust and I will have to be patient and lose time again. This Top 20 would be fine, but I'm not going to lose my head either, if I finish 21st, well 21st, the truth is that right now the result doesn't matter much to me, just finishing.
— Who is also well placed is Jaume (Betriu, his partner, is 14th), how do you see him?
— At the end of each day we meet and discuss the play. He had some bad luck the first few days, he got lost a little ... Maybe he has more speed and he hasn't finished coming out. It is very good with the level that there is this year, but I think it could have been much later.
— How is life in the bivouac with this COVID thing?
— It is a chore to work with journalists and others, but in the end with the team it has not changed much either. We are up to the cap of the mask (laughs), but during the stage you forget a bit because you are with the other riders. It hasn't changed that much.
— Have you been able to speak with your other partner, the one from Extreme E, Sainz?
— Yes, he came to see me on the rest day. And that is perhaps what is most noticeable, you miss going to dinner in a caravan, stopping to talk to everyone ... It's all colder and you miss mixing more with the pilots of cars, counting battles and all that. We are all the time here with the group and that's it.
— I don't know if he had time to think about it a lot, but will this be his last Dakar on a motorcycle?
— (Laughs) I don't know. First I want to finish it and then I'll see what I do.
Photos from as.com