Kubo revolutionizes Getafe
The Japanese enters 65 ', with 1-1 and without any training, and intervenes in 1-2 and 1-3. Those from Bordalás close their odyssey with a heroic comeback.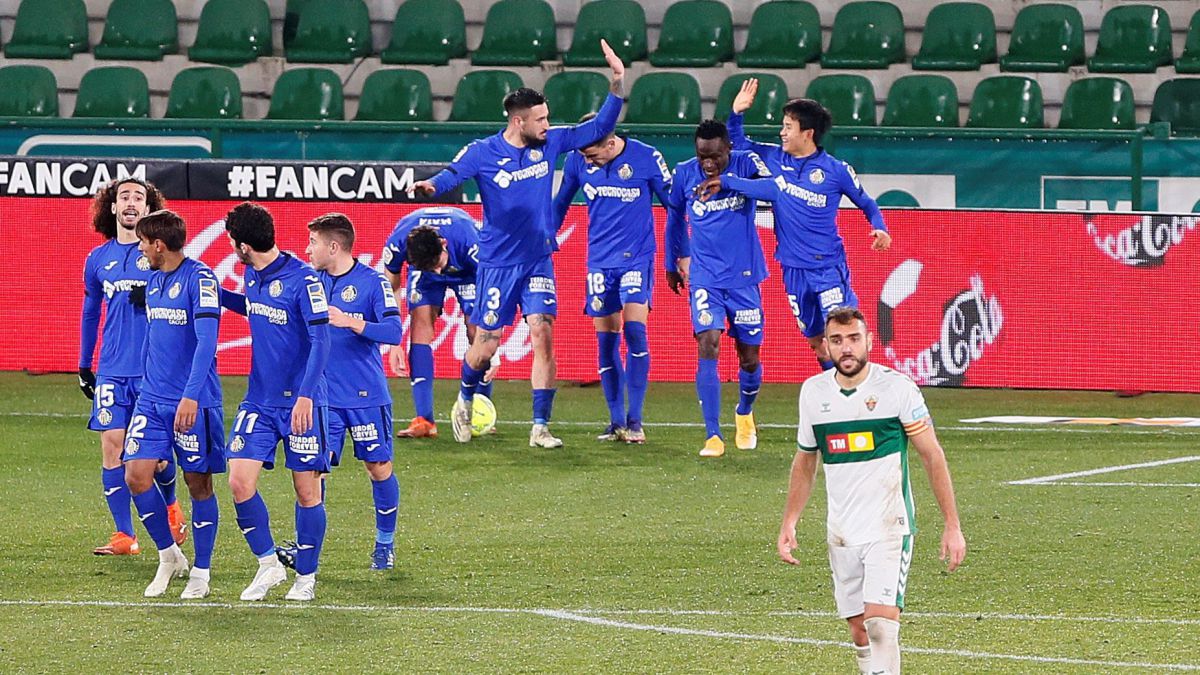 EI Getafe buried the storm in Elche. Bordalás left his problems behind and forgot some frantic hours in which he had to prepare a game without training and after seeing how his players left images to remember the previous night. The shoving of the cars in the middle of the snow gave way to an exercise of responsibility and commitment on the pitch by the Getafe squad. Above, Aleñá and Kubo made an interesting debut as azulones, with special brilliance from the Barça midfielder.
Elche, sunk after eleven days without a win, made it easy for Bordalás's team, who only had to overcome the early goal of Raúl Guti. Cucurella, Mata and Ángel turned the score around. Elche failed in key moments and was decomposing with injuries. His crisis is already acute.
Elche took three minutes to show Getafe that they had to wake up from their traveling odyssey. Raúl Guti advanced to an Elche who raised a thick and rubbery game, with many players on the inside and two lines almost together. Olivera and Aleñá gave signs of life with two shots, but it was Cucurella who equalized the clash after a great center from Portillo. Before the break, Yáñez made a save to Pere Milla when he was already singing a goal. That intervention changed everything.
The franjiverde team continued with its self-destruction after passing through the changing rooms. Marcone saw the second yellow and left his team with one less. That was the end of Almirón's team, who lost Boyé, Fidel and Diego through injury. Getafe only needed to finish the job. And he did it after a good deed from Kubo. The Japanese fired and Edgar's rejection was topped off by Mata. Ángel scored the third and still gave Kubo time to claim a penalty and Mata to miss a couple of clear chances. Getafe thawed in Elche and left Almirón's team shivering and staring at the table with vertigo.
Almirón: "It is a difficult moment, but I feel capable and we are going to leave"
Summary of the match: "It is a very tough defeat because of the way things turned out. Carrillo was going to start and suffered on Sunday from his injury. Boyé, From minute 2 on, he didn't play anymore. And that's how events unfolded. They tied us with five minutes to go and we still had Pere Milla's to go 2-1 at half-time. With one less and injuries we couldn't rebuild to the team. They did what they could. The footballers do not stop competing and running; they work to do their best. Now we are left with many casualties and with the many games that are ahead. I await the doctor's report to see what the injured have ".
Arbitration action: "It's hard because the players are the ones who have been suffering from these situations. There was a penalty in the first half that not even the VAR reviewed. It already happened in Bilbao with the punch of the goalkeeper (Unai Simón) to Boyé. The referee did not it had the same measure. One already accepts it that way and knows that it has that disadvantage. Measurements are not taken in the same way. I am not talking about excuses, but about what was seen ".
Questioned in the position: "The coach lives from this. When things go well or badly we are alert to what may happen. I do not experience that pressure, I only look for solutions; I am more concerned about results and injuries. The players are sad and concerned. I take the situation seriously and the timing is relative. "
Need for signings: "Of course there is. Hopefully they will arrive soon due to injuries as well. One needs replacements because now there are a significant number of games coming. I know that a significant effort is being made by the Club, although it is not a good time for negotiate. I value the next step and it is obvious that action must be taken as soon as possible ".
Even rounds without winning: "Different situations arise. We have been playing well, but injuries change the process of the game. I didn't like the final part of Bilbao. In this game we were winning and doing well. Injuries and expulsion changed you the panorama and you must take quick action. Everything must be evaluated. Nothing went well ".
Level of concern: "It is a difficult moment, but I see myself able to move the situation forward and we are going to achieve it" .- DAVID ESTEVE
Photos from as.com