Koeman: "Barça is not there to win many things"
Crude speech by the Dutch coach, who assures that Eric García "will come next season" and that he stands out from the leak of the technical report: "I'm not interested."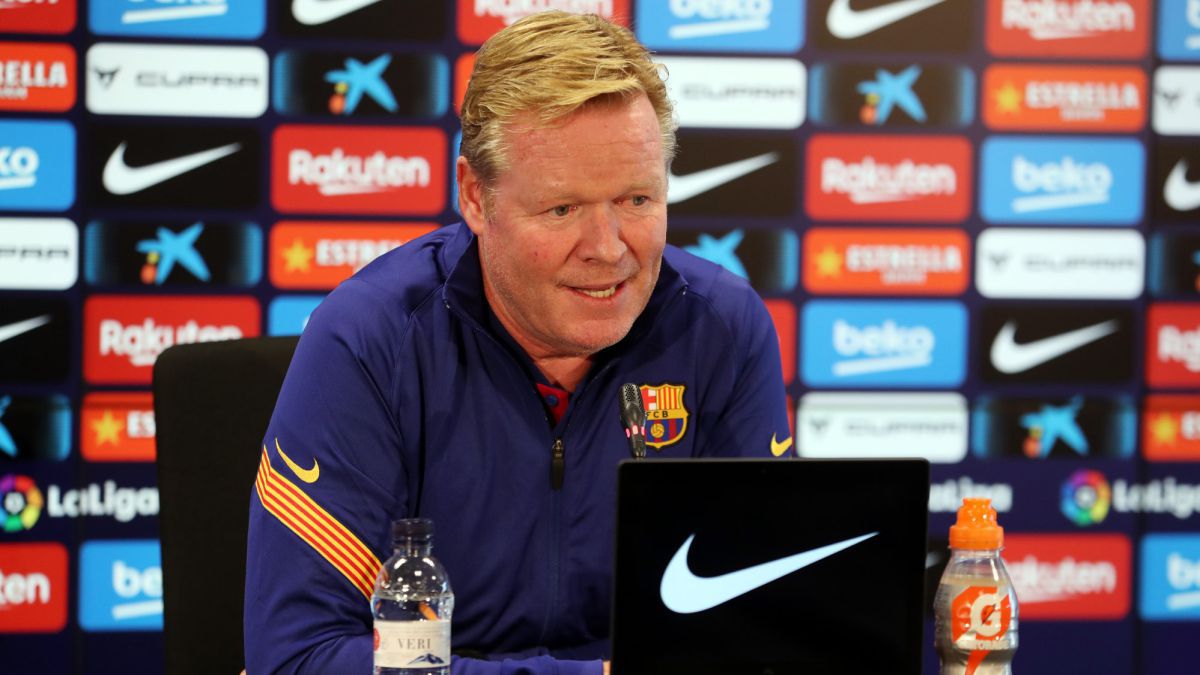 The Barcelona coach, Ronald Koeman, appeared this Saturday at a press conference in the preview of the match against Athletic, for which he continues to have the losses of Piqué, Ansu, Coutinho and Dest, although he recovers Sergi Roberto. Without signings, and with the electoral noise flying over the club despite the good results, these were the impressions of the Dutch coach.
What is tomorrow's goal?
In the previous two games, we have had a chance to win them. They won the Super Cup and we know they are physically strong, especially from set pieces. Get a lot of performance and you have to be focused. In the two games against them we have created our opportunities and we have to sentence the games. We have improved things without the ball and we have played more concentrated in the last games. We must continue like this. It is important not to make unnecessary fouls because they have quality from set pieces.
Are you aware of the leaked technical report?
It is always important to have someone at the club working to improve a squad. It doesn't bother me because it's a job the club has to do. Players cannot be upset by the issue. We talked to them and they played. These things happen in any club in the world.
Don't you see a problem with this report coming out publicly; Or do you see a problem in which Plans do it?
My job is to prepare the team for the games. And the one of Plans, to improve our staff. And if things come up, let him explain them. I don't read much press. I don't know what happened but my job is to think about the games. And it seems that more is said about other things. I'm interested in tomorrow's game. The other does not interest me at all.
The report says that Mingueza and Umtiti are not for high-demand matches. Do you share the report?
A Barça player has to be prepared for everything. Umtiti has been out for a while due to injury. Now he has recovered well. And Mingueza has played many games, central and winger. We will see what has to happen in the future. Everyone has to prove and no one knows what can happen in this club.
Can you aspire to titles without Eric García?
It is a season in which we are changing things, we have opted for young players. We try and we fight. But you have to be realistic about the changes we have made. Barça have to be prepared to fight but you have to be realistic. Barça is not there to win many things now.
Because of what you just said, aren't LaLiga and the Champions here to compete?
We know our situation in LaLiga. It is complicated but until the day that is possible, we will try to win our matches. There is no clear favorite for the Champions League. We have two games against PSG and we will try to pass. This is our job. We are Barça and the aspiration is always to win titles, but we have to be realistic.
Again two games out at 9:00 p.m. ...
We would have liked to play at home in the Cup. I know that Barça is the most important team and that influences the audiences. No more complaining. You have to accept it, play it, and try to win the game.
Have you spoken to Pep?
We have not talked about Eric García because he is not my job. We know that Eric is coming next season and if it is not possible for him to come now, he will come later.
How is Sergi Roberto?
I have seen him with the spirit to be tomorrow. You have options to enter. You will see it tomorrow.
Do you consider Eric García lost?
I don't know. I'm not interested. It's not my job.
Would you be interested in recovering Todibo?
He's a Barça player but I'm not going to count on him.
How can you surprise Marcelino?
There are no surprises. We know each other, we've played two games together.
How do you understand that Net may be low next season?
One more time. I will not go into this topic. At the end of the season, we'll see.
Are you exhausted by Eric Garcia?
I cannot control what is not in my hands.
Photos from as.com