Joventut makes a new disconnection from Unicaja profitable
The Malaga team, which was winning 63-51 at 26 ', disappeared again from a game, prompting a great reaction from a Joventut that ended in a big way.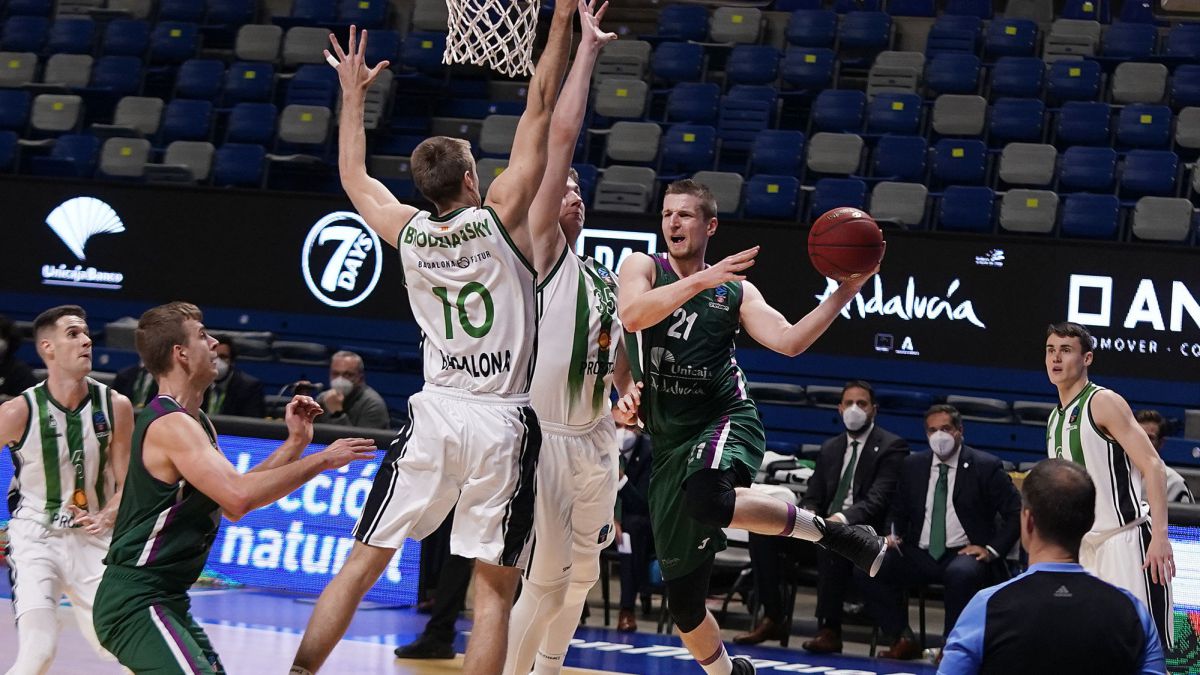 This sad and unrecognizable Unicaja is still in the middle of the valley of tears. The Malaga team, which was winning 63-51 in the 26th minute, grabbed another of its famous 'birds', disconnections or whatever you prefer to call these absurd gaps, which are increasingly frequent. La Penya put the batteries and turned the electronic, in less than seven minutes, with a spectacular 9-28. Very important victory for the green and black, who take a privileged position in this complicated Top-16 group. And, of course, a new disappointment for Luis Casimiro's men, who have only won one of their last eight games and who, if they have qualified for the Copa del Rey, it has been by pure filly. No more no less. Bad game by almost everyone except Thompson and outstanding work by Joventut as a block.
The first 20 minutes were very entertaining. Unicaja applied strength in the rebound while Joventut focused its offensive arsenal on Tomic (16 points in this section). The Croatian plays in another league… Two triples from Waczynski and two more points from Gerun opened the first gap of the match (26-18 min, 11). La Penya tried not to get off the hook. With 40-39 at 15 'minutes, the Malaga players gave a second stretch (49-41). A basket under hoops by Tomic closed the first quarter with 49-43. Not many triples for what is usual in these two teams. 5/12 Unicaja and 2/6 by Joventut. Good minutes from Waczynski with 13 points.
The second half started with bad news for Joventut. Muscle problems for Dimitrijevic (later he was able to enter the court) and a 4-0 partial that placed the score at 53-43 and a time-out requested by Carles Durán, coach of the Badalonese. The first effect of the talk was two triples in a row from Aróstegui. Streak time. From 63-51 in the 26th minute after a triple by Waczynski he went to 63-61. Partial electric Joventut, who refused to leave the meeting. What happened next was unimaginable.
The Joventut called a timeout and began a brilliant reaction that coincided with the umpteenth disappearance of his opponent. The 68-66 that closed the third quarter augured strong emotions. Between Tomic and Brodziansky they already added 34 points.
There was really no emotion. The usual thing happened to Unicaja, a classic brain drain and an inability to apply an effective defense. In a blink of an eye, La Penya took the lead with a 71-79. From the aforementioned 63-51, nothing less than 9-28 of partial. Those of Casimiro longed for the points of their race shooters, Brizuela and Alonso and, of course, the loss due to injury of Bouteille. Thompson, back in the ring. The American, international for the Ivory Coast, was the only one who supported the greens. La Penya no longer lost her cruising speed and ended up with an excellent defense that caused errors in passing to a broken opponent. Brodzianski, who finished with 21 points, Dimitrijevic's great second half, the opportune appearances of López-Arostegui and two 3-pointers by Bassas closed a match that ended with an unthinkable 86-95. New shipwreck in Malaga and the Joventut, in its sauce.
Photos from as.com