Jimmy Butler: "We should have beat the Lakers in the Finals"
The Miami Heat player opens up about the Orlando experience, the team's culture, his reputation in the NBA, his family and his future.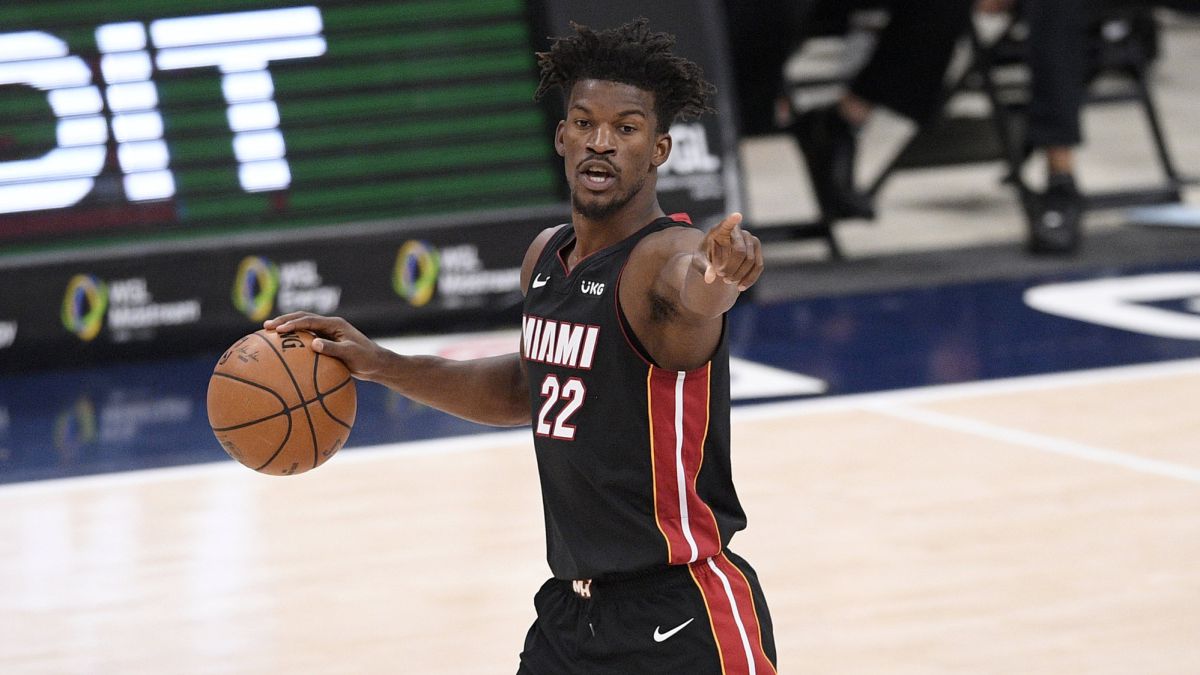 Hero and villain. The line that separates one position from the other is thinner than is usually thought. Jimmy Butler, the embodiment of the latter for most of his career, underwent a metamorphosis in the Orlando bubble. At Disneyland, he went from Scar to Simba, from Jafar to Aladdin, and from Hades to Hercules. When the villain starts from a disadvantageous position, he usually arouses sympathy in the viewer. When, in addition, he tragically weakens along the way, he happens to be on the side of the "good guys." This is life and this was the way the Miami Heat went through the last NBA Finals.
They arrived without anyone waiting for them, at the rhythm of giant killers and displaying one of the strongest cultures in the competition. "Last year we did more than everyone thought, except ourselves," says the forward in an interview with Zito Madu, from GQ magazine.
Don't lie. Neither in the first, nor in the second. No one thought Miami was going to leave the Indiana Pacers (4-0) by the wayside so easily. Still less to some Bucks (4-1) and Cletics (4-2) that were postulated as the most threatening assets of the East. Jimmy, however, yes. With the advantage of one who has already walked the road, all is said. "I have yelled it over and over again. I believe in this group. I know we can win four more games. We are not satisfied," he said before starting the finals against the Angeles Lakers.
The Los Angeles team would end up winning with a 4-2 final in the series. He touched the sky ten years later, from Kobe Bryant and in his honor; but not without sweating. LeBron James (MVP) and Anthony Davies, sublime, would suffer to those of South Beach. Butler especially. In the third game, he would give life to the tie with a historic triple-double (40 + 11 + 13, only at the level of LeBron and Jerry West himself), with physical discomfort and without two of the key players of the squad, Bam Adebayo and Goran Dragic. "We still think we should have won, and that we were without two companions," he says now, putting his finger on the excessive physical burden with which they arrived. Ode to the epic, but without a prize, from his point of view, deserved. His image, exhausted and crestfallen on one of the advertising panels, would say it all. And I would change it. It was the culmination of the metamorphosis. "Now everyone has a different perspective on who I am as a person and as a teammate, and I've been the same since I became someone. After a couple of games, do you want to change the narrative? I don't care, no I care. I'm just going to go out and compete. " The transition of a player who denies change and boasts of living under the sole mandate of "myself" .
"I'm where I want to be"
Jimmy Butler wakes up every day at 4:00 in the morning, and feels lucky for it. It is what he has fought for. After a difficult adolescence, homeless for some periods, he arrived at the university, Marquette, where he started as a substitute. "The coach put me on one day and it was like 'man, if this boy is capable of winning three or four offensive rebounds!', So he continued to trust me and I took advantage of it," he explains in the same interview. He trusts his work, but is not suspicious of chance: "One of the most real things I have come to know is that luck plays an important role in many things and people do not want to admit it," he reflects. Now, in a Heat with an irregular start and with the weight of recent memory, he claims to feel more comfortable than ever: "You know there are people who want to see me change (teams), but no. I am where I need to be, where I want to be. They love me in Miami for that. "
He is happy about the where, but also the how. He tries to make up for lost time with his daughter, who is just over a year old. He shows a face that was surely misunderstood when he shocked the world by preventing his family from entering the bubble. As he confesses in GQ, he considered it a business trip and, therefore, it was due in its fullness. A strong and winning mentality that he wants to permeate his lineage with. "Everything a man can do, you can do. With my blood running through your veins, nobody intimidates us, no matter the color of the skin, if they are men, women, how tall they are or how fast. to be the best, "she repeats periodically to her daughter. Keep being him. Antihero par excellence.
Photos from as.com